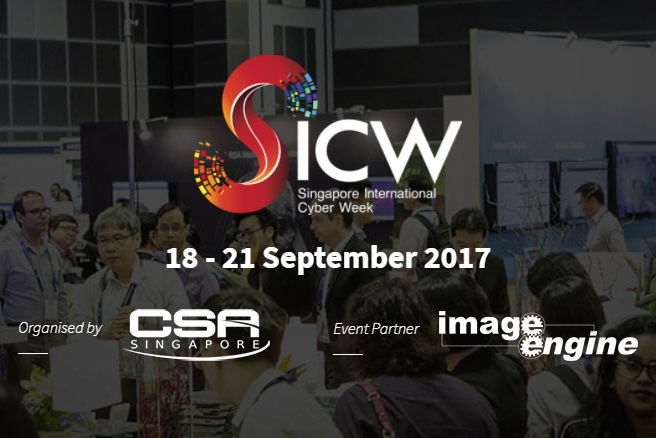 Held from 18 to 21 September, the second edition of the Singapore International Cyber Week (SICW), organised by the Cyber Security Agency of Singapore (CSA) saw the participation of over 7,000 international and regional policy makers, thought leaders, industry experts and visitors from close to 50 countries. Participants were able to leverage the platform offered by SICW to connect, forge partnerships and engage in multi-faceted exchanges and critical knowledge-sharing around the theme of "Building A Secure And Resilient Digital Future Through Partnership".
2          SICW 2017 received the robust support of over 250 sponsors and participating organisations, and saw a 20 per cent increase in attendance compared to 2016. This year also marks the 26th edition of GovernmentWare (GovWare), the region's premier conference and exhibition on cybersecurity, with over 40 keynote sessions and conference tracks held.
3          Strategic, high-level dialogue sessions at SICW 2017 include the 2nd ASEAN Ministerial Conference on Cybersecurity (AMCC), the CXO Forum, International Cyber Leaders' Symposium (ICLS), ASEAN Cybercrime Prosecutors' Roundtable Meeting, United Nations Cyber Norms Workshop, International IoT Security Roundtable and many others.
4          At the second AMCC, Ministers and Senior Officials from all 10 ASEAN Member States and the ASEAN Secretary-General H.E Lê Lương Minh agreed on the importance of closer coordination of regional efforts and to move forward discussions on the adoption of basic, operational and voluntary cyber norms of behaviour in ASEAN to guide responsible use of Information and Communications Technologies (ICTs). AMCC participants agreed that the AMCC continued to be a useful platform for facilitating discussions on cross-cutting cybersecurity issues among ICT Ministers, Cybersecurity Ministers and Senior Officials from all ASEAN Member States.
5          Ms. Izumi Nakamitsu, United Nations Under Secretary-General and High Representative for Disarmament Affairs, delivered her message via video at the Opening Plenary calling for closer collaboration between governments and the private sector to work towards cybersecurity and cyber resilience to achieve a safer cyberspace.
6          Notable keynote speakers such as H.E. Dr H. Wiranto, Coordinating Minister for Political, Legal and Security Affairs, Republic of Indonesia; Mr. Rob Joyce, White House Cybersecurity Coordinator, United States of America and the Hon. Dan Tehan MP, Minister Assisting the Prime Minister for Cybersecurity, Australia, highlighted the importance of international collaboration and partnerships in building a secure and stable cyberspace.
7          At the second ICLS, prominent cyber experts from government and industry sectors around the world discussed the issues and challenges of implementing rules of responsible state behaviour in cyberspace. The participants, including all invited ASEAN and International Ministers, Heads of Agencies and key industry leaders, took away useful insights on the current state of international discussions on voluntary norms of behaviour in cyberspace, and how the international community could work together more effectively to build trust and confidence in the use of cyberspace.
8          Another highlight this year was the inaugural SICW Cybersecurity Lecture on 18 September 2017, a partnership with Temasek Foundation Connects (TF Connects), delivered by Minister Anne Berner, Minister for Transport and Communications, Finland. In her lecture titled: "Data, the new currency. We need both data protection and sharing in the digital economy", Minister Berner noted that with services increasingly relying on data, Finland recently launched the Information Security Strategy aimed at transforming the country into the world's most trusted digital business environment. Minister Berner added that security-by-design should be incorporated by default, instead of an afterthought. She also stated that global co-operation is important to exchange information and experience in dealing with cyber threats.
9          Singapore's continued contributions to cyber capacity building and cooperation in the cybersecurity sphere underscore our commitment to spearhead initiatives and engage partners in building a safer cyberspace.
Key announcements and initiatives at SICW 2017 include:
The setting aside of $1.5 million under the ASEAN Cyber Capacity Programme (ACCP) to build up regional cyber capabilities and introduction of a new ASEAN Cybersecurity Industrial Attachment Programme to offer training opportunities in Singapore for candidates from ASEAN member states
Creation of the CSA Academy to train cybersecurity professionals in government and critical information infrastructure sectors. US-based cybersecurity firm, FireEye, will be CSA's first partner to help provide training in incident response and malware analysis
Establishing partnerships with ISACA (Information Systems Audit and Control Association) to collaborate on cybersecurity capability and workforce development, as well as with PwC Singapore and PCS Security for the Cyber Security Associates and Technologists (CSAT) programme
10        Mr David Koh, Chief Executive of CSA, said: "We are happy to receive the continued support of governments, the private sector and the academic community at this year's SICW to discuss the dynamic challenges and exciting opportunities in the cyber domain. This underscores the growing significance of SICW as a key platform for regional and global cyber leaders to spark meaningful conversations and work together to address pressing cybersecurity issues. We also look forward to taking our collaborations beyond the SICW platform to strengthen trust and realise our digital potential."
11        The third edition of SICW will be held in 2018. Singapore will also host the third edition of the AMCC at next year's SICW. For more information, please visit https://www.sicw.sg/.
About the Cyber Security Agency of Singapore
The Cyber Security Agency of Singapore (CSA) provides dedicated and centralised oversight of national cyber security functions, and works with sector leads to protect Singapore's critical services. It also engages with various industries, and stakeholders to heighten cyber security awareness as well as to ensure the holistic development of Singapore's cyber security landscape. The Agency is part of the Prime Minister's Office and is managed by the Ministry of Communications and Information. Information on CSA is available at www.csa.gov.sg.