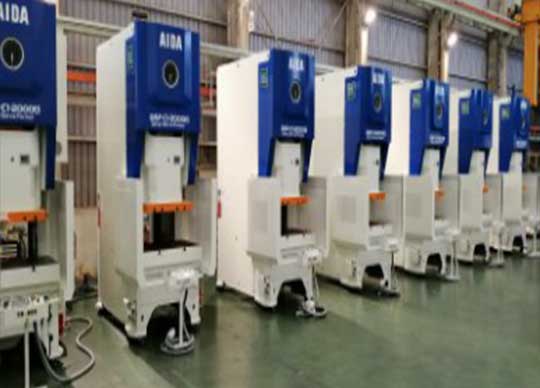 Aida Engineering Malaysia SDN. BHD., have selected Mitsubishi Electric's energy-saving data collection server "EcoWebServer III" to visualize and manage their electricity consumption, managing to reduce their electricity cost by 15%.
Their challenge began when the local power company came to them and pointed out that their six-month energy consumption exceeded 3 million kWh in total. They were obliged to hire a dedicated energy manager who would be responsible for checking monthly electricity consumption and reporting it to local authorities every six months.
The company's response was to visualize their power consumption and tried to cut electricity bills by identifying peaks. There are two types of electricity rates in Malaysia depending on the time of day.
Therefore, if the peak in the factory's power consumption comes when the price is high, you may want to shift that demand to the time of day when electricity costs are lower – the so-called "peak shift", which would then help you lower your electricity bills.
Thinking along similar lines, the energy manager at Aida Engineering Malaysia decided to go around the factory every month to manually check the power meters and write down the figures.
But this way of recording the data didn't help them identify the peak, since they could only see the monthly consumption.
To get a clearer understanding of the peak levels they would need to continually measure the electricity consumption, perhaps every 30 minutes for 24 hours/ seven days a week.
To visualize their power consumption more effectively they turned to Mitsubishi Electric, who suggested to use an energy-saving data collection server called "EcoWebServer III."
Aida Engineering Malaysia needed to measure the electricity consumption every 30 minutes for 24 hours/ seven days a week.
"By shifting the peak demand to the time of day when the energy price is low, we were able to reduce our electricity bills by 15%," explained Hideki Mawatari, Maintenance Manager of Aida Engineering Malaysia.
"The effect was immense. We were able to collect the data we needed, and what's more, the pay-back period was shorter than one year. The EcoWebServer lll was very easy to install," Hideki Mawatari added.
"We considered other choices, but what attracted us about Mitsubishi Electric's solution was the fact that the EcoWebServer lll can be easily connected with existing equipment. It is also scalable so we can add up as we go along."