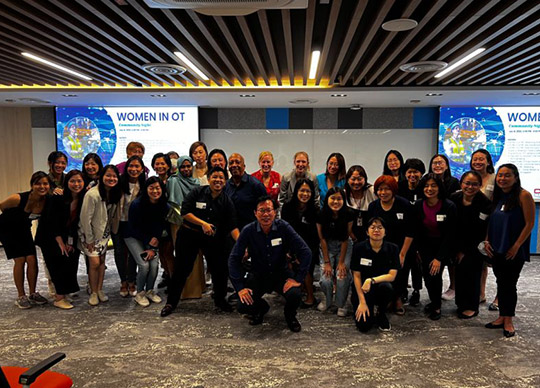 By Jane Lo, Singapore Correspondent.
 As part of the Operational Technology Cybersecurity Expert Panel Forum (OTCEP) 2022 and supported under the SG Cyber Women initiative [1], the inaugural "Women in OT" organised by OT-ISAC and Cyber Security Agency of Singapore (CSA) kicked off on the evening of 14th July in an intimate setting filled with generous and candid sharing, lots of interaction and dashes of humour. 
Moderated by Jane Lo (Correspondent, MySecurityMedia), three distinguished panelists with extensive experience in operational technology ("OT") shared their personal stories. 
Hailing from the U.S.A, Europe and Asia respectively, were Maggie Powell (Principal Industry Specialist, Amazon Web Services), Sarah Fluchs (CTO, Admeritia GmbH), and Ong Chen Hui (Assistant Chief Executive, BizTech Group; Director (Covering), Trust Tech Engineering). 
Refreshing views, career tips and common themes emerged from the exchange of insights and views. 
One was that cybersecurity is not all about technology. While arguably an acknowledged view, it was convincingly bolstered by the personal journeys of the panelists. Early and mid-career choices from sports to journalism illustrated the diversity of disciplines as realistic pathways to specialise in the area of cybersecurity. 
The stories shared by the panelists also challenged widely held opinions that STEM (science, technology, engineering, mathematics) are mandatory foundations to forge careers in cybersecurity.  
More importantly is the willingness to explore various options and embrace the learnings from the experiences. 
The exchanges at the panel also offered that, rather than be bounded by traditional views, being passionate about the chosen career field is ultimately a crucial factor to achieve professional goals. 
Another interesting take-away was that while gender quotas or gender specific events may undermine the messages of equality, events such as "Women in OT" are platforms for mutual encouragement. 
Furthermore, besides the valuable takeaways, the networking drinks also provided a forum for all to foster new connections, explore further collaborations, and exchange the latest career opportunities in the ever-growing field of cybersecurity [2].  
Indeed, as an old adage goes, "we rise by lifting others". 
[1] More information and events under SG Cyber Women can be found at https://www.csa.gov.sg/Programmes/SGCyberTalent/SGCyberWomen 
[2] The OT Cybersecurity Masterplan was launched by Senior Minister and Coordinating Minister for National Security, Mr Teo Chee Hean at the Singapore International Cyber Week 2019. The Masterplan was developed as part of CSA's continuous efforts to enhance the security and resilience of Singapore's critical sectors, improve cross-sector response to mitigate cyber threats in the OT environment and strengthen partnerships with industry and ststakeholders. Anyone who is interested in a career in OT can refer to required competencies in the Operational Technology Cybersecurity Competency Framework at https://www.csa.gov.sg/News/Publications/operational-technology-cybersecurity-competency-framework-(otccf)