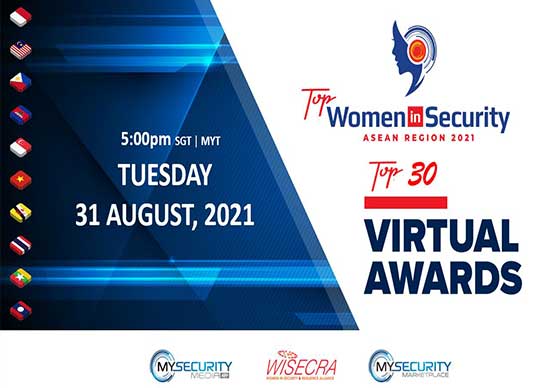 The Top Women in Security ASEAN Region 2021 awards has been established to recognize women who have advanced the security industry within the ten countries of the Association of Southeast Asia Nations (ASEAN).
We have gathered unique industry partnership arrangements, bringing together key chapters of premier, global security industry associations and professional women in security groups in Singapore. Malaysia, Indonesia, Philippines, Thailand and including the ASEAN Region Women in Security Network.
2021 JUDGES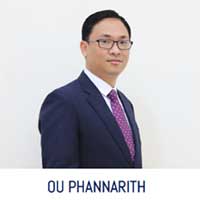 Mr .Ou Phannarit – DIRECTOR OF ICT SECURITY Ministry of Post and Telecommunications, Cambodia
Mr. Ou Phannarith is the Director of Information and Communications Technology (ICT) Security of the Ministry of Post and Telecommunications (MPTC) of Cambodia. He is the former Head of the National Cambodia Computer Emergency Response Team (CamCERT). He has been involved in the development of Cybersecurity, ICTs, and related regulations in Cambodia for the last 15 years.
Mr. OU Phannarith is one of the well-known cybersecurity experts in Cambodia and the region. He was awarded as TOP 100 Global CISO 2020 by Forcepoint, Information Security Leadership Achievements (ISLA) in 2016 by (ISC)2 and in 2012 as one of the top 10 Chief Information Security Officers (CISO) in ASEAN by the International Data Group (IDG) and has been invited to present in global conferences, forums, and seminars.
Mr. OU has been the research fellow at the Center for Inclusive Digital Economy, Asian Vision Institution (AVI), Professor of Cybersecurity at RULE and the visiting professor at Kirirom Institute of Technology (KIT). He is the founder of cybersecurity think-tank known as Cyber Studies Network (CSN) which contributes to improve policy for strategic decision making through research, dialogue, public debate, policy engagement, forum and training on cyber-related issues, emerging and critical technologies. He is also a founder of cybersecurity awareness community known as Cyber Youth Cambodia and cybersecurity awareness portal www.secudemy.com.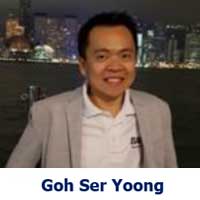 Goh Ser Yoong – CHIEF INFORMATION OFFICER
JEWEL PAYMENTECH, BOARD OF DIRECTORS, ISACA MALAYSIA CHAPTER
Ser Yoong currently serves on the Board of Directors for ISACA Malaysia Chapter. a non-profit organization for IT Security, Governance, Risk, Privacy and Audit professionals as the Chapter President. He is the CIO of Jewel Paymentech, a financial risk technology company providing intelligent risk solutions through artificial intelligence and machine learning. Prior to Jewel, he has held positions in Standard Chartered, British American Tobacco and PwC.
Ser Yoong has participated in various webinars, conferences, academia talks and round tables in Malaysia as well as regional level on various areas including cybersecurity, cloud security, IT audit and governance. He holds a MBA and degree in MIS with certifications including CISA, CISM, CGEIT, CDPSE, CISSP, ACA (Cloud Computing, Security).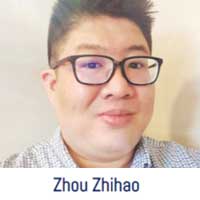 Zhou Zhihao – VICE-SECRETARY, (ISC)2 Singapore Chapter
Zhou Zhihao is a seasoned cybersecurity professional who has over a decade of experience in Cybersecurity Operations, Cybersecurity consultancy, Penetration Testing and Software Engineering.
He is currently heading the Info Security team in SPTel and the Vice Secretary of (ISC)2 Singapore Chapter Executive Committee. He holds a Master Degree in Knowledge Engineering from National University of Singapore and professional certifications such as CISSP, CCSP, OSCP and ITIL. He is an advocate of lifelong learning and truly believes the importance of contributing back to the cybersecurity community.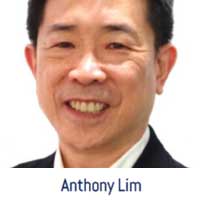 Anthony Lim – FELLOW, Singapore University of Social Sciences
Anthony is a pioneer of cyber-security and governance in Singapore and the Asia Pacific region, with over 26 years' professional experience, as a business leader, consultant, advocate, instructor and auditor (ISO-27001 LA). His current areas of interest include cloud security, smart cities / nation, application security, policy & audit, operational technology and risk management. He has managed some national-level cyber-security infrastructure projects, and has been a judge at several national and regional IT and cyber-security awards. He himself is a 2-time recipient of ISC2 Asia Pacific Senior Information Security Leadership Award and finalist /runner-up at the Singapore Cyber Security Awards.
Anthony is a fellow of an university and was a member of the team which developed acclaimed international cloud security professional certification. He has held inaugural senior regional executive roles at Check Point, CA and IBM, and a regional principal consultant at Fortinet. He is a guest and adjunct instructor and module developer for some tertiary academic & professional institutions. He has presented and provided content at many government, business, industry and academic seminars, committees, executive events, forums, trainings and media (print, broadcast, internet). He is a life alumni member of the University of Illinois, Urbana-Champaign.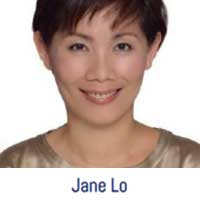 Jane Lo – SINGAPORE CORRESPONDENT, MySecurity Media
Jane started her career in Canada after graduating from Electrical and Computer Engineering and M.B.A studies, and worked in the City of London for 10 years before relocating back to Singapore. She has extensive experience working with financial institutions and consultancies, including implementing solutions using data predictive analytics to detect anomalies and fraud. She currently specialises in helping firms manage today's emerging risks, including cyber and data protection measures, and anti-money laundering frameworks to combat the increased financial crime in the cyber space.
Jane holds an Advanced Certificate in Governance, Risk and Compliance. She is also a Certified Ethical Hacker, and her recent cyber security publications and podcasts on MySecurityMarketplace include: Episode 255 – Deepfakes, Shallowfakes & Cheapfakes – Seeing is Believing; Episode 262 – Cyber Influence and Misinformation – a growing threat in Cyber Space; Episode 266 – Disrupting Dangerous Malware – Microsoft's legal action to disrupt Trickbot; Episode 268 – The Emerging Role of Bitcoin in Spreading Malware; Singapore International Cyber Week 2020 – Special Report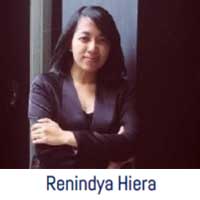 Renindya Hiera – SENIOR ASSOCIATE, RISK INTELLIGENCE
Hill & Associates
Renindya Hiera is a Senior Analyst at Hill & Associates, a risk management consulting firm part of G4S Group Company. Renindya provides clients with timely and detailed risk assessment focuses on a variety of key risk factors including terrorism & extremism, ethnic, religious and social conflict, as well as political risk and how they all impact the business environment.
She holds a Bachelor Degree in International Relations from Airlangga University. Prior to joining Hill & Associates, Renindya worked as a journalist for Marie Claire Indonesia and had reported extensively on social, culture and gender issues. She has actively engaged in discussions and projects related to geopolitics, climate crisis, women empowerment and mindfulness. She had volunteered in a global cultural and education exchange programme called "World of Knowledge" in Poland between 2009 and 2010. She is currently an active member of Indonesian Women in Security (IWIS), a networking group to connect Indonesian professional women working in security sectors. She believes that an empowered woman is a powerful force of impact in society, therefore it is important to support and encourage others to succeed.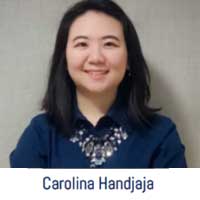 Carolina Handjaja – RISK OPERATIONAL EXCELLENCE MANAGER Gojek – GoTo Group, AUDIT DIRECTOR, ISACA Indonesia 
Carolina is an Information Technology (IT) professional with experiences in Financial (Fortune 250 Banks & Insurance), Healthcare, and Transportation industries clients. Hands on experiences of managing multiple projects successfully with consistent track record in:
– Information Security External & Internal Audit
– Regulatory Compliance – Technology Risk Management
– Security Policies & Procedures – Third Party Security Assessment
– SOC 1/ISAE 3402 – SOC 2/ISAE 3000
– with strong understanding of General IT Controls and IT Application Controls.
Trained in: ISO 27001 Lead Auditor, PCI-DSS, Cloud Security, SAP GRC, Cyber Security, SIEM, PAMBesides IT GRC, Carolina is currently managing Risk Operations at one of the most recognized brand in Indonesia.
---
2021 WINNERS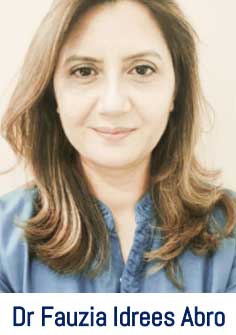 Dr Fauzia Idrees Abro – CEO CISO, Cynosure Technologies
Dr. Fauzia Idrees is an Electronics engineer with her PhD in Cybersecurity and a Master's in Information Security and Cryptology. She is the first female PhD of Pakistan's Armed Forces and the first female IEEEP Gold medalist. She has over 24 years of work experience in the Military, industry, and academia. Currently, she is working as the Director of Business Incubation Centre/Cybersecurity Program Coordinator at Dawood University of Engineering and Technology. She is also the CEO/CISO of her Cybersecurity venture: Cynosure Technologies.
 
Fauzia is an active STEM and Cybersecurity advocate and strongly believes in giving back to the community. She is the founding president of Women in STEM (WiSTEM) – a global professional network of women in STEM and Cybersecurity. She is on the advisory board of multiple International organizations including CISO Forum, Global Foundation for Cyber studies and Research and N2Women. She is among the pioneer members of Pakistan's first National Centre of Cybersecurity. She has contributed in strengthening the Cybersecurity stature of her country. She is also collaborating with prominent international organizations working against cyber bullying and harassment.
Fauzia has received several awards in recognition of her academic and professional contributions. She is the recipient of the prestigious UK Alumni award, United Nation's Science & Technology award, FJF's Role Model award, Women's Society of Cyberjutsu's  Global Cybersecurity Advocate, Women in Analytics's "Woman to watch in Analytics" award, Onalytica's "Who is Who in RPA", Chief of Air Staff Commendations and Cybersecurity Woman of the year 2021 (nominee). She has also been featured as City University UK''s 5 to watch Alumni and she is the first Pakistani to make on the list.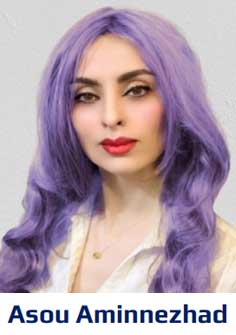 Asou Aminnezhad – SENIOR CYBERSECURITY CONSULTANT, Schneider Electric
Asou is a CISM, CISO, CISSP, CEH, CHFI certified professional, Top 10 Women in Cybersecurity in Malaysia in 2020, and holds a Master of Security in Computing. She is author and co-author of several scientific papers and books and has conducted a wide range of training courses in computer forensics and cybersecurity globally.
She is currently Senior Cybersecurity Consultant at Schneider Electric (APAC), managing multiple cybersecurity streams like vulnerability management, security standards and regulations, SIEM and SOC implementation, cloud security, executive training, project management, and cybersecurity R&D strategic plan.
In addition, Asou has an excellent reputation for cybersecurity strategy and implementation, resolving problems, improving customer satisfaction, and driving overall operational improvements in both IT and OT domains across different industries globally.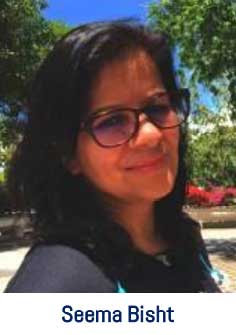 Seema Bisht – Senior Manager, Security Strategic Partnership, Accenture
21 years of experience in Cyber Security Program Management, Operation and Business, DC Transition & Transformation, Information Security Risk management, PMO, ITSM. As an experienced leader I am able to build highly motivated management teams focused on achieving revenue goals. Keep up-to date with changes in the industry through continuing professional development. Areas of Expertise: • Strategic/Tactical Planning • Cyber Security Strategy , Risk and Compliance • Multimillion-Dollar Account management and PnL administration • Analytical and Financial Skills • Statistical Modelling and ROI Analyses • Cybersecurity Delivery Models
I currently lead strategic security partnerships and work closely with the larger security ecosystem to innovate and drive new solutions that can address our clients requirements and help them grow.
I lead a circle by name od "She in Security" which promoted more young girls to take up cybersecurity as career choice. I have worked closely with one of our partners to run a cybersecurity Badge Program in Singapore for young girls from Girls Scout( USA GSO) SG. The first-ever cybersecurity badge program provides access to cybersecurity education for girls, encouraging deeper engagement in STEM activities for girls and eventually priming female candidates to fill the ever-growing vacancies in the technology, IT, and cybersecurity fields. There were 110 badges earned by the members of Girls Scout on our program launch on 27th Feb 2021. Goal of our program is to provide cybersecurity education to girls, beginning as early as kindergarten, eliminate traditional barriers to STEM education access, encourage girls to pursue work in fields like IT and cybersecurity, and fill the STEM jobs pipeline, cultivate an early interest in cybersecurity and technology among girls and achieve gender parity in the tech workforce.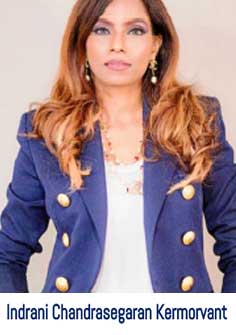 Indrani Chandrasegaran Kermorvant – MANAGING DIRECTOR, ACCENTURE SECURITY SEA, Accenture Pte Ltd
Indrani Chandrasegaran is a Cyber Security Executive with Accenture Security and leads their Applied Cyber Security Services in South East Asia.  In her role as the Applied Cyber Security Services leader, she is responsible for overall client cyber transformation strategy and delivery of Innovative cybersecurity services to help them build business cyber resilience and grow confidently
Indrani has over 21 years' experience in delivering cyber digital transformation programs, cyber governance advisory, technology advisory, cyber defense operations and managed security services in APAC, Middle East and Europe. She has worked with federal agencies in SEA to build cyber defense programs and data loss advisory programs. She is versatile cyber security professional focused on a vision to advocate cyber security culture and helping organizations globally to rethink and innovate their enterprise cyber resilience program.
She is a thought leader and regularly speaks in security events and has been appointed as customer advisory board member for 2 prominent global technology vendors .
She as well mentors for ISACA Singapore Chapter and Accenture Technology Analyst Programme. As a recognition of her credibility and credentials , Indrani was awarded Top20 Women in Cyber in Singapore for the Year 2020 .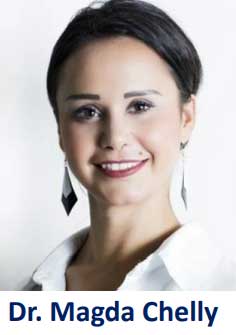 Dr. Magda Chelly – REGIONAL LEADER FOR CYBER ADVISORY PRACTICE, Marsh Asia
Magda Chelly is a well-acknowledged cybersecurity expert in the industry and a highly sought after keynote speaker. She held Chief Information Security Roles across various organizations, and advised companies in various industries on their cybersecurity strategies. She is an Offensive and Defensive Security Professional. She is also an entrepreneur and strong activist for women in cybersecurity. She was a member of the Advisory Board for the Executive Summit at Black Hat Asia and founded Women on Cyber's chapter in Singapore, supporting female professionals in the industry.
 
Magda is an Engineer with a Master and a PhD in Telecommunication Engineering from the Telecom SudParis. She also speaks five languages fluently.
Magda's research topics have focused on cybersecurity, the future of localization and positioning, education, and more. Her research works and writings around cybersecurity have been featured by IEEE, RSA Conference, CYBERSEC, World Congress on Internet Security (WorldCIS-2016), CYBER RISK LEADERS Magazine, among others.
She has been recognized as Top 50 cyber security professionals worldwide, amongst other recognitions.
 
Magda is currently the regional leader for Cyber Advisory Practice for Marsh Asia, based in Singapore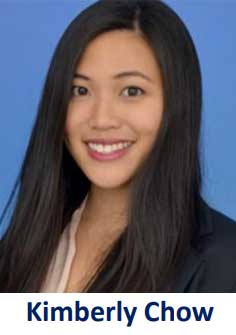 Kimberly Chow – SENIOR SECURITY ARCHITECT, Amazon Web Services
Kimberly is currently a Senior Security Architect for Amazon Web Services, where she works with customers to design and develop secure environments on the AWS Cloud. 
Kimberly was a recipient of the Top 20 Women in Security Singapore, and won the scholarship to the Cyber Leadership Institute in 2020, in which she placed in the Top 3 of the Cyber Leadership Program for the October Cohort in 2020. In acknowledgement of Kimberly's  commitment and passion for cyber security, Kimberly was chosen as a representative for the Community Advisory Council for the Cyber Leadership Institute, working with the council to increase engagement, and building a lasting network of present and future cyber security leaders. 
Since then, Kimberly has continued to work closely with her customers at AWS, focusing on areas that would help them be secure in the cloud in the most effective and efficient way possible.
 
In particular, Kimberly has focused upon incident response in 2020 and 2021. Noticing that the COVID-19 pandemic would lead to an increase in cyber attacks on the remote workforce, Kimberly ran the first incident response campaign for external customers of AWS during the AWS ASEAN Summit, as well as the largest scale ASEAN wide Incident Response campaign internally, focused on educating AWS technical field resources on helping AWS customers through customer-side security incidents on the cloud, making a marked difference in the way AWS customers were able to respond and remediate cloud security incidents. This has led to increased customer awareness and capabilities, as well as helped the AWS Security Team scale by utilising non-security technical resources to aid AWS customers in their response and recovery. 
She has done external presentations, most notably, the AWS ASEAN Summit 2021 entitled "To Cloud or Not to Cloud: The CISO's Guide to AWS" aimed at helping modern CISOs demystify building cloud-native security organisations, through an effective Cloud Security Operating Model. 
Kimberly continues to support others in their Cyber Security journey. She is currently a mentor for the ISC2 Singapore Chapter, and mentors AWS resources with a passion for security.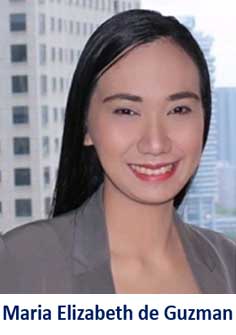 Maria Elizabeth de Guzman – CYBERSECURITY DIRECTOR, EY Global Delivery Services
Maez currently leads EY's extensive cybersecurity delivery center in Manila Philippines, supporting the firm's major clients globally. She is the first female certified chief information security officer (CCISO) in the country and recently recognized by SecurityMatters magazine, PWCA and WISECRA as one of the Top Women in Security in the Philippines. She has also been well recognized as part of Women who inspire Honorary in her previous organization and Epic Women in Cyber, elevating amazing women in the Cybersecurity industry.
A member of EC Council's International Advisory Board for CCISO – comprised of prominent Industry leaders and top Threat Intelligence professionals from a diverse range of industries and globally-known brands, Maez is serving as an invaluable guidepost to help in building new initiatives for Information Security management.
 
Maez is a program Director and lead security architect on the biggest EY Security Orchestration, Automation and Response platform deployments. She has been highly focused on building new solutions in security architecture, cyber analytics and emerging technology. Maez has extensive experience in leading large-scale digitization/automation initiatives, setting cybersecurity centers of excellence and driving business simplification initiatives, business transformations and large-scale Threat Detection and Response operations.
 
With relevant global work experience – lived and worked across the APAC region as Head of Security, Incident Response and Threat Intelligence, she has been a proven leader with a track record of integrating security into business and technology operations and helping global leaders address their pressing security and risk concerns.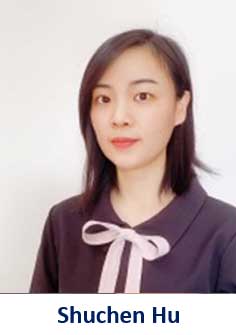 Shuchen Hu – SECURITY ENGINEER, DRW Singapore Pte Ltd
Shuchen is a Cybersecurity engineer specializing in Digital Forensics and Incident Response with a professional history serving the financial services industry and Cybersecurity consulting. In addition to cyber incident investigations and data analytics, Shuchen has led cybersecurity product development projects and contributed to improving team efficiency by developing automations and cross-regional collaboration plans.
She is a strong information technology professional with a master's degree in computing specialized in infocomm security from National University of Singapore (NUS). Shuchen also holds multiple industry certifications including GIAC Certified Forensic Analyst (GCFA), GIAC Certified Incident Handler (GCIH), and GIAC Penetration Tester (GPEN).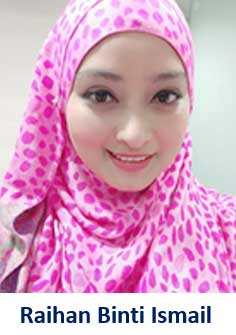 Raihan Binti Ismail – HEAD, CYBER SECURITY ASSURANCE, Financial Institution (Confidential)
Raihan has been in the IT industry for 20 years, focusing on Information Security audit, governance, risk and compliance. She has contributed her knowledge and expertise in various industries throughout her career path; namely, telco, financial institution, investment holding company, audit firm, IT solutions provider, retail, and port services. She has driven initiatives that have proven significant improvement in an organization's cybersecurity maturity posture.
Raihan holds a Degree in Computer Science and a Master of Science in Information Management from local universities. She has published several academic articles and papers for local and international conferences. She is certified in ISACA's Risk and Information Systems Control (CRISC), Certified Data Center Risk Professional, Certified Disaster Recovery Professional, certified in several security product ranges such as from Microsoft, Symantec, TrendMicro, Websense, etc. She is currently pursuing more professional certifications in the areas of security and cyber risk.
Raihan is a person with full enthusiasm, dedicated to her work with high integrity and commitment, and always gives her best to create a positive impact and changes to the organization that she works for, such as in cybersecurity maturity.
Raihan is a cat lover and she appreciates music. During her pastimes, she enjoys playing her guitar and ukulele, even teaches music for free to share the same interest in music with people around her.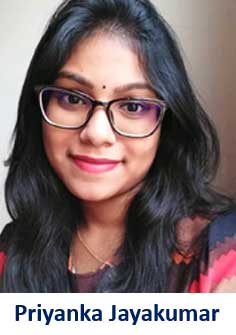 Priyanka Jayakumar – CYBERSECURITY CONSULTANT & EVANGELIST, Cybertronium Sdn. Bhd.
Priyanka is a Cybersecurity Professional with 2 years of experience in Threat Intelligence, Threat Hunting, Security Information and Event Management (SIEM), Digital Forensics, Endpoint Detection & Response (EDR), Vulnerability Assessment & Penetration Testing, Cybersecurity Framework and Incident Handling.
She is a Gold Winner of the 'Cybersecurity Blogger of the Year 2021 – ASIA' award by Cybersecurity Excellence Awards and also recognized as 'Top 13 ASEAN LinkedIn Security Influencers 2020' by Cybersecurityasean.com
She specializes in Cyber Threat Intelligence, Predictive Intelligence and Dark Web. A Trainer and Evangelist who has conducted multiple face-to-face and online Cybersecurity Trainings and has trained 200 professionals across the region thus far.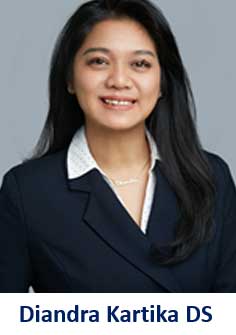 Diandra Kartika DS – COUNTRY SECURITY OFFICER, ASEAN PACIFIC, Siemens Indonesia
Diandra Kartika is the ASEAN Pacific lead for Corporate Security in Siemens Indonesia. Siemens Corporate Security responsible to protect and ensure the duty of care life and limb of Siemens' employee and its assets against security threats. Her main topics in this organization focus to Property Protection, Asset Classification, Travel Security, Project Security, Incident Crisis Management, Situation Threat Analysist, Executive Event & Personal Protection, OPERA, and Crime Prevention & Investigation.
As a lead for Corporate Security in Siemens Indonesia, Diandra's goal is to deliver a professional security services and advice to the customer so the business still can be run securely and/or the customer can get a whole security picture before they execute the business especially at ASEAN region and country levels.
Diandra bring her carrier with a bold 15 years variety security roles and industries experienced backgrounds. She started as Senior Security Analyst and Investigator in security consulting firmed namely Assessment Group Indonesia (Jakarta, Indonesia) then she continued her experience as Security Operations specialist at PT HM Sampoerna known as Philips Morris affiliate (jakarta, Indonesia) not enough to learn about the security industry Diandra joined herself at Multinational Security provider G4S Indonesia (Jakarta, Indonesia) as Regional Operation Manager prior her current responsible in Siemens Indonesia.
Diandra was graduated from Atmajaya University, Jakarta – Indonesia and she hold a Bachelor degree in Law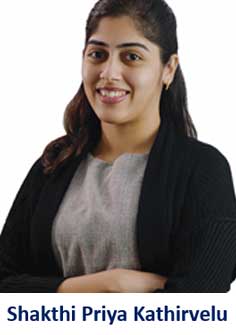 Shakthi Priya Kathirvelu – VP AND HEAD OF INFORMATION
SECURITY AND IT, Funding Societies | Modalku Group
Shakthi is an accomplished security professional with over a decade of global experience in driving security transformations in the BFSI sector and managing security risk end-to-end with a broad customer perspective.
Currently, Shakthi is the VP and Head of Information Security and IT at Funding Societies | Modalku Group, the largest SME digital financing platform in Southeast Asia, where she leads a multi-national team across Asia Pacific to oversee and drive efforts to provide secure customer experience, while ensuring compliance with the regulatory requirements in all the countries that the business operates in.
Prior to joining the FinTech, Shakthi was an Information/Cyber Security Programme Manager at Deutsche Bank, where she had built out and led key onshore and offshore global and regional initiatives, and matrix-managed teams across several security domains.
A working mom warrior and an empowering leader, Shakthi is also a champion for security. She writes and speaks occasionally in security forums, and is a member of renowned security organisations/communities in the region through which she endeavours to promote technology adoption and risk awareness. She is also an unequivocal proponent of Diversity & Inclusion and an active mentor in pursuit of bridging the talent gap in security.
A firm believer in lifelong learning, Shakthi, who holds an Honours degree in Computer Science plus Special Programme in Computing on full overseas scholarship and a number of professional certifications, including CISSP, is currently pursuing her Masters in Information Systems, aside from being on the lookout for the next exciting course.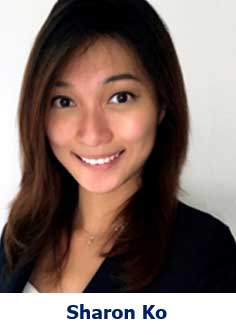 Sharon Ko – ADVANCED SECURITY ANALYTICS – GBB, MICROSOFT
As the technical subject matter expert for security across the intelligent cloud and edge, Sharon advises Asia's largest enterprises on how they can improve their security posture by embracing a Zero Trust Approach with a background centred around Security Operations processes and the functional application of data science to cybersecurity. Her exposure to diverse industry verticals and geographies helps her to carry forward insights from one country to another, facilitating a better overall understanding of threats and limitations others may face and how they can overcome them.
She continually learns and shares knowledge and experience through her interactions across the region – as a CCSP, GCIH and GCSA certified professional she often shares SOC and cybersecurity best practices in various speaking engagements. She also devotes her time to building capabilities with dozens of security partners and has enabled hundreds of security professionals who then provide their expertise to an even larger pool of enterprises.
She is also active in the community, strongly advocating for more individuals, especially youth and women, to consider developing skills and an interest in cybersecurity. She is a mentor in various youth, start up and women-in-tech programmes, in hopes of removing some of the misconceptions and fears that possibly deter individuals from pursuing cybersecurity as an interest or career.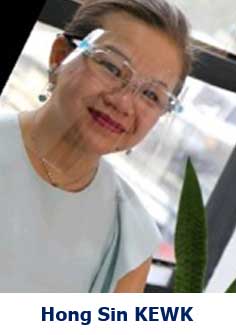 Hong Sin KEWK – CHIEF RELATIONSHIP OFFICER, ASEAN CIO ASSOCIATION
Grounding to the role of Global Relationship Officer and serving the organization for the last 10 years has given me the opportunity to understand better in the ASEAN terrain for needs and demands respectively. Each countries have their requirements, and each has their priority.
Working on special projects that are usually ahead of time has many challenges as some leaders were not able to understand why we move a certain direction, but it just needed to be explained to get their support. With recent tie up with Singapore Open Innovation Platform #THINKSPACE gives us a new way to engage the target audience in both public and private sectors from full spectrum from digital citizens, digital transformation, digital governance and never forget digital security is the foundation to all technologies. In short, an ENABLER. My key focus is to generate projects, create partnership, settings MOUs and driving our flagship event "ASEAN CIO Forum", supporting "ASEAN CIOS Summit" or even to bring on research projects that bring long term value to ASEAN betterment.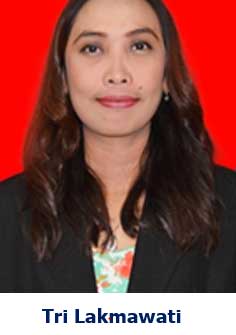 Tri Lakmawati – TRAINING & BUSINESS MANAGER, PT. Jaga Nusantara Satu
Tri Lakmawati has 18 years of experience in the Human Resources Management and have CPHRM certification, besides that has experience in the field of Security Services for approximately 9 years who are accustomed handle both operations. Starting from the startup project process up to project demobilization, conducting Security Unit training, presenting Security in Application, design training according to client requests.
She is Gada Utama Certificated (Licency by Police Government) and 3 (three) International certification :
 
– Certified Anti Terrorism Specialist
– TAPA APAC Auditor "Transported Security Requirement"
– TAPA APAC Auditor "Facility Security Requirement".
 
Tri is currently active in HRD organization activities, namely FK-PT Tangerang (Forum Komunikasi Personalia Tangerang) as a Social Section and as an Instructor in the "SOP Preparation" Training and Instructor at BBPLK (Balai Besar Pusat Latihan Kerja) under the Labour Goverment in Serang – Banten.
 
In addition, Tris is also active in several Security organizations and involved in the sharing of knowledge.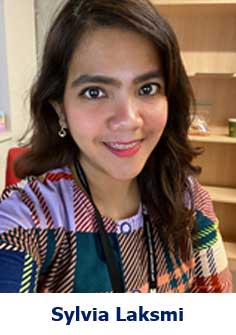 Sylvia Laksmi – COUNTER-TERRORIST FINANCING & ANTI-MONEY LAUNDERING SPECIALIST | PHD SCHOLAR
Sylvia Laksmi, an Indonesian national, is a renowned subject‑matter expert in the field of anti‑money‑laundering and counter‑terrorism‑financing. She has worked as a Senior Advisor/Researcher for the Indonesian Government since 2007 in the specialised areas of financial crimes intelligence investigations.
Sylvia is currently a PhD candidate at the Australian National University, examining Indonesian counterterrorist financing policies and their impact on terrorist operations in Southeast Asia and the Asia–Pacific. In 2016, she was called upon to be a member of the National and Regional Anti‑Money Laundering and Counter‑Terrorist Financing Team to develop risk assessment projects and a training syllabus.
Her other notable posts include Teaching Fellow of Military and Defence Studies Program for the Australian War College; Adjunct Lecturer at Charles Sturt University, Canberra; Research Fellow in International and Strategic Studies at the University of Malaya; Visiting Scholar at the International Centre for Political Violence and Terrorism, Singapore; and Senior Researcher at the Centre for Terrorism and Radicalism Studies, Indonesian Police Science College. In 2019, given her considerable depth and credibility, Sylvia was called upon to assist the Philippines Government in a project for Peace Youth Communities to generate counter‑narratives against IS‑inspired groups and the Communist Party.
She holds a Bachelor of Political Sciences, which included a thesis on the Abu Sayyaf Group, from University Padjadjaran (Indonesia), and an MSc focused on terrorist financing study from the University of Indonesia.
She is a 2017 Australia Awards Scholarship awardee and received a research grant from the Australian Army Research Centre.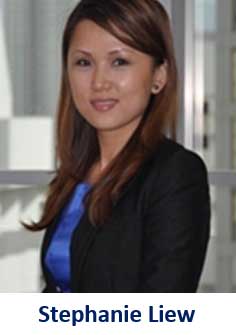 Stephanie Liew – HEAD INFORMATION SECURITY RISK OFFICER, Standard Chartered Bank
Stephanie is very approachable, highly motivated mother of three energetic kids and loving wife that has a passion for travel, developing growth mindset and lead by listening.
She is a transformational and action-oriented Strategic Director with more than 20 years of experience focused in driving vison and purpose that deliver client values. Stephanie leads success stories by championing strategic initiatives, questioning the status quo that shore up weaknesses, improving Information & Cyber Security (ICS) controls and enable the Business to provide secure services to their clients.
Through her role as the Head Information Security Risk Officer at Standard Chartered, Stephanie uplifts sophistication and maturity of the people, process, technology & governance of the Bank and deliver advanced Second Line of Defence capabilities to identify, protect, detect and respond against sophisticated cyber threats.
In addition to CISA, CGEIT, CRISC, CDPSE; Stephanie is also a Licensed Master Neuro Linguistic Programming (NLP®) Coach and Human-Centred Design (HCD) Practitioner.
When not engage with ICS risk governance, Stephanie enjoys promoting Diversity & Inclusion initiatives and growth mindsets through volunteering her time in mentoring and coaching. Her purpose in life is to create a more peaceful, joyful and loving world where we are living in unity and connected to our greatness and true potential.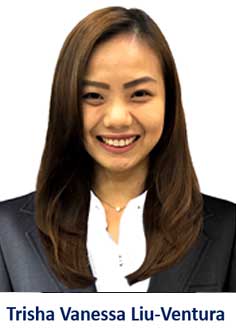 Trisha Vanessa Liu-Ventura – VICE PRESIDENT | DIRECTOR AND HEAD OF IT/INFRASTRUCTURE SECURITY, Rizal Commercial Banking Corporation (RCBC) Group
A Certified Insider Threat Program Manager with about 10 years of professional experience in the security field. Trisha has handled Information Security and Data Privacy Incident Management, deployed Insider Threat programs globally, delivered Data Loss Prevention solutions and implemented Information Security and Data Privacy policies and frameworks for both local and multi-national companies.
She currently heads the IT Infrastructure Security department for one of the Philippine's leading banks; protecting not just its customers, but also defending the organization against cyber threats while continuously improving its security posture. She leads enterprise-wide cyber security operations and initiatives where security controls and processes are defined, evaluated and implemented ranging from IT security operations, endpoint security, identity and access management, networks security, cloud security and proactive cyber threat intelligence.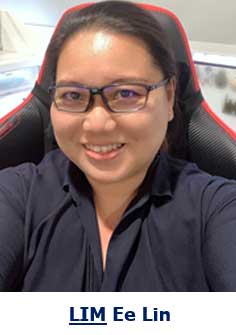 LIM Ee Lin – Senior Assistant Director, Cyber Security Agency (CSA) of SIngapore
Lim Ee Lin is currently the Senior Assistant Director at the Cyber Security Agency (CSA) of Singapore, leading the Government and People & Enterprise clusters of Cybersecurity Programme Centre (CSPC), whom is responsible for securing government networks and systems; and implement programmes to enable a resilient nation.
Prior to her current employment, she has served in the Singapore Armed Forces. She also worked in Defence Science Technology Agency (DSTA) and various system integrators (SI) like NCS Pte Ltd; Singapore Technologies Engineering Ltd (STE). She has over 20 years of experience in network systems, radio communications, telecommunications and satellite communications before moving into cybersecurity domain.
She has attained several industrial certifications, including Certified Information Security Manager (CISM); Certified Information Security Auditor (CISA) and Certified Data Privacy Solutions Engineer (CDPSE). She is constantly pursing her goals to enhance her skillsets in emerging technologies (Cloud, AI).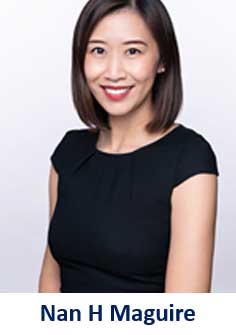 Nan H Maguire – REGIONAL INFORMATION SECURITY OFFICER APAC, Aberdeen Standard Investments (abrdn)
Nan Maguire has over 15 years experience in the Cyber Security industry and worked extensively with Fortune 350 and FTSE 100 companies across the globe. After graduating as an Electronic Engineer, Nan worked in a number of large banks in the UK before moving to a reputable international professional services firm as the security expert. She was the Cyber Security executive advisor to multiple government agencies and a number of large international financial institutions globally through which she developed strong management and delivery skills with a wide range of cyber security, operational security and technology risk knowledge.
Today, Nan is a recognised Cyber and Privacy Subject Matter Expert in the Finance industry. Having spent 6 years in Singapore serving the APAC region, she believes in forward thinking and fit-for-purpose cyber strategies and solutions and is committed to help her organisation to shape up its Cyber future to be adequate, understandable, future proof and operationally flexible. Nan is also an active promoter for diversity and inclusion and an active mentor for those looking to develop their careers in Cyber security.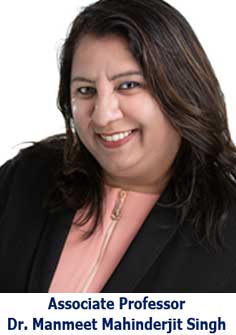 Associate Professor Dr. Manmeet Mahinderjit Singh – CYBERSECURITY LECTURER & RESEARCHER, University Sains Malaysia
Associate Professor Dr. Manmeet MAHINDERJIT SINGH is an educator and Cybersecurity researcher at the School of Computer Sciences, University Sains Malaysia (USM). She graduated from The University of Queensland, Australia in 2012 with a P.hD Degree in Data Security. She obtained her M.Sc and B.Sc degrees in the field of Computer Science and specialising in Security and Distributed Systems. Before joining the academic field, she has vast experience in the computer/laptop hardware and software services industry.
Presently, Dr Manmeet's expertise is in Information and Cyber Security, Trusted System Architectures and Models, Internet of Things (IoT) Security, Smart devices Security and Mobile Security. Her research interests are in Data Mining and Smart devices technologies and devices such as Smart Home, Smart city, Wearable devices, and Brings Your Own Devices (BYOD) applications. Her zeal in these areas is well demonstrated in her completed and ongoing research projects, academic grants, lecturing/tutoring courses and consultancy/training. She had trained in subjects on Computer Programming, Computational Thinking Skills for STEM, Information Security courses such as Emerging technologies security, Big Data Security, Information Security for Managers and System Security & Protections.
In addition to teaching and research supervisions, she had published extensively in areas of her specialisations and research interests. She has been awarded several security innovations and academic awards. Among the prestigious awards are to be nominated as one of 2020 Top 10 Women In Security Malaysia, Gold medallist for security tools at ITEX 2020, Korea Academic Innovation 2020 and Innovation Award for Penang Science 2019.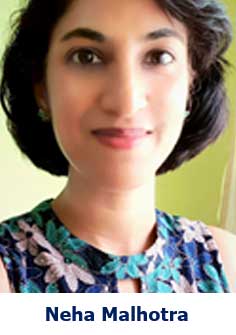 Neha Malhotra – ATTACK SURFACE MANAGEMENT, GLOBAL PROGRAM MANAGER, ENTERPRISE SECURITY
Neha Malhotra is a cybersecurity practitioner, currently working in a cyber-leadership role, based in Singapore. She is listed in "2021 Global Top 100 Leaders in Information Security" and was recognized as one of the "Top 20 Women in Cybersecurity in Singapore" in 2020. Shortlisted for "Cybersecurity Woman of the Year" and "Security Leader of the Year-Asia" Awards recently, she was also featured in Epic Woman in Cyber, Risky Women and Global list of Women in DevOps in 2021 & has also received accolades at her workplaces.
Neha has experience driving global transformational information security initiatives across IAM, endpoint & data protection, vulnerability & secure configuration management, network & cloud security; ensuring secure design, architecture & alignment with cybersecurity frameworks & policies. She proactively resolves technical & business challenges to bolster organization's security posture & to comply with regulations.
Neha is a recognized speaker at international cybersecurity conferences, podcasts and actively shares her knowledge on security & emerging technologies. She serves on Exco board of (ISC)² Singapore chapter, and is an ambassador & Cyber champion on initiatives from Cybersecurity Agency of Singapore, IMDA, (ISC)2, ISACA, Division Zero etc, & actively conducts sessions to raise cyber-awareness in Singapore & globally across communities. She is involved in numerous mentorship programmes, strongly supports diversity and mentors women in STEM and cyber.
Neha holds CISSP, CCSP, CISM, PMP, PSM1, CBSA, CBSP (Blockchain Architect & Security) certifications & has earlier worked with BNP Paribas, Deutsche Bank, Accenture, IBM, Fujitsu, Crisil, KPIT across Singapore, Malaysia and India.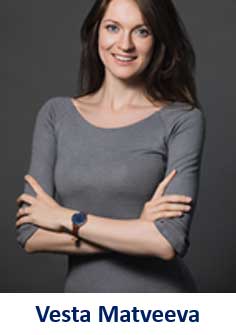 Vesta Matveeva – HEAD OF HIGH-TECH CRIME INVESTIGATION DEPARTMENT, APAC, Group-IB
Vesta Matveeva is a cyber security expert specializing in computer crime investigation, digital forensic, and incident response. She has successfully investigated cross-border cases involving financially motivated and state-sponsored APT-groups.
Vesta's dedication and perseverance in the investigation of most complex cybercrimes has led to numerous high-profile arrests. In Nov 2020 Vesta was a key part in the Operation Falcon, working closely with INTERPOL's units to identify and locate threats which ultimately assisted the Nigerian Police Force into the arrest of 3 suspects involved in Business Email Compromise scams. In Jan 2020, Vesta was part of the Operation Night Fury initiated by INTERPOL, which led to the arrest of 3 suspects in Indonesia involved in the stealing of payment card details of online shoppers.
Vesta has a degree in computer science and has authored several scientific papers in cybersecurity. She has also designed a range of training courses, computer forensics teaching methods, and cybersecurity guidelines. In 2017-2018, she participated in the plenary discussions on the future cyber security strategy during the Octopus Conference organized by the Council of Europe. Vesta organized and conducted training courses for Europol, largest banks, industrial enterprises, universities and law enforcement agencies in various countries, including in the UK, the Netherlands, Bahrain, Thailand, and Singapore.
Vesta is a leading member of the R&D team, which has won the highly coveted CSA Innovation grant to develop a cyber investigation solution for Singapore.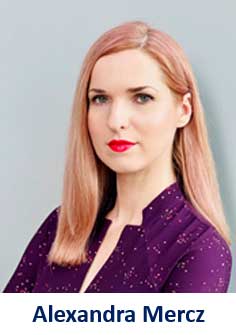 Alexandra Mercz – INFORMATION SECURITY CHIEF OF STAFF, Gojek
Alexandra Mercz is one of the key diversity advocates in the ASEAN Cyber Security community. She supports female talent in cyber security and technology through her mentorship programme with the (ISC)2 Singapore Chapter, and as a mentoring programme lead at TechLadies. With more than 45% of her mentors and mentees being female, her mentorship programmes far outpace the industry average.
Alexandra's current role as the Information Security Chief of Staff at Gojek and previous experience as Global Director of Information and Cyber Security at Standard Chartered Bank allowed her to gain cyber security expertise supported by business insights. Alexandra is deeply passionate about technology, especially cloud security, which is why she is only the third woman in Singapore to hold the Google Professional Cloud Security Engineer certification.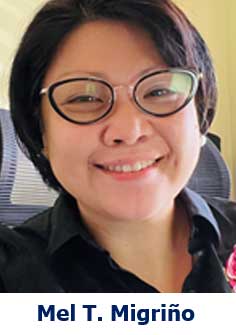 Mel T. Migriño – VICE PRESIDENT AND GROUP CISO, Meralco
Mel led the cyber security transformation, built the cyber security capability and implemented the cyber resilience strategy in the Enterprise and in the Industrial Control Systems. She has more than 15 years experience in the leadership role providing oversight and direction on Cyber Security Governance and Operations, Privacy, Business Continuity and IT Audit. She is also the Chairperson and President of the Women in Security Alliance Philippines (WiSAP). An organization aimed to empower women and develop their skills and abilities to be an effective security leader. She received recognitions on IFSEC Top 20 Global Influencer for Security and Fire for 2020 and 2021 under the Security Executives category and was recognized by Risky Women on February 2021. She was one the judges in the Top 10 Women in Security in the Philippines 2020.
Previously, she served as the Vice President for Information Security, Privacy and Enterprise Risk Management of the leading Fintech Company in the Philippines wherein she established the compliance program on Enterprise Risk Management and Data Privacy and led the strategy for cyber resilience. Also, she served as the Cyber Security Director of a Big Four Auditing Firm where she expanded the cyber capability in the Philippines and increased the foot print of the firm in the local market by establishing strategic partnerships within Asia Pacific.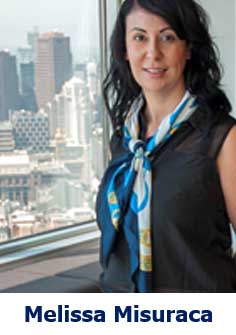 Melissa Misuraca – CYBER SECURITY CULTURE CONSULTANT, Freelancer
I'm a 'non techie' specialising in cyber security culture programs through effective education and change management. Working with global clients and household name, I've delivered 40 Security Culture and Awareness programs across sectors including utilities, health, energy, emergency services, retail, education, technology, financial services, government, property, non-profits, professional associations, medical, technology, telecommunications and engineering.
In 2020, I was awarded the Australian Women in Security Network winner for IT Barrier Breaker, in recognition of my contribution to the industry.
I hold a Bachelor of Arts from Deakin University and Harvard Kennedy School Certificate, 'Leadership and Managing Cyber Risk in the Digital Age'.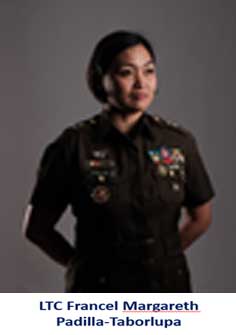 LTC Francel Margareth Padilla-Taborlupa – HEAD EXECUTIVE ASSISTANT TO THE PRESIDENTIAL ADVISER ON PEACE, RECONCILIATION & UNITY AND IS OFFICER TO THE NATIONAL TASK FORCE AGAINST COVID 19
OPAPP/NTF/AFP
Recently adjudged as one of the Top 10 Women in Cybersecurity Philippines 2020. Her career has taken her through 25 years of study, research, teaching, administration and operations. She has written numerous articles serving as editor of popular journals. Currently serving as a Lieutenant Colonel at the Signal Corps of the Armed Forces of the Philippines, she has promulgated innovations, changes, and modernization as an Army Officer specializing in Cybersecurity and Systems development.
As a development practitioner, she is a Gender and Development advocate and trainer and a formal mentor, pushing forward the tenets of the Women, Peace and Security Agenda to inspire and motivate women to empower themselves and break the glass ceiling.
As the Head Executive Assistant to the Presidential Adviser on Peace, Reconciliation and Unity at the Office of the Presidential Adviser on the Peace Process, she furthers the nation's peace venture by serving as the Head Executive Assistant to the Presidential Adviser on Peace, Reconciliation and Unity.
Fostering the goal of mitigating the effects of the Covid-19 pandemic in the Philippines, she is likewise multitasking as a front-liner HEA to the Chief Implementer of the National Action Plan Against Covid-19, while concurrently serving as the Information Systems Officer of the National Task Force, Against Covid-19.
A lady of diverse roles, she is a Soldier, a Certified Ethical Hacker, a Certified Secure Computer user, international lecturer, moderator and panellist, a pistol expert, VVIP Protector, a judoka and above all a mom of 2 wonderful sons.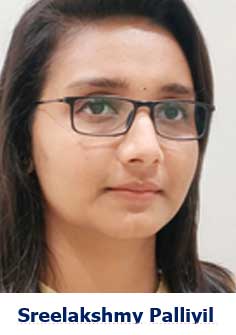 Sreelakshmy Palliyil – INFORMATION SECURITY PROFESSIONAL, Injazat Data Systems
A Cyber security professional, enthusiastic to explore, learn and apply precious concepts of cyber security. Now working as an offensive security professional in ME & always engaged in community activities for cyber empowerment specially in Women.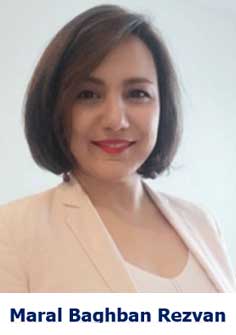 Maral Baghban Rezvan – EXECUTIVE DIRECTOR OF SECURITY OPERATION CENTER, EC-Council Global Services
Over 16 years as a full-time professional in IT and Cyber Security, I have continually demonstrated my ability to help companies grow to their full potential. I have in-depth, first-hand knowledge of various sectors, including banking, telecommunication, Insurance and consulting where I have been employed in numerous roles, including Cyber Security Engineer, Account Manager, Presales Manager, Incident Response Lead, Information Security Officer and currently I am leading a Security Operation Centre with responsibility for employees of diverse nationalities and cultures.
Among the key achievements of my professional life are the implementation of few on-premises Security Operation Centres, running numerous Managed SOC, and several ISO 27001 implementations.
From an academic perspective, I graduated with a Master's degree in Information Assurance from UTM University. My business certifications include ISO 27001 Lead Auditor, CISSP, CISM, CCISO, and various vendor-specific technical accreditations.
Further to this, I have also conducted few webinars. As an example, I was one of the key speakers at "Empowering SecOp Teams to Keep Pace with Cyber Threats", an event which was organised in collaboration with IBM.
Finally, I am ambitious and motivated, I am exceptionally dedicated to my work and will stop at nothing to ensure that the job is done effectively, efficiently and to the highest standards.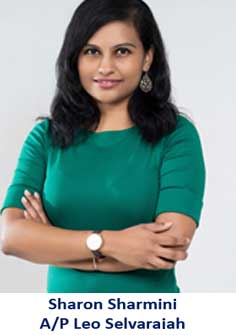 Sharon Sharmini
A/P Leo Selvarajah – CORPORATE IT ADVISOR, Huntsman
Sharon Sharmini is a highly skilled professional with more than 13 years of experience in both Information Security and IT from various sectors such as Oil and Gas, Financial Institutions, external auditing firm and US multinational manufacturing company.
She has professional experiences with the ability to provide independent, objective assurance consultative and advisory activities inaccordance to well established guidelines and best practices such as NIST, ISA/IEC 62433, CIS Center for Internet Security, ISO 27001, PCI-DSS,
COBIT, ITIL, etc. She has led IT Security, Compliance and Governance audits in critical areas such as Endpoint Protection, Network Infrastructure, Firewalls, Operating systems, Mobile Device Management, Vulnerability Management, etc.
In addition, she is also a dynamic professional who volunteers to drive strategy and success for ISACA Malaysia Chapter members. Involved as part of SheleadsTech Chapter Lead that supports and mentors many women into Technology workforce as part of One In Tech program initiated by ISACA.
She has also contributed to webinars, panel discussions and promote cybersecurity education with non-profit organizations namely Australian Information Security Association (AISA), etc.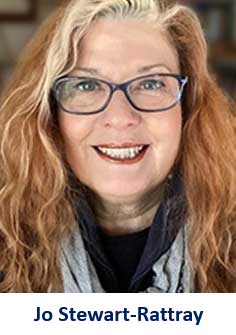 Jo Stewart-Rattray – DIRECTOR OF TECHNOLOGY & SECURITY, BRM Advisory
Jo has over 25 years' experience in the IT field some of which were spent as CIO in the Utilities and as Group CIO in the Tourism space, and with significant experience in the Information Security arena including as CISO in the healthcare sector. She underpins her information technology and security background with her qualifications in education and management.
She specialises in consulting in risk and technology issues with a particular emphasis on governance and security in both the commercial and operational areas of businesses. Jo provides strategic advice to organisations across a number of industry sectors including banking and finance, utilities, manufacturing, tertiary education, retail, healthcare and government.
Jo has extensive board and committee experience. She has chaired a number of ISACA's international committees including the Board Audit & Risk Committee, Leadership Development and Professional Influence & Advocacy. She served as an Elected Director on ISACA's International Board of Directors for seven years and was the founder of its global women's leadership initiative, SheLeadsTech.
CAREER HIGHLIGHTS
Because of her involvement with ISACA and the SheLeadsTech program and her rural background Jo was selected from a large number of candidates to be one of only two non-government delegates and was invited to join the official Australian Government delegation to the 62nd Session of the United Nations Commission on the Status of Women (CSW62) held in New York in March 2018. She returned to the UN in 2019 and again spoke at two UN events this year.
She has spoken on Capitol Hill during a Day of Advocacy designed to bring tech leaders together in one place to discuss issues related to women in technology and then to meet with Congress representatives and Senator's offices.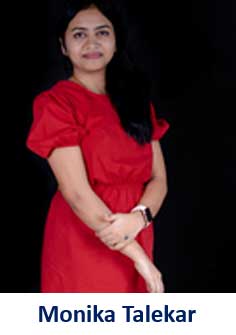 Monika Talekar – SENIOR CONSULTANT
Monika Talekar is a cyber security professional and a security enthusiast with 6+ years of experience. Her areas of expertise are Web/Mobile/Network Pentesting, DevSecOps, Source Code Review and SIEM.
She has completed her bachelors of Engineering in Computer Science as well as achieved certifications which are well known in the cyber security industry like Offensive Certified Security Professional(OSCP), Offensive Security Certified Expert(OSCE), Offensive Security Certified Web Expert (OSWE) and Certified DevSecOps Professional(CDP).She also participates in bug bounties in her spare time.
Monika likes to teach and has conducted talks, workshops and has organised CTF at various cyber security communities like Null Chapter, InfosecGirls, Div0 and Div0-WICS. Her main areas of talks were related to web application security, reverse engineering and mobile application security.
In 2020, she was recognised as one of the "Top 20 Women in Cyber Security in Singapore". Also she is one of the finalists for #cswy2021 for the category "Hacker of the Year 2021".
She is currently researching on devsecops and planning to conduct more workshops in the near future to encourage people to take cyber security as a career option.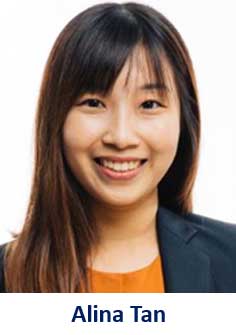 Alina Tan – ASSOCIATE PRINCIPAL, ENTERPRISE SECURITY ARCHITECT, Dyson
Alina recently joined Dyson as an Associate Principal, Enterprise Security Architect focusing on securing Dyson's cybersecurity. Prior to joining Dyson, Alina was a Senior Cybersecurity Engineer at the Land Transport Authority (LTA), contributing primarily in the area of automotive cybersecurity regulations, hands-on technical research and engineering.
Alina is a prominent figure in the automotive cybersecurity industry in Singapore. She founded and leads the Car Security Quarter (CSQ)—a Singapore-based automotive cybersecurity special interest group— and the Singapore Chapter of the Automotive Security Research Group (ASRG-SIN)—a global non-profit initiative that promotes knowledge sharing and development of security solutions for automotive.
She set up these platforms to allow cybersecurity professionals, enthusiasts and students to interact with the wider community and perform hands-on learning and research on automotive cybersecurity. Through these platforms, Alina and her team exported Singapore's automotive cybersecurity contributions to the international stage by conducting seminars and workshops at cybersecurity conferences held in Singapore, Japan and United Arab Emirates (UAE). 
In recognition of her efforts, she was awarded Singapore's national cybersecurity award – The Cybersecurity Awards 2020 (Professional Category) – and was named the Top 20 Women in Cybersecurity in Singapore 2020.
Alina is also an active contributor to the wider cybersecurity community. She is a core volunteer in Division Zero—a Singapore-based cybersecurity community group— and a mentor in the Association of Information Security Professionals (AiSP)'s Ladies In Cyber initiative.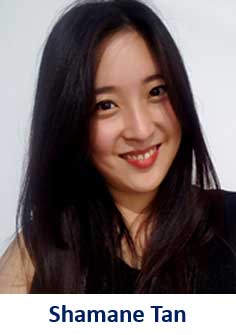 Shamane Tan – CHIEF GROWTH OFFICER, Privasec
As one of the most established women in the fields of technology and cybersecurity, Shamane Tan is the chief growth officer at Privasec, leading the security outreach strategy with the C-Suite and executives.
Known for her passion in spearheading industry awareness initiatives, Shamane has been recognized by IFSEC as one of the global top 20 cybersecurity influencers. She is the author of Cyber Risk Leaders: Global C-Suite Insights – Leadership & Influence in the Cyber Age. In 2020, Shamane was named one of the 40 under 40 Most Influential Asian-Australians; she also received the Highly Commended award by the Australian Women in Security Network as the One to Watch. She has been a judge for numerous ceremonies and was a global judge for the Las Vegas Cybersecurity Women of the Year Award.
Shamane is a sought-after TEDx speaker, international keynoter, and podcaster. She is the founder of Cyber Risk Meetup, an international community and platform for cyber risk executives to exchange learnings. She holds a bachelor's degree (Hons) in computer engineering from Nanyang Technological University in Singapore.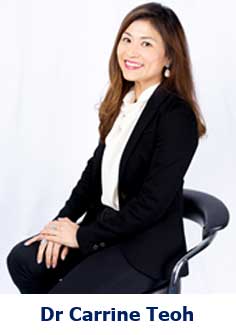 Dr Carrine Teoh – CHIEF STRATEGY OFFICER, Bond Holdings
Dr Carrine Teoh Chooi Shi is Chief Strategy Officer at Bond Holdings. With over 12 years of experience in cybersecurity, her areas of expertise are CNI protection, standards and privacy. She is passionate about synergy of business and technology, emphasizing on digital economy and cybersecurity. She believes in giving back to the community by building the next generation of cybersecurity talent, with mentoring and sharing her knowledge and skills. Dr Carrine advocates women in technology especially in cybersecurity.
 
Dr Carrine is part of Organisation for Women in Science for the Developing World (OWSD), Association of Information System (AIS) and Malaysian Institute of Management. She was part of the team which spearheaded Malaysian Women in Security(MYWiS). She is VP for Nanyang Technological University Alumni(Malaysia). She was awarded Top 10 Women in Security in Malaysia 2020. Dr Carrine was appointed Awards Selection Committee for Cybersecurity Woman of the Year 2021.
 
Dr Carrine is a frequent public speaker on issues of cybersecurity and privacy.
 
Prior to embarking in cybersecurity, Dr Carrine was Electrical & Electronic Engineer specialising in IC Design.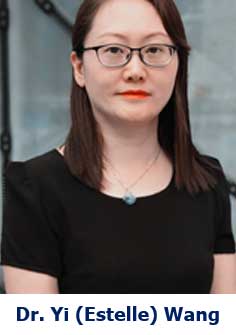 Dr. Yi (Estelle) Wang – PRINCIPAL SPECIALIST
SECURITY & PRIVACY, Continental Automotive Singapore
Dr. Yi (Estelle) Wang is working as a Principal Specialist Security, Team lead for Security & Privacy Competence Centre (SCC) at Singapore, Continental Automotive Singapore from July 2016 (with 2008 Ph.D. degree from Nanyang Technological University, Singapore). Currently, Dr. Wang is leading a team focusing on automotive advanced research projects, consultant and engineering team, and security operations projects. Dr. Wang is leading the regulations and standardizations of Cybersecurity in APAC. Furthermore, she is a core member of the Technical Reference 68 (TR 68) part-3 Cybersecurity assessment for Autonomous Buses working group.
Dr. Wang was honoured with "Top 20 Women in Cybersecurity" in Singapore in 2020. Within Continental Automotive Dr. Wang is actively promoting the culture of Cybersecurity in Singapore where she contributed an extended Cybersecurity know how through several guest lectures at the Singapore Institute of Technologies from 2019 onwards.
With more than 18 years' experience in a variety of embedded security topics, she is active in academic activities, has published more than 46 international top journal/conference papers, and holds 10 industrial patents. She served as the Vice Chair of IEEE CAS chapter Singapore and Associate Editor of IEEE Transactions on Circuit and System II.