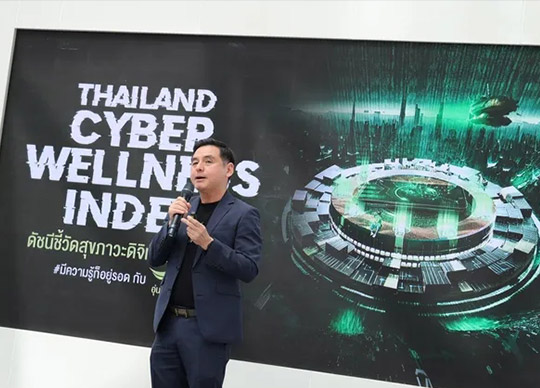 The key mission of AIS Aunjai Cyber has been to build awareness of the dangers and impacts from going online, by developing solutions and digital services to protect users and promote safety.
The aim is to build up knowledge to promote intelligence and skills among digital citizens. Today this is being taken to a new level by building the Thailand Cyber Wellness Index, which measures digital knowledge, abilities and skills of each segment of the population.
AIS Chief Executive Officer Somchai Lertsutiwong commented, "AIS operates its business on the basis of sustainability. We have been at the centre of the network to address the issue of cyber threats for over four years. Our ongoing work has given us the insight to remedy the issues efficiently. This is how we came to develop an index of digital knowledge and skills for each segment of the public. This will enable every agency involved to deploy tools and knowledge targeted at each segment of Thai society, and which are appropriate for the issues arising. We prepared the Thailand Cyber Wellness Index, the first of its kind in Thailand, in collaboration with King Mongkut's University of Technology Thonburi (KMUTT) and a range of experts in technology, health, mass communication, education and evaluation to design a framework for the study. The survey methodology covered a range of age cohorts and occupational groups from every province all over Thailand, a total sample size of 21,862. The results are processed and analyzed to generate the Thailand Cyber Wellness Index."
The survey found that overall, Thai people's cyber wellness was at the "basic" level, while 44.04% were at the level of "must improve". This shows that Thailand needs to boost its learning and understanding of using digital among the people.
The company will continue to join forces to bring this index to the network of cyber-security that includes both the government and the private sector.
This index is the property of the Thai public and is a compass showing the path to develop Thai digital skills safely and responsibly, with efficiency and sustainability in the future.