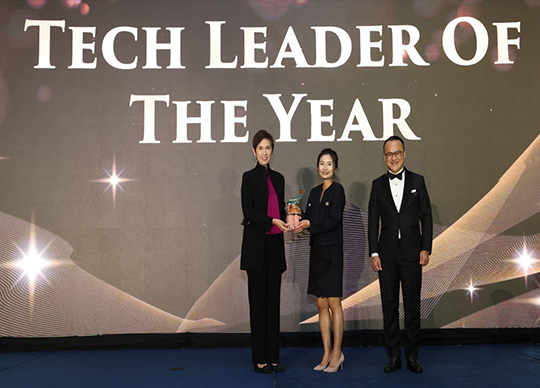 By Jane Lo, Singapore Correspondent.
After 2 years of virtual ceremonies, the Singapore Computer Society delivered a sold-out Tech Leader Awards 2022 gala dinner with 600 guests on-site of the iconic Island ballroom at Hotel Shangri-La in Singapore on 6th May 2022.
The enthusiasm and energy in the air was palpable. Indeed, as Mr Sam Liew (President, Singapore Computer Society) remarked at his Welcome address, "even though all of you have your masks on, our collective spirit of togetherness and joy to be back after three years cannot be masked!"
Amongst the many reasons that this signature annual event was special this year was marking "Singapore's successful transition into the endemic phase," he said.
For sure, the medical and health industry had been at the forefront fighting the pandemic, and the recent lifting of many restrictions was a welcome relief to all.
However, the technology sector had not stayed at the side-lines during the outbreak.
Rapid developments and roll-outs of innovative digital solutions to benefit the healthcare workers and residents – such as contact tracing – were evident during the last 2 years. Breakthrough products and services in these areas were recognised by the Tech Leader Awards 2022.
Under the "Digital Achievers" category, the winners included technology specialists in the health sector ("Integrated Health Information Systems"), as well as the global engineering and tech group ("ST Engineering). With solutions ranging from identifying patients with higher infection risk to improving patient care management, they showcased how technology could be real game changers during such times of crises.
Of significance was also the maritime sector that saw several "Digital Achievers" recognised for digital solutions that produced material efficiency gains to logistics management. (They include: "Maritime and Port Authority of Singapore", "NCS Engineering", "PSA Singapore").
"Tech Leader of the Year" 2022 went to Caecilia Chu, CEO and co-founder of YouTrip, a locally launched Southeast Asian financial technology company. Besides managing a business that provides a multi-currency mobile wallet that has already received several accolades, she also commits her time to initiatives where she endeavours to inspire future women technology leaders.
"Hall of Fame" saw the addition of Eddie Chau (co-founder & chairman, V-key) whose accomplishments over the past three decades, which feature him founding seven startups, sets him as an exemplary and well-seasoned figure in Singapore's tech landscape, making him a highly sought after mentor and advisor by Singapore start-ups.
While celebrating the winners of today, Tech Leader Awards 2022 also recognised the "Future leaders in Tech", with youth leaders who are already championing causes and leading initiatives to instil passion for tech amongst their peers.
"In practically every sector where we have drawn up an Industry Transformation Map, there is a clear shift towards broader and deeper use of technology, in particular digital technologies," said Guest-of-Honour Minister Josephine Teo, Ministry of Communications and Information (MCI) .
To the public and industry who have been positively impacted in this digital transformation journey, Tech Leader Awards 2022 represents an invaluable opportunity to give due recognition to the outstanding work delivered by individuals and teams in the technology sector.
What the 2022 Awards also highlighted was the ability of the technology sector to seamlessly deliver under pressure: the planning, preparation and logistics of the signature event in the local tech scene was condensed from the usual 4-month to an impressive 1 month.
The judging panel that presided over the Awards comprised of judges from various sectors such as business, public, and academia. For a full list of winners, see https://www.scs.org.sg/awards/tech-leader/awards-winners-2022.