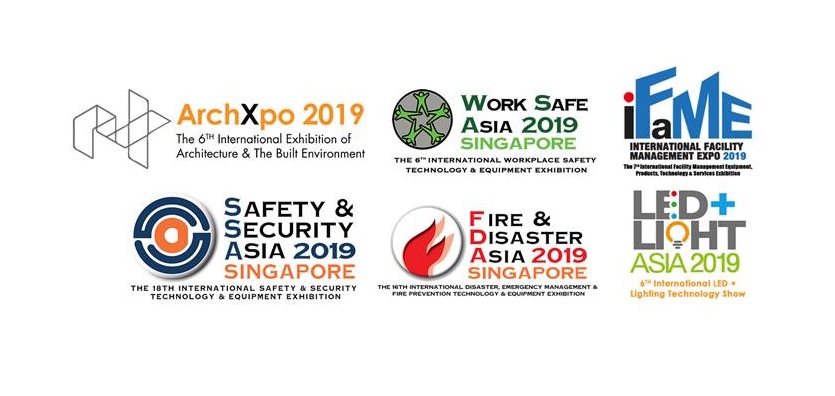 On October 2, Guest-of-Honour Ms Sun Xueling, Senior Parliamentary Secretary, Ministry of Home Affairs & Ministry of National Development officially launched the Security Industry Conference (SIC) 2019, and the Safety & Security Asia (SSA) 2019, Fire & Disaster Asia (FDA) 2019 and Work Safe Asia (WSA) 2019 showcases at the Architecture & Building Services (ABS) 2019; located at the Marina Bay Sands Singapore Expo & Convention Centre.
This year, SIC 2019 will focus on the topic "Total Solution: Integrating Manpower, Technology & Infrastructure". It brings to the fore important topics for discussions on security and the industry and how they will integrate with manpower and infrastructure. SIC 2019 plays a central role in knowledge exchange among like-minded professionals through a combination of exhibits and conferences.
In its 18th year, SSA 2019 exhibition presents an essential role in developing the safety and security market in Singapore and beyond. While the SSA series has been focusing primarily on physical security; several local exhibitors are also demonstrating some of the latest technologies in the robotics and mobility security spaces. Together with unmanned aerial vehicles or drones, this new wave of innovative products and technologies are likely to dominate the safety and security market, going forward.
The SSA also continues to be a relevant and an important platform for professionals and organisations in the security industry to source and procure state-of-the-art safety and security products and solutions. It is positioned for security technology companies to effectively reach out to South-east Asia's bourgeoning markets, where products and knowledge in the safety and security management fields, are critical to minimising security breaches, casualties and damages.
At the official opening ceremony this morning, talent and innovation were also celebrated at the prestigious Merlion Awards ceremony. Presented by show organiser Conference & Exhibition Management Services (CEMS), the Merlion Awards is aimed at encouraging and giving due recognition to companies which are regarded as the captains of the safety and security industries in the Built Environment sector.
The Merlion Awards also serve to honour outstanding new designs and products in the fields of safety and security. Underlining the importance of innovation, the Awards give well-deserving companies the accolades of excellence and pride of place to showcase their exemplary products at ABS 2019.
The winners of the Merlion Awards are as follow:
Gold Award – presented to Certis Technology (PeTER Robot)
Gold Award – presented to Certis Technology (MARK Robot)
Silver Award – presented to We Are Perspective (Titan VMS Kiosk)
Silver Award – presented to Nanyang Polytechnic (FR Multi-Platform Module)
Bronze Award – presented to OneStop Security Platform STEP (Security Technology Enabling Platform) Model