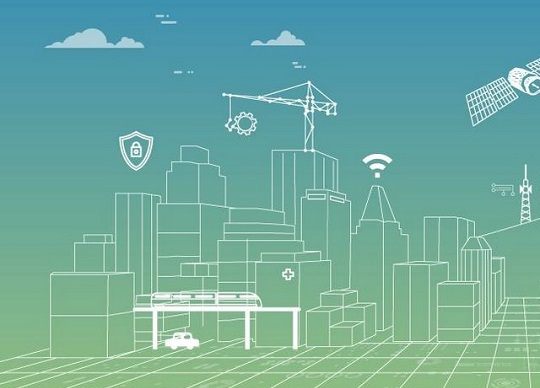 Geo Connect Asia (GCA) 2021, Southeast Asia's inaugural geospatial and location intelligence technology conference, welcomed some 1,200 exhibitors, speakers, delegates, and visitors to participate in the event on 24th and 25th March. In-person attendees were treated to two eventful days of keynote speeches, plenary sessions, roundtables, and more, while about 700 professionals and media from across the global geospatial community tuned in virtually to enjoy a highly curated, immersive and interactive virtual trade event experience. Both physical and virtual attendees hailed from 55 countries.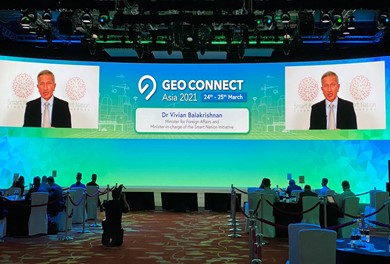 The event was graced by Singapore Minister for Foreign Affairs and Minister-in-charge of the Smart Nation Initiative Dr Vivian Balakrishnan, as Guest-of-Honour. Mr Alvin Tan, Minister of State for Trade & Industry and Culture, Community & Youth also attended GCA 2021, and was brought on a tour of the event where he met with exhibitors and trade delegates, culminating in a visit to the Singapore Pavilion – an exhibition hall featuring myriad Singaporean firms that are part of a fast-growing local geospatial and location intelligence industry.
GCA 2021 was supported by a host of Singapore government agencies, namely the Ministry of Trade and Industry (MTI), Singapore Tourism Board (STB), Singapore Land Authority (SLA),  Economic Development Board (EDB) and Infocomm Media Development Authority (IMDA).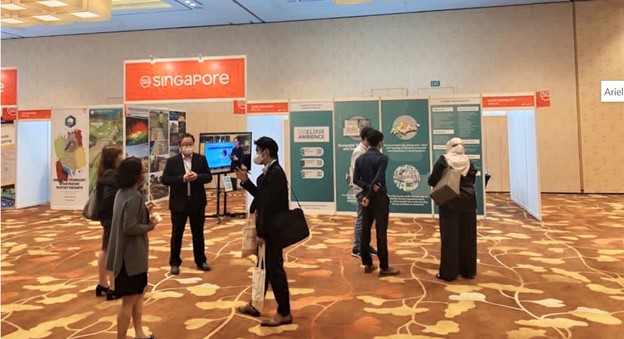 GCA 2021 also featured Digital Construction Asia 2021 (DCA21) and Unmanned Aerial Vehicle Asia 2021 (UAV21), which showcased the full range of geospatial and location intelligence applications for key government agencies and enterprises.
Supported by the Emerging Stronger Taskforce (EST)[1] Alliance for Action (AfA) on Enabling Safe and Innovative Visitor Experiences, such pilot events facilitate progressive scaling up to larger events, and provide a crucial springboard to recovery and growth for both the ASEAN geospatial community and the wider MICE industry, overturning the assumption that larger international MICE events cannot be held safely. They are also a testbed for event organisers to refine the implementation of safe management measures and best practices for MICE events progressively.
With a multitude of innovations to ensure the safety and well-being of in-person attendees in light of the pandemic, GCA 2021 saw the use of a Bluetooth-enabled dongle which tracked attendees' location and duration of interaction with other attendees at the event. The device, which was part of the Safe Event platform[2] trialled onsite, aided GCA 2021 in ensuring the necessary Safe Management Measures (SMMs) were met. The pilot event also featured Geo Suites – ballrooms converted into "exhibition booths" that assumed the role of a typical trade show floor as the main mode of interaction and helped to minimise intermingling between cohorts of attendees – and Meeting Pods that allowed 2-to-2 meetings to take place with the safety of a plexiglass divider as well as hand sanitisers and cleaning supplies.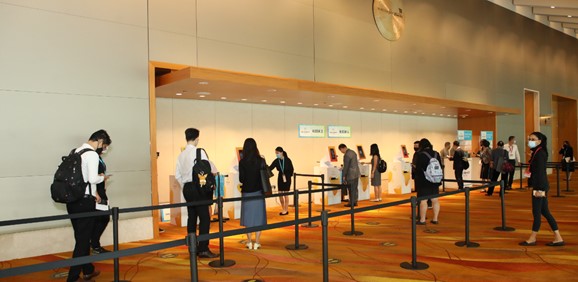 At GCA 2021, Antigen Rapid Tests (ART) were administered onsite both days of the event. The expansion of daily testing beyond foreign attendees allowed risk to be managed during interactions throughout the conference. The testing provided valuable findings and data that will allow for the progressive refinement of SMMs and best practices for future MICE events in Singapore.
Rupert Owen, Co-founder of Geo Connect Asia, organised by Montgomery Asia, said, "Two years in the making, Geo Connect Asia 2021 has navigated significant disruption and uncertainty before making our much-anticipated debut in Singapore this year. This was possible due in no small part to the strong support from our many like-minded partners from both the public and private spheres, with Singapore Land Authority's (SLA) and Singapore Tourism Board's (STB) support, in particular, proving instrumental in guiding the development of a world-leading hybrid platform for the geospatial and location intelligence markets in Asia. Equally important were our sponsors and other partners from across an array of industries, led by Platinum Sponsor Trimble, Gold Sponsor Bentley Systems, Silver Sponsor UP42, and Conference Sponsors Planet Labs, Synspective, and Dassault Systèmes."
"Geo Connect Asia 2021 has been a success, and will hopefully be the catalyst not only for the geospatial industry evolution across Southeast Asia, but also for the inevitable recovery of the resilient MICE industry. We really appreciate the support we have received from all parties in enabling the launch of Geo Connect Asia. We are looking forward to engaging with the industry over the next few weeks, both in terms of themes and content, as well as exploring the best format to enable face to face engagement."
Alvin Yap, exhibitor at Geo Connect Asia, Drone Lead of YJP Surveyor, said, "The event has shown our resilience in these tough times and represents our hope and optimism not only in the geospatial industry but also for Singapore and the region as well."
Conference Sponsor and exhibitor, Planet Labs at Geo Connect Asia, Janeth Fule, Field Marketing Manager, Asia Pacific said, "Congratulations to Montgomery Asia for organising the first large-scale hybrid event of the year in Singapore and making it a huge success. Working with their team has been a pleasure, and we hope to return for next year's iteration of Geo Connect Asia."
Geo Connect Asia will return next year on 23rd and 24th March 2022 as an even bigger affair, with more exhibitors and conference line-ups featuring some of the most prominent experts and professionals from across the global geospatial space. For the latest updates and announcements, visit www.GeoConnectAsia.com.
[1] The EST was formed under the Future Economy Council (FEC) to review how Singapore can stay economically resilient and build new sources of dynamism to emerge stronger from COVID-19. The EST is co-chaired by Minister for National Development, Mr Desmond Lee, and Group CEO of PSA International, Mr Tan Chong Meng, and comprises members from various sectors, including businesses and trade associations and chambers.  It has convened the Singapore Together AfAs, which are industry-led, government-supported coalitions that act quickly by prototyping ideas in areas of opportunity for Singapore. The AfA on Enabling Safe and Innovative Visitor Experiences is one of these AfAs.
[2] The Safe Event platform is a technology solution created by local companies Viatick and Trakomatic during the SafeEvent Challenge at IMDA's Open Innovation Platform.