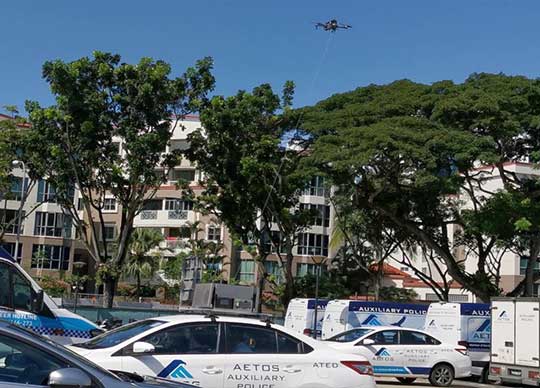 Enterprises looking to roll out business critical use cases that requires low latency now have an option in Singtel's hybrid Multi-Access Edge Compute (MEC).
Singtel's MEC infrastructure supports low latency use cases such as mixed reality for gaming, training with simulation and remote collaboration, video analytics for advanced security and manufacturing applications, robotics as well as autonomous guided machines, vehicles and drones.
To achieve high compatibility with as many business critical applications as possible, Singtel has built a hybrid MEC – offering Singtel's own edge computing solution along with hyper scalar solutions from Amazon Web Services Outpost and Microsoft Azure.
This means availability of a wide range of ready-to-use, plug-and-play services at the edge to help enterprises rapidly develop and deploy their novel solutions. Additionally, the hybrid MEC is available now on both 4G and 5G network, enabling immediate enterprise trials and commercial deployments in 4G with migration to 5G when the network is available throughout the country. To complete the offering, Singtel also offers on-premise private MEC for enterprises.
Mr Dennis Wong, Vice President, 5G Enterprise and Cloud said, "Enterprises now have the freedom to deploy their business critical use cases confidently and easily without having to worry about optimising latency during roll out. This means being able to use highly mobile devices like drones and autonomous vehicles for business operations, or offer an immersive, hyper-realistic gaming experience with rich graphics and no lag. Applications like these are important first steps, which we hope can have a multiplier effect and that these innovative solutions can be rolled out and applied across industries in the future."
Singtel has partnered with various enterprises for trials in the past year, such as Ubitus for cloud gaming and Ericsson for the development of GENIE – 5G in a box. The trials paved the way for the upcoming commercial deployment with security firm AETOS, to deploy 5G network and Singtel's MEC for security operations. Some of the planned applications from AETOS such as surveillance robots, drones, video analytics at their security command centre, will leverage on Singtel's high throughput 5G network, MEC and network slicing to achieve low latency for real-time remote surveillance, enhanced situational awareness and decision-making.
Mr Alfred Fox, Chief Executive Officer of AETOS Holdings said, "We are excited to be the first-mover in the security industry to leverage Singtel's 5G edge cloud platform to augment our suite of integrated solutions. This strategic partnership marks our commitment to being a proactive enabler of innovation, and will help us achieve smarter and more sustainable security outcomes for our clients. We believe that harnessing 5G will unlock breakthrough value in our transformation journey and help accelerate efforts to transform the security industry."