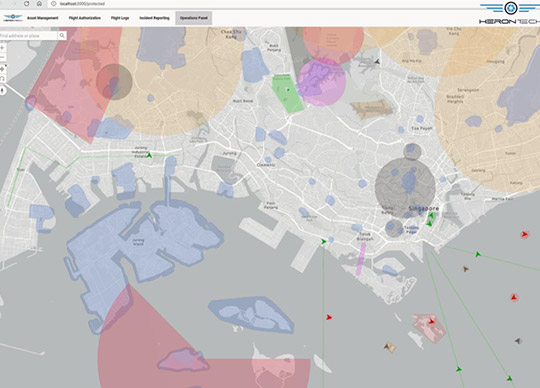 Heron Technology today announced the incorporation of Heron AirBridge – the company's standalone Advanced Air Mobility (AAM) and drones technology business.
The formation of Heron AirBridge reflects the company's progress in the development and testing of its proprietary Unmanned Traffic Management (UTM) solution, AirBridge, in real-world conditions.
The newly formed entity will serve an essential role in enabling the fast-moving AAM industry by developing and providing customised digital platforms on which the industry's hardware will operate.
Through the multi-year course of the AirBridge platform's development, the company has worked closely with AAM industry partners, regulatory bodies, and Air Navigation Service Providers (ANSP) across the region.
Mr Ryan Lee, Co-Founder & Chief Executive Officer of Heron AirBridge said, "The aviation industry experienced a slowdown amidst Covid-19 pressures, but talks surrounding the AAM industry remained – owing to the promised potential of AAM to positively impact our current mobility processes and standards."
"As we approach a revival of the aviation industry in 2023 with impending introduction of unmanned aircraft regulations in the near future, AAM stakeholders need reliable, secure and rigorously tested technology solutions that will enable their aircraft, vertiport infrastructure, and fleet and customer management systems to be realized."
"We are proud to have indigenously developed Singapore's first UTM system to cater to the region's unique requirements. Given the enormous potential of AAM to address the growing challenges of population growth, urbanisation and sustainable development in the region, there is a critical need for a digital platform that can support the introduction of more unmanned aerial operations here."
"We must move ahead in tandem with continued collaboration between stakeholders to develop the systems required. My partners and I firmly believe this is the perfect time to establish Heron AirBridge to provide dedicated focus to ensuring the necessary software solutions are in place to enable this next exciting phase of the industry." concluded Mr Lee.
AirBridge – A digital backbone for the AAM ecosystem
In a December 2022 report published by McKinsey1, AAM software development was identified as a key missing piece of the industry, with a predicted spend of up to 30 per cent of the industry's total value by 2030.
The same report estimates that more than 50 functions need to be performed by AAM digital platforms, all of which need to be tailored for differing aircraft, evolving business models, geographies and regulatory frameworks.
Serving this critical gap in the AAM market, Heron AirBridge's businesses comprises the AirBridge drone mission and UTM platform, as well as a full suite of technological support services for UTM integration and operations, vertiport digital infrastructure services and complex drone-enabled services.
The platform's features will be continually expanded to meet the evolving needs of the AAM and drone services industries, with customisation based on customer requirements as well the capability to integrate third party applications for an all-in-one ready-to-deploy platform.
Beyond the aviation sector, Heron AirBridge is also working with port authorities and shipping industry stakeholders in multiple Southeast Asian countries to apply the AirBridge platform's digital infrastructure technologies to strengthen and scale maritime drone operations.
Singapore as the launchpad for AAM across the region
With Singapore as a front-running AAM adopter amongst other first movers such as France, the UK, and Japan, the maturation of regulatory frameworks is a priority.
Heron AirBridge says it is working closely with local authorities and regulatory bodies to develop the technologies and regulatory frameworks necessary for safe and effective AAM deployment.
These government authorities include EnterpriseSG and regional transport and aviation authorities.
Ms Anne Ho, Director of Advanced Manufacturing, EnterpriseSG said, "Advanced Air Mobility is an emerging growth area that has been identified as part of the Aerospace Industry Transformation Map (ITM) 2025. EnterpriseSG is pleased to support Heron Airbridge, a homegrown company offering proprietary Unmanned Traffic Management solutions, on its innovation and growth journey."
New Appointmnet of Chief Commercial Officer
With the incorporation of Heron AirBridge, Fabrice Ancey has joined the company as Co-Founder and Chief Commercial Officer (CCO).
The appointment of Mr Ancey will strengthen and expand the company's capacity to serve its growing customer and partner base globally.
An Aerospace Engineer by training, Mr Ancey possesses over two decades of experience in implementing and overseeing technology integration in the aviation and transportation industries, Mr Ancey will lead on the company's business development strategies and execution, while supporting its critical work with industry partners, private and public sector entities, and regulatory authorities.
CCO of Heron AirBridge, Mr Fabrice ANCEY said, "I am thrilled to have joined the Heron AirBridge team at this pivotal period of the AAM industry. If we are to see legitimate progress in real-world deployments of AAM operations, we have to ensure that the underlying technology that each autonomous aircraft, vertiport operator, operating crew member, and end-user will rely on is safe, secure and scalable. We are at a truly exciting moment in history, as aircraft certifications and infrastructure developers push ahead – UTM technologies are the key to unlocking the full potential of AAM."