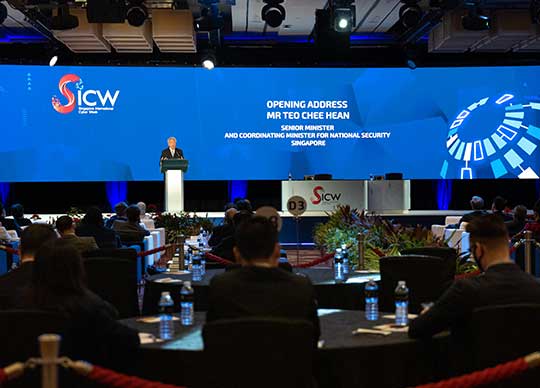 The Singapore Cybersecurity Strategy 2021 addressed threats, simplifies cybersecurity for end-users, and develops deeper partnerships with industry to adapt to the changes in the cyber operating environment.
Singapore's Senior Minister and Coordinating Minister for National Security, Mr Teo Chee Hean, launched the updated national cybersecurity strategy at the sixth edition of the Singapore International Cyber Week (SICW) held this evening in Marina Bay Sands. The Singapore Cybersecurity Strategy 2021 ("Strategy 2021") outlines Singapore's plans to take a more proactive stance to address cyber threats, raise the overall level of cybersecurity across the nation, and advance international norms and standards on cybersecurity. Strategy 2021 will also emphasise greater workforce and ecosystem development for businesses and citizens to capitalise on economic opportunities in the cybersecurity sector.
As Singapore harnesses digital technology to improve lives and livelihoods for all, cybersecurity has become a necessity and key enabler for Singapore's digital economy and Singaporeans' digital way of life. Developed in consultation with Ministries, Government agencies, industry, and local and overseas academia, the updated strategy – coming five years after the launch of the first strategy in 2016 – seeks to address new and emerging cyber threats in the wake of strategic and technological shifts. These shifts include the opportunities and cyber risks brought about by emerging technologies, such as edge computing and quantum computing, that are potentially disruptive; growing cyber-physical risks as cyber disruptions can spill over to the physical domain; ubiquitous digital connectivity that expanded the attack surface; and increasing geopolitical tensions in cyberspace.
The Singapore Cybersecurity Strategy 2021 comprises three strategic pillars and two foundational enablers. The three strategic pillars are Building resilient infrastructure; Enabling a safer cyberspace; and Enhancing international cyber cooperation. The two foundational enablers are Developing a vibrant cybersecurity ecosystem and Growing a robust talent pipeline.
Following SM Teo's speech, Ms. Izumi Nakamitsu, the Under-Secretary-General and High Representative for Disarmament Affairs in the United Nations Office for Disarmament Affairs, also made a keynote address at the event. Themed "Living with COVID19 – Reimagining digital security risks and opportunities", SICW 2021 kicked off on 4 Oct with a virtual fireside chat featuring Minister of Communications and Information Mrs Josephine Teo; Mr Thomas Kurian, Chief Executive Officer, Google Cloud; and Mr Anand Swaminathan, Senior Partner, McKinsey Singapore.
Running from 4 to 8 Oct, SICW 2021 – the sixth edition – continues the momentum of conversations among top policy makers, industry leaders and domain experts from ASEAN and across the world on key areas of cybersecurity, including emerging digital opportunities and threats, evolution of cyberspace and cybersecurity policies, implementation of cyber norms, Internet of Things (IoT) and Operational Technology (OT) security, and coordinated cyber capacity-building. Speakers and participants for this year's hybrid event include government ministers from ASEAN, Australia, Estonia, Japan, United Kingdom; cyber principals and heads of agencies from more than 20 countries; and leaders from industry and academia, such as Google, Amazon Web Services, Global Cyber Alliance and NIST et al.