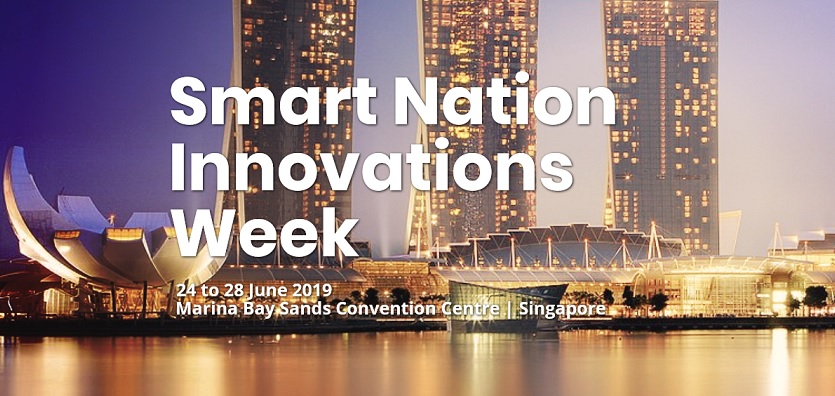 The Smart Nation Innovations Week 2019 kicked off in Singapore, where local and international attendees will share and learn about the impact of technology and innovation on business, economy, government and society.
The Ministry of Communications and Information (MCI) and Infocomm Media Development Authority (IMDA), together with Smart Nation and Digital Government Office (SNDGO), GovTech and in partnership with Unbound, will host the Smart Nation Innovations Week (SNI Week) from 24-28 June 2019. The event will see more than 15,000 global government and industry leaders convene in Singapore to discuss challenges and opportunities in a digital age.
Singapore's Prime Minister Lee Hsien Loong is the Guest of Honour at The Smart Nation Summit, an annual by-invitation only forum aimed at facilitating impactful conversations among senior leaders and stakeholders from governments and businesses on the policies, strategies, technologies and mindsets needed as the global digital economy accelerates its growth. PM Lee will participate at the closing dialogue of the Summit and Minister for Communications and Information, Mr S Iswaran will speak at the opening of the Summit.
Themed "Digital as Usual", the Smart Nation Summit is a constituent event of SNI Week and will bring together a thousand delegates from around the world, including industry leaders and ministers, to discuss thought-provoking topics that interrogate the intersections across sectors (economy-government-society), geographies (East-West though Southeast Asia) and time (future-present) in this digital age. The Summit will shine the spotlight on Asia's transformation, tensions between technology, security and trust – how they all come to bear in the services sector, and call for new leadership in a digital-as-usual age. SNI Week also includes events such as the Straits Digital Exchange (SDE) and the Digital Government Exchange (DGX).
Following the Smart Nation Summit on 26 June, the Innovfest Unbound festival returns to Singapore for its fifth and largest-ever edition as the anchor event of SNI Week on 27-28 June 2019. As one of Singapore's key event platforms connecting technology entrepreneurs, brands, investors, businesses and thought leaders for growth and partnership opportunities, this year's conference will attract more than 15,000 participants, feature over 350 exhibitors, and more than 400 speakers. Minister for Communications and Information Mr S Iswaran will be the Guest of Honour at Innovfest Unbound and deliver the opening speech.
IMDA will also be presenting two new panel discussions – Services 4.0 and Trusted AI. A high level panel will convene on 28 June 2019 to discuss topics on building trusted AI ecosystems, with Senior Minister of State Mr Janil Puthucheary delivering the welcome address for the day. A select list of promising local digital companies will be featured at IMDA's Tech Alley and booths as well.