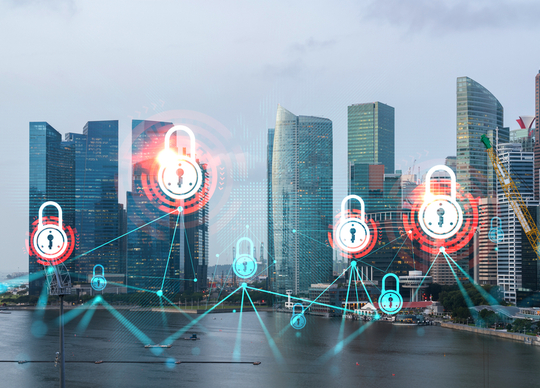 Driven by the growing demand for endpoint security platforms, identity and access management software and managed security services, the total addressable market for IT security in Singapore, in terms of revenue opportunity, is poised to grow at a compound annual growth rate (CAGR) of 9.8% between 2020 and 2025, forecasts GlobalData.
Saurabh Daga, Technology Analyst at GlobalData, says: "A major shift in IT infrastructure needs among enterprises following the COVID-19 crisis, with the rising adoption of remote working, enterprise mobility, online service delivery and cloud services, and the potential security risks that come along with it, is driving enterprise IT security spending in the country, which will guide the market to reach US$2.3bn in 2025."
Government support for building a strong cybersecurity ecosystem is proving to be a major factor contributing to the growth in the country's enterprise IT security market. The proactive regulatory stance of the government to safeguard the digital infrastructure of critical sectors and enterprises will especially boost IT security market.
The government led Cyber Security Agency of Singapore, which guides the overall digital security strategy and policies in the country, announced an updated cybersecurity strategy in October 2021, which focuses on securing digital infrastructure, devices and applications to safeguard country's digital economy, enhancing international cybersecurity cooperation, developing a vibrant cybersecurity ecosystem through investments in cybersecurity R&D, products and capabilities within government agencies and enterprises, and training cybersecurity workforce.
Additionally, in July 2021, Singapore announced a SG$50m (US$37.2m) program for research on artificial intelligence (AI) and cybersecurity. In 2020, Singapore had committed around SG$1bn (US$719m) to be spend over three years to enhance data and cybersecurity capability.
Daga adds: "Singapore's growing digital economy is also one of the major drivers for cybersecurity market in the country. Data and information security is an inherent consideration of any digital economy, thus a shift towards a greater digitalization of the trade and commerce will invariably lead to a greater emphasis on cybersecurity."
While the large (1,001+ employees) enterprises will account for largest share of the total IT security spending in Singapore through the forecast period, the spending from micro, small and medium enterprises (1-1,000 employees) will increase at a marginally faster CAGR of 9.9% over the forecast period. A major driver for cybersecurity spending by SME's is the SMEs Go Digital program initiated by Singapore, which has provisions for financial grants to SMEs for adopting pre-approved cybersecurity solutions
Among the IT security market segments in the country, comprising hardware, software and managed service propositions, IT security software represents the largest category, followed by security services and security hardware.
Daga concludes: "In the past year, Singapore witnessed ransomware attacks on some of its major businesses, including Tokyo Marine Insurance Singapore and Swire Pacific Offshore. Growing exposure to ransomware threats will therefore be a key driver for increased spending on IT security."