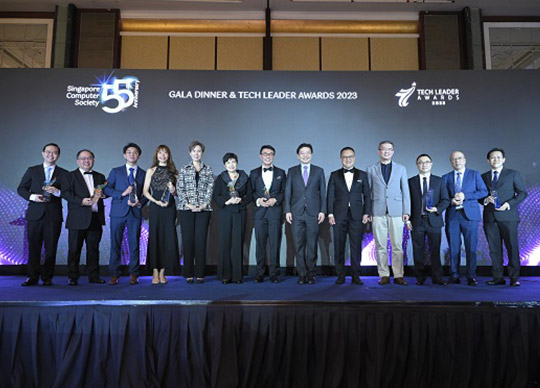 The Singapore Computer Society (SCS) marked its 55th year anniversary at a gala dinner with the official launch of a Digital Credentialing system STAR@SCS and the unveiling of its new brand identity.
The Society also presented its annual Tech Leader Awards to honour tech champions in the field of Digitalisation and Transformation.
The event was graced by Guest-of-Honour Mr Lawrence Wong, Deputy Prime Minister and Minister for Finance, and Special Guest Mrs Josephine Teo, Minister for Communications and Information & Second Minister for Home Affairs.
Key figures and organisations from the tech industry – encompassing both the public and private sectors also attended the event.
Launch of STAR@SCS
SCS says its Digital Credentialing system – STAR@SCS, is an initiative set up to serve tech professionals in Singapore via a dedicated portal to bring together resources, knowledge, and opportunities for SCS' 52,000 members, the tech community, and employers.
The company says STAR@SCS will also serve to recognise professionals for their accomplishments and allow employers to make informed assessment and hire the best candidates for career positions.
To better equip tech professionals in relation to the demands of the evolving tech roles, SCS will be collaborating with Institutes of Higher Learning to launch co-branded micro-certifications that offer bite-sized and stackable training courses. These courses will be validated by SCS and trainees of the joint micro-certification programmes will be accorded verifiable digital badges on STAR@SCS.
Another significant milestone achieved in the arena of professional development is the collaboration with NUS-ISS to offer two joint certification programmes – DevSecOps Engineering and Automation & Managing Digital Products.
These are two established modular courses offered in the NUS-ISS Executive Education Programme, both of which can be stacked up into graduate certificates as part of the NUS Master of Technology in Software Engineering.
By offering these joint certifications, the SCS and NUS-ISS partnership will enhance the competency and professionalism of these emerging job roles and lend recognition to an individual's skills and knowledge in those areas.
SCS says the collaboration with NUS-ISS will bridge the gap in the training landscape and help build a pipeline of DevSecOps professionals and Product Managers.
Forging Ahead with New Brand Identity
To mark SCS' 55th year anniversary, the Society also unveiled its new brand identity.
SCS says the new branding reinforces the Society's vision for progress in the tech-led environment with the nation and the rest of the world as it navigates in the constantly evolving tech landscape, and at the same time, honouring its heritage.
Recognising Tech Leaders
The Tech Leader Awards presentation is regarded as one of the most prestigious awards in Singapore. This year, a total of 9 Tech Leader Awards 2023 were presented to six individuals and three teams for these four categories: Hall of Fame, Tech Leader of the Year, Digital Achievers, and Future Leaders in Tech.
The Hall of Fame category was awarded to Dr Chong Yoke Sin, Managing Partner, iGlobe Partners in honour of her contributions to Singapore's tech industry and her advocacy towards empowering the community with tech.