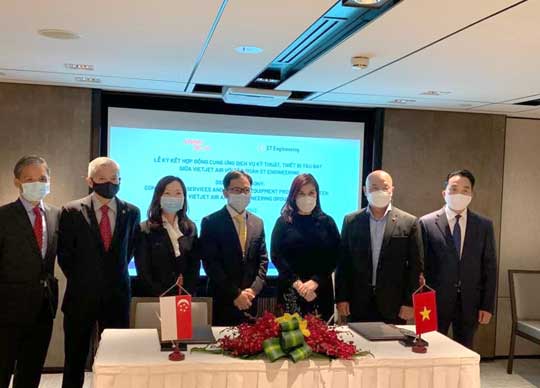 ST Engineering and Vietjet have signed a comprehensive component Maintenance-By-the-Hour (MBH) contract. The signing ceremony took place on 25 February during the official visit of Vietnam President Nguyen Xuan Phuc to Singapore.
Under the contract, ST Engineering will provide Vietjet with a full suite of component support solutions covering component pooling, repair, overhaul, modification, main base kits, component health monitoring and logistics services for the airline's entire fleet.
Vice President of Vietjet, Ho Ngoc Yen Phuong, said, "We value the fact that ST Engineering can provide on-site MRO services as well as leverage their global component support network to support our international flight operations 24/7. We are assured that they will be a reliable partner to support the flexibility in our technical operations and maintenance as we focus on expanding our flight network internationally."
"The component MRO facilities, together with life-cycle support capabilities, in our global network will be able to provide excellent support to Vietjet's fleet. When combined with our comprehensive component solutions, we are confident in helping Vietjet achieve significant cost-savings and enjoy operational reliability at the same time," said Jeffrey Lam, President of Commercial Aerospace at ST Engineering.
Image: Signing ceremony between ST Engineering and Vietjet attended by Ms Tan Lee Chew [third from left], President Commercial at ST Engineering; Mr Jeffrey Lam [fourth from left], Commercial Aerospace President at ST Engineering; Ms Ho Ngoc Yen Phuong [third from right]Vice President at Vietjet and management from ST Engineering and Vietjet.