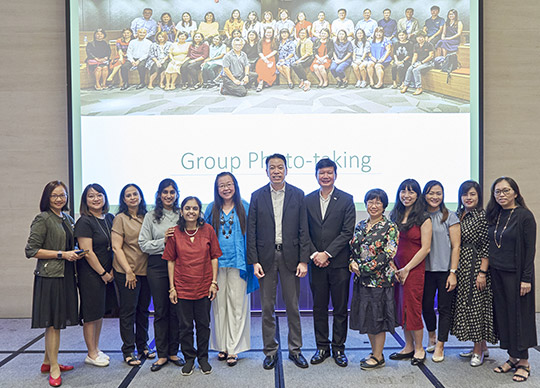 Six months after the launch of ISACA Singapore Chapter's SheLeadsTech (SLT) conversion programme, Jenny Tan (VP, ISACA Singapore Chapter) has announced the conclusion of the inaugural initiative on 30th September 2022 with an appreciation dinner at the Carlton Hotel Singapore.
The programme's first cohort was joined by partner companies and mentors, Melvin Yong (Member of Parliament, and Assistant Secretary-General, NTUC) and Steven Sim (President, ISACA Singapore Chapter) who came together to celebrate the achievements of the 11 graduates.
Offering the opportunity for non-IT female professionals to pick up technology Governance, Risk and Compliance (GRC) competency and switch career, the programme works with industry partners to help women explore how they can enter the technology industry.
Congratulating the graduates, Steven Sim referenced the NTUC (National Trades Union Congress) #everyworkmatter movement and noted that with the talent crunch in cybersecurity, diversity is the key to plugging the gap.
But more than that, Melvin Yong said that the programme is about developing "future female leaders in a male-dominated industry".
Over the course of the dinner, graduates shared some heartful appreciation and takeaways from participating in the 6-month programme. Citing life-changing experiences and lessons (for example, embracing the courage to get out of the comfort zone, boosting confidence building, gaining a sense of satisfaction, making new friends), the programme is a reminder that cybersecurity is more than building technical know-how.
Indeed, to contribute and grow in cybersecurity, as Jenny Tan pointed out, "it is how you fit in and adjust accordingly."
With graduates ranging from women with finance and marketing work experience to stay-at-home mums looking to re-enter the professional workforce, the programme will no doubt help to elevate the presence of women in the technology workforce.
The success of the programme was so convincing and the feedback so overwhelming that the second intake – due to start on 1st February 2023 – has been expanded and is opened to both men and women.