SEAC has launched its 456 Smart Learning Ecosystem to address what it calls the slow rate at which the education and training industries are evolving their learning approaches .
SEAC says it has innovated and refined its approach over the last ten years to better meet learners needs in this new era of rapid change and upskilling.
SEAC's 456 learning experience solution integrates content, technology, design, and experience expertise to reimagine learning by using their trademarked 456 methodologies.

The solution begins with defining the five phases that a learner must go through to ensure buy-in, value, retention, and application: essentially, a bridge across their skill gap.
Following that, SEAC weaves four distinct learning lines to support the learners in crossing that bridge to their future.
Finally, SEAC incorporates targeted lab experiences to assist learners in accelerating and applying their new skills with confidence and impact. SEAC's 4-Line Learning, 5-Phase Development, and 6 Learning Labs are a technology-enabled ecosystem and toolkit for effectively closing the massive skill gaps learners' face.
Understanding the three major frameworks: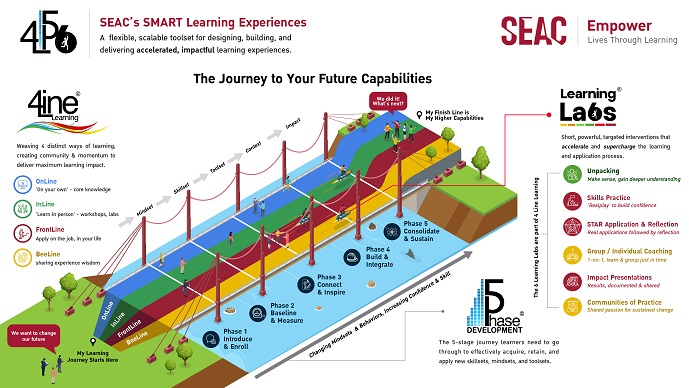 4-Line Learning: Weaving four distinct modes of learning, OnLine, InLine, FrontLine, and BeeLine, to foster community and momentum for maximum learning impact.
5-Phase Development: The five stages that learners must go through to effectively buy in, learn, retain, and apply new skills, mindsets, and tools. The suggested order is as follows:
— Phase 1: Introduce & Enroll: What is the significance of what I am about to learn? What is the value to me?
— Phase 2: Baseline and Measure: What does good look like in the context of what I'm about to learn? What am I doing now? Where and with whom might I apply this new mindset/skillset?
–Phase 3: Connect and Inspire: What impact can we have if we truly succeed? How will I/we collaborate with others to learn and grow as a community?

–Phase 4: Build and Integrate: How will I apply this content to my work, and where and with whom will I apply this new mindset/skill?
Phase 5: Consolidate and Sustain: What mindsets, skills, and tools are the most useful? Where and how will I put them to use and keep the momentum?
6 Learning Labs: Short, powerful, targeted interventions added at the right moment to speed up and boost learning and application. These are some examples:

— Unpacking: Unpacking for greater comprehension and application
— Skill Practice: 'Acting out' current situations with my new skills and tools.
— S.T.A.R. Application and Reflection: Planning, executing, and reflecting on applying my learning in situations in my work/life that I am attempting to change,
— Group/Individual Coaching: Support for action learning projects and applications on a group, team, and individual basis.
— Impact Presentations: Documenting and sharing the outcomes of my learning with others.
— Communities of Practice: A group of lifelong learners who share a passion for sustaining change.

By combining these three learning design and delivery frameworks yield an effective, learner-focused experience that reduces unnecessary content, activities, and distractions in favor of context and application
"This ever-changing environment we live in today has brought us great technological advancements as well as unexpected problems," said Arinya Talerngsri, SEAC Chief Capability Officer, Managing Director, and Founder. "Smart Learning is still getting used to its new normal. As a critical solution provider in Thailand, we are still transitioning from "short-term surge" to "long-term transformation" while overcoming other obstacles. However, our most recent educational innovations are producing astounding results. The context and learner needs are prioritized over content in SEAC's upskilling methodology. As a result, our star 456 Learning Experience is user-oriented and focuses on learners' immediate needs, as should any similar education and training framework."