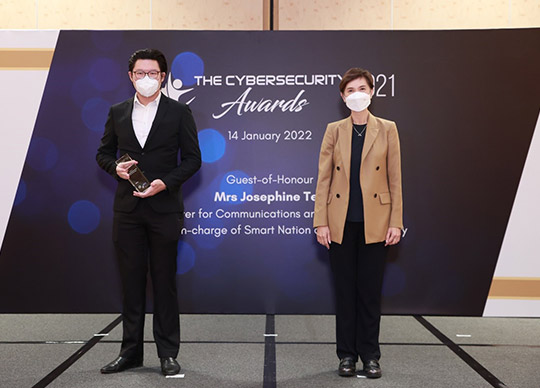 Responsible Cyber has been honored with an "SME (Vendor)" award for its contributions to the cybersecurity ecosystem in Singapore.
The January held awards were organized by the AiSP (Association of Information Security Professionals) and supported by Cyber Security Agency of Singapore (CSA) and the Singapore Cyber Security Inter Association (SCSIA).
Minister Mrs. Josephine Teo, Minister for Communications and Information and Minister-in-charge of Smart Nation and Cybersecurity attended the event as the Guest of Honor. "If you have ideas for expanding or enriching the cyber security community, for developing and recognizing skills, or for creating more training and job placements, we want to hear from you." Said Mrs. Josephine Teo.
CSA has introduced the new SG Cyber Talent Development Fund, offering up to $90,000 for initiatives to groom Singapore's cyber talent.
Shortly after the homegrown start-up Responsible Cyber took home the SME (Vendor) award, it announced the impending launch of a Cyber Immunity campaign which offers Small and Medium Enterprises a complimentary Immunity Report that summarizes key areas for improvement with specific regard to their individual cyber exposures.
Issuing free Immunity Reports is part of their contributions toward improving the overall health of the cyber security ecosystem in Singapore. "We are immensely honored to have our efforts acknowledged among an undoubtedly outstanding roster of nominees," remarked Responsible Cyber's Co-founder, Mikko Laaksonen, "the award is a testament to the potential of the security product we are building and we can't wait to share this with the world."
"This accomplishment would not have been possible without the team," said Magda Chelly, Responsible Cyber's co-founder and Managing Director, "some of our team members do not come with a background in cyber security but each of them shares the passion and willingness to learn. This brings a unique perspective to the field, and that's what makes us special."