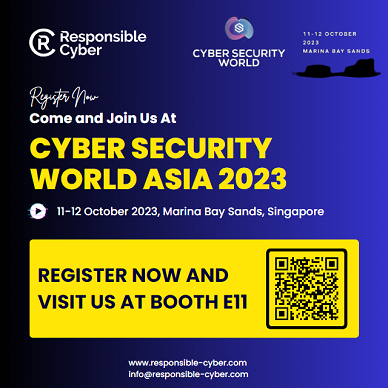 Step into a riveting narrative crafted by Singapore's cybersecurity startup, Responsible Cyber, at Tech Week Singapore 2023.
Gone are the days of sugar-coated technology displays; Responsible Cyber is here to unveil the raw truth about cybersecurity in today's challenging landscape.
Why IMMUNE X-TPRM Stands Out
Amidst the buzzing atmosphere, Responsible Cyber introduces IMMUNE X-TPRM – an unparalleled ecosystem risk management platform.
Recognizing the dire need for a robust solution, this platform exemplifies the future of third-party risk management, serving as a beacon that identifies and neutralizes potential threats, offering businesses unparalleled peace of mind.
In the swiftly evolving digital realm, it's imperative that organizations not only remain one step ahead of potential threats but also understand the multifaceted nature of their third-party integrations.
And, IMMUNE X-TPRM, a cutting-edge solution is designed to cater to these exact needs.
Harnessing the Power of Data-Driven Intelligence

IMMUNE X-TPRM is not your conventional risk assessment tool.
With its potent blend of real-time monitoring and rapid action facilitation, this platform is a testament to the marvels of intelligent data application.
It doesn't just identify risks; it offers actionable insights.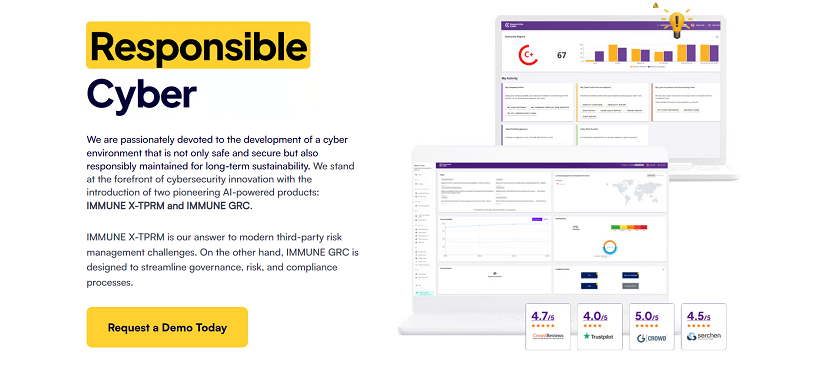 Beyond Surface-Level Scrutiny

In a world where surface-level checks are no longer adequate, IMMUNE X-TPRM™ provides a comprehensive attack surface assessment.
Many organizations nowadays use robust cloud providers like Cloudflare, Amazon Web Services, or Microsoft Azure to mask their digital footprints.
But with IMMUNE X-TPRM, you can reveal the actual attack surface hidden behind these formidable layers, ensuring a comprehensive risk assessment, and visibility.
Vulnerability Management Reinvented

IMMUNE X-TPRM transcends the limitations of traditional vulnerability scanners.
By focusing on the intricacies of third-party vulnerabilities, such as those like Log4j, this platform ensures that no stone is left unturned.
It's about active engagement, pinpointing vulnerabilities, and ensuring that both you and your partners are equipped to tackle them head-on.
Maximizing Return on Your Investment

The potency of a tool isn't just in its features but also in how it's leveraged.
IMMUNE X-TPRM stands out with its robust third-party management framework guide.
By providing clarity on best practices and fostering more streamlined integrations, it ensures that organizations can optimize their partnerships while keeping risks at bay.
Revolutionizing Partnership Dynamics

Collaborations are an integral part of business growth. With IMMUNE X-TPRM, the entire lifecycle of partnerships—from onboarding to offboarding—becomes a breeze.
Be it due diligence during the onboarding phase, continuous risk monitoring, or seamless offboarding, this platform has it all. And with its emphasis on ecosystem-wide vigilance, it ensures holistic protection.
A Tool for Tomorrow's Challenges

The business landscape is ever-evolving, and IMMUNE X-TPRM is equipped to cater to these changes.
From distinguishing between third and fourth-party risks to offering custom risk profiles tailored to specific projects and technologies, it ensures that your risk management strategies are always on point.
Uncompromising on Contractual Security

Beyond its technical prowess, IMMUNE X-TPRM showcases its versatility by delving into the contractual aspects of security.
By aiding in the formulation of contract clauses that emphasize security and privacy, it ensures that organizations have both technical and legal fortifications.
Tailored for Every Organization

Recognizing the diversity in organizational needs, IMMUNE X-TPRM offers transparent and adaptable pricing. Every business is unique, and this platform ensures that it caters to each one's specific requirements without compromise.
IMMUNE X-TPRM is not just a tool—it's a paradigm shift in third-party risk management.
With its emphasis on deep dives, actionable insights, and holistic protection, it's setting the gold standard for businesses worldwide.
Co-founder Mikko Laaksonen states, "True cybersecurity isn't just about feeling safe—it's about being safe considering the realm of convergence between physical and digital worlds. Our platform encapsulates the frontline experience, marrying real-world challenges with top-tier technological solution."
Responsible Cyber at Cyber Security World Asia 2023
Last year, we saw a record 22,885 attendees join the conference from C-Suites to start-ups.
This year, spot us at the massive 36 sq.m booth right at the entrance of Cyber Security World Asia, and dive into the digital realm on the Tech Week Singapore app across FIVE epic shows.
Offerings for Tech Week Attendees at Responsible Cyber Booth E11
An Insta-worthy installation that's bound to grab your attention.

An imposing display that dominates the room.

Exclusive savings on every purchase of the autographed "Building a Cyber Resilient Business."

An opportunity to interact with the global cybersecurity expert,

 

Dr.

 

Magda Chelly.
Real-time demonstrations of IMMUNE X-

TPRM's

 

groundbreaking capabilities.

Valuable gift bags (available while supplies last), poised to be the most sought-after goodies this season.