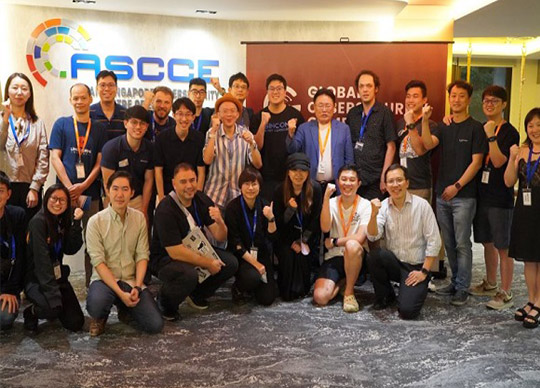 Highlights from the Global Cybersecurity Camp, Singapore, 2023.
Cyber threats are transnational and borderless, as we see from the NotPetya malware, which specifically targeted software commonly used in Ukraine but quickly spread beyond the borders of Ukraine.
To combat such threats inevitably means that nations and states must work together.
Skills shortage and nurturing the next generation of cyber defenders have been long recognised as priorities in the industry.
However, what is increasingly crucial is also providing the budding talents with cross-border networking opportunities, not only to learn and exchange ideas from each other but also to form partnerships they can tap into in the future.
This was a common goal, that community leaders from South Korea, Japan, Singapore, and Taiwan, realized they shared in 2018 when they met up at an international cyber security conference in Las Vegas.
History of the Global Cyber Security Camp (GCC)
After years of personal friendships formed over chance encounters in international conferences, the leaders have gained from sharing insights with each other.
So, why not establish a forum for the next generation of cyber defenders to come together from the different cultures in the Asian region, and start sharing at the beginning of their careers?
Hailing from the Asia region, they thought, what better way than to have an annual, regionally focused training programme? To further encourage the exchange and sharing of information, what about each member taking turns hosting the programme?
Thus was born the first Global Cybersecurity Camp (GCC), which kicked off in South Korea in 2019.
The week-long event saw eight students each from Japan, Singapore, Taiwan – in addition to the host South Korea – gathered in the BoB Centre in D-Polis Knowledge Industry Centre to exchange experiences and learn from each other.
The inaugural programme was such a success, that the 2020 edition, hosted by Japan, saw the participation of 4 additional members – Malaysia, Thailand, Vietnam, and Australia.
When the pandemic kicked in, the event shifted to an online format, with Taiwan as the host for the 2021 and 2022 editions.
In 2023, when events finally returned to the physical format, Singapore took over the host role.
Global Cybersecurity Camp 2023 (GCC 2023), Singapore
Once again, the best 44 students from the 8 members, gathered – this time in the ASEAN Cybersecurity Center of Excellence, Singapore – and showcased their skills through a series of cybersecurity challenges.
The international angle of the programme is key.
In fact, at the opening ceremony on the first day, Mr Wong Choon Bong, Director (Cyber Security Agency of Singapore (CSA), Ecosystem Development, Strategic Resources and Policy Office/Workforce) noted that, "cybersecurity is a global issue, therefore it is important that cyber defenders from different regions come together to learn and exchange from each other."
Over the week of 13th – 17th February 2023, from 7am in the morning to 9pm at night, the students were exposed to the latest in cyber defense techniques ranging from malware analysis to drone signal analysis through 8 workshop sessions.
Presented by speakers from around the Asia region, the workshop sessions put the theory to practice by challenging the students to a series of hackathons and project work.
There was the competition to build an engine to detect PowerShell based malware (a potent tool which had been deployed by notorious cybercrime gangs such as Ryuk to drop Trojans and to perform second stage malware downloads). The hackathon delivered impressive results where there were even AI-based algorithms to filter out malicious PowerShell scripts.
There was a lecture on Web tracking and Browser fingerprinting, which highlighted the various ways of how cyber activities are tracked for marketing purposes (as well as for law enforcement purposes).
There was also a session on a topic that somewhat had universal-appeal – drones security and signal analysis. After kicking off the session with a dramatic demonstration of drone flying and jamming, the instructor (Kelvin Wong) held a lively discussion with the students to explore additional attack vectors. The students were then challenged to install and pair SDR (software defined radio) for their test-drones. Clearly enthused, the atmosphere was charged with excitement for two hours as the students eagerly tested out their installations and flight experiments.
Complementing the technical sessions were social events including industry nights and evening festivities, making for a truly complete cross-cultural exchange.
Community, Collaboration and Co-learning
 On the last day at the closing ceremony, Mr Gaurav Keerthi (Deputy Chief Executive, CSA) aptly pointed out that programme is about building a "community", "collaborating across disciplines", and "learning together".
No doubt, by bonding over the 5 gruelling days of hackathons and project work (and social events), friendships have been formed – which ultimately, when a cyber crisis happens, the community can then quickly come together, collaborate, and effectively respond.
Back row from right:
Japan- Kana Shinoda: International workgourp lead of Security Camp, Organizer of CODE BLUE.
Malaysia – Tommy Wong: Head of CyberSecurity for MoneyLion and NanoSec.Asia staff
Korea – Seunggi Jeong: Senior Mentor of BoB (Best of the Best cybersecurity program), CEO of SortieLab, Former CTO and Co-founder Tatum Security, Former Horangi Cyber Security. Head of Korea, alumni of BoB best 10 students
Malaysia – Jinfu Tan: Founder of a vulnerability research company, core member of NanoSec.Asia and Hack-in-the-Box.
Australia – Joshua Scarsbrook: Research Officer and Phd student at University of Queensland.
Korea – Yoo Jun-sang, President of Korea Information Technology Research Institute (Kitri), a specialized research institute under the Ministry of Trade, Industry and Energy established in accordance with Article 42 of the Industrial Innovation Promotion Act.
Centre – Singapore – Emil Tan: Cybersecurity Ecosystem/Community Leader,COO of Red Alpha Cybersecurity, Co-Founder of Division Zero (Div0) & Infosec In the City, SINCON; Chairman of Cyber Youth Singapore (CYS); Asia Council Chair at CREST.
Second Left – Vietnam – Nguyen Anh Quynh: Principal research Fellow at NTU, Member of VNSecurity.
Fourth Left – Singapore – Niko Akatyev: Chief Executive of GCC 2023 Singapore, Crew of Div0, VP of Internal Security and IT at Horangi Cyber Security, Digital Forensics Mentor at BoB and Industry Mentor at Red Alpha, Member of organizing committee for International Conference on Digital Forensics and Cyber Crime (ICDF2C).
Front row:
Centre – Taiwan – Prof Chun-Ying Huang: Department of Computer Science, National Yang Ming Chiao Tung University (NYCU), representing AIS3 (Advanced Information Security Summer School).
Third left – Thailand – Karin Sumongkayothin: founder of Thailand's cybersecurity community 2600, Faculty of Engineering, Mahidol University.