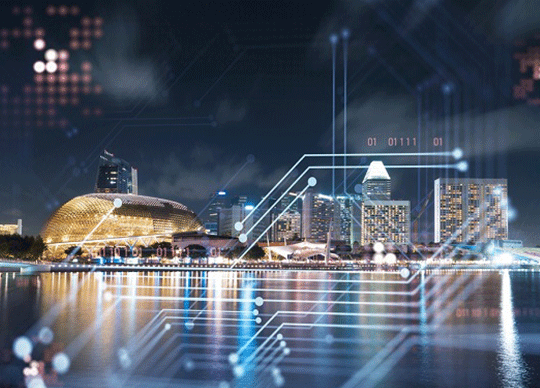 To address the growing demand for robust cybersecurity solutions, the National University of Singapore (NUS) is partnering with the Cyber Security Agency of Singapore (CSA) to establish a new S$20 million NUS-CSA CyberSG Talent, Innovation and Growth (TIG) Collaboration Centre.
This initiative aims to establish Singapore as the premier global hub for cybersecurity innovation, driving economic growth.
The partnership was inked at the Cybersecurity Industry Innovation Day on 29 September 2023.
In today's interconnected digital world, the need for sophisticated and trusted cybersecurity solutions has reached unprecedented levels.
With Southeast Asia's digital economy projected to reach US$1 trillion by 2030 and Internet users on the rise, a strong cybersecurity industry is essential.
Beyond safeguarding Singapore's digital future and cybersecurity resilience, especially amid recent scams and cybercrimes, the CyberSG TIG Collaboration Centre bolsters Singapore's reputation as a trusted digital hub and aspires to help advance cybersecurity as an emerging economic driver for Singapore.
NUS-CSA CyberSG TIG Collaboration Centre
The CyberSG TIG Collaboration Centre will address dependencies between cybersecurity talent, innovation, and growth for the industry, by serving as a convening platform to integrate and create relevant programmes for industry and talent development in Singapore, and a global node for international cooperation on innovation.
It will help build a vibrant cybersecurity ecosystem by bringing together local and international cybersecurity stakeholders, including industry, academia, cybersecurity professionals and government stakeholders to leverage the opportunities posed by digitalisation.
The CyberSG TIG Collaboration Centre will also build upon NUS Enterprise's entrepreneurial academic programmes and extensive global BLOCK71 network, providing cybersecurity talents and companies with access to resources and opportunities for growth. BLOCK71, a technology-focused ecosystem builder and global business connector under NUS Enterprise, has played an instrumental role, particularly through ICE71, in the early development of the region's cybersecurity innovation ecosystem since 2018. Notably, ICE71 operated the first cybersecurity-focused accelerator in Singapore.
Commenting on the partnership with CSA and establishment of the CyberSG TIG Collaboration Centre, Professor Tan Eng Chye, President of NUS, said, "Singapore's standing as a digital innovation hub underscores the importance of cybersecurity, not only for national security but increasingly as a key driver for economic growth. To build a cyber-resilient nation, we need to develop a robust cybersecurity ecosystem fuelled by innovation and entrepreneurship. Our collaboration with CSA to set up the NUS-CSA CyberSG TIG Collaboration Centre leverages the University's strengths, including ready innovation platforms, entrepreneurial academic programmes, a global ecosystem network and multi-disciplinary resources. We aim to promote growth in the cybersecurity sector and enhance cybersecurity capabilities across industry sectors, enabling them to be future-ready."
Aligned with this vision, the CyberSG TIG Collaboration Centre's strategic initiatives are structured around three core pillars, each designed to complement and synergise with the others through collaborations with cybersecurity stakeholders including academia, industry, government and international organisations:
1. Talent
This foundational pillar focuses on building a pipeline of skilled cybersecurity professionals and expanding cybersecurity capabilities across industry sectors. NUS will take on the role of an integrated programme manager, working closely with CSA to jointly plan and better synergise CSA's Talent & Skills Development programmes, including SG Cyber Youth, as well as identify and collaborate with potential partners to co-deliver impactful programmes supported by CSA's Talent Development Fund. This will help ensure that the talent programmes remain relevant to the current cybersecurity landscape and industry needs.
SG Cyber Youth will leverage the success of NUS Overseas Colleges (NOC), an entrepreneurial education programme that has more than 4,000 NOC alumni and led to the founding of more than 1,100 start-ups, with unicorns such as Carousell and PatSnap. Through the NOC programme, NUS will place students in prominent entrepreneurial and cybersecurity hubs worldwide, offering them valuable exposure to global innovation and entrepreneurship opportunities.
2. Innovation
The Innovation pillar involves co-innovation with industry, bridging the path from innovation to commercialisation, and nurturing promising cybersecurity companies for Singapore and the region. For example, CSA collaborates with NUS to co-organise the Cybersecurity Industry Call for Innovation (CyberCall), an annual cybersecurity innovation challenge that invites companies to participate and co-develop innovative solutions targeting critical cybersecurity challenges faced in Singapore. Through working with partners who are key demand drivers for cybersecurity solutions, this initiative aims to strengthen partner organisations' cyber resilience, while providing opportunities for cybersecurity companies to address market gaps and accelerate the adoption of cutting-edge solutions in Singapore.
Drawing on NUS' experience as the region's first cybersecurity-focused innovation ecosystem builder through ICE71, the University will also launch the CyberBoost programme. The
cybersecurity-focused programme is tailored to provide comprehensive support for the growth of promising cybersecurity companies. To cater to the diverse needs of companies at various stages of development, CyberBoost includes two variants: one designed for early-stage companies looking to test, validate and build a Minimum Viable Product (MVP); and the other for companies ready to scale their cybersecurity solutions in Singapore and beyond.
3. Growth
The Growth pillar aims to enable cybersecurity companies anchored in Singapore to scale regionally and globally, thus growing their businesses. An enhanced CyberGrowth programme will facilitate the international expansion of local cybersecurity companies through various initiatives such as development of playbooks, equipping companies with valuable insights into the cybersecurity landscape and business opportunities, organising cyber-focused business missions and more.
Mr David Koh, Commissioner of Cybersecurity and Chief Executive of CSA, said, "Workforce and ecosystem development are the foundations of Singapore's 2021 Cybersecurity Strategy. The CyberSG TIG Collaboration Centre will play an important role to bring together ecosystem stakeholders to develop innovative solutions and grow talent. This effort complements our other effort in CyberSG R&D Programme office at the Nanyang Technological University, Singapore (NTU Singapore). We are excited to work with NUS and NTU in these complementary efforts for the cybersecurity team."
NUS partners with ISTARI to support the Centre's ambition
Collaboration with diverse partners is essential for the CyberSG TIG Collaboration Centre's success.
NUS is committed to forging close collaborations with CSA and cybersecurity stakeholders from academia, industry, government and international organisations.
To kickstart these collaborative efforts, NUS has signed a second Memorandum of Understanding (MOU) at the Cybersecurity Innovation Day, with ISTARI, the global cybersecurity platform established by Temasek.
This strategic partnership is geared towards advancing the CyberSG TIG Collaboration Centre's objectives and encompasses three key areas:
Internships: ISTARI will provide internship opportunities and collaborate with cybersecurity companies within its ecosystem to provide additional internship opportunities to students participating in the NOC programme.
Mentorships: Leveraging its extensive network, ISTARI will facilitate mentorship opportunities for NOC students, connecting them with seasoned entrepreneurs and investors within its ecosystem.
Joint events: NUS and ISTARI will jointly organise events such as the upcoming ISTARI Charter 2024, an APAC cyber congress that brings together government agencies, business leaders, investors, academia and the start-up ecosystem to discuss the strategic challenges facing the APAC region and cybersecurity implications. The primary goal is to foster collaborative efforts aimed at enhancing cyber resilience in the region.
Rashmy Chatterjee, Chief Executive Officer of ISTARI, said, "Our founding promise at ISTARI is the idea of collective power. Together, as an ecosystem, we can be stronger. That's why it is an honour and privilege to partner with NUS, one of the world's leading universities, to ensure we develop the next generation of talent in Singapore. As a collaboration, we can collectively help make Singapore the premier global cybersecurity hub for innovation and talent."