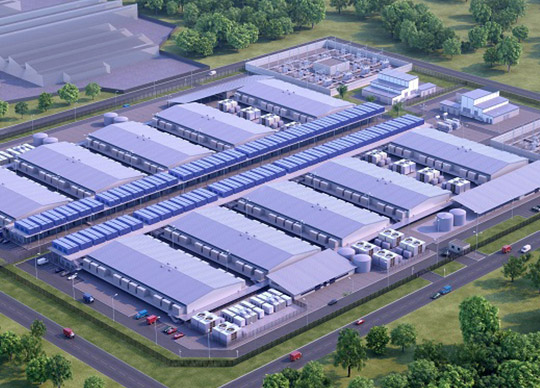 AirTrunk today announced its entry into Malaysia with plans to develop a 150+ megawatt (MW) data centre. Named AirTrunk JHB1 (JHB1), the facility will be the company's first in Malaysia and ninth in APJ, taking its data centre platform to over 1.35 gigawatts (GW) of capacity.
The JHB1 campus will span 10.3 hectares of land in Johor Bahru, a strategic location at the southern tip of the Malay Peninsula. Servicing a major cloud availability zone for AirTrunk's customers, the facility will also offer strong domestic and international connection to regional technology hubs including Singapore, with an end-to-end cross border connection strategy.
Driven by rapidly increasing cloud adoption in Southeast Asia, JHB1 will be anchored by one of the world's largest technology companies.
AirTrunk Founder & Chief Executive Officer, Robin Khuda said: "It is an exciting time for our business as we announce a new data centre in a new country with a large anchor tenant. AirTrunk continues to develop critical digital infrastructure to support accelerating digitalisation in the region."
JHB1 will be funded under AirTrunk's sustainability linked loan framework and will include a number of sustainable innovations to ensure AirTrunk continues to deliver the most sustainable data centres in the region.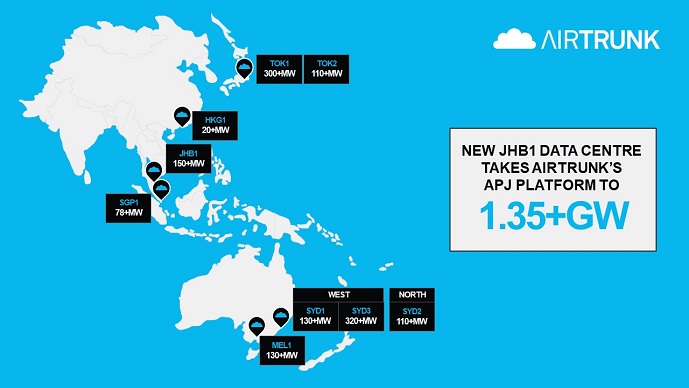 Sustainable innovations include a landmark cooling solution that utilises a combination of indirect evaporative cooling (IEC), and direct-to-chip liquid cooling technology. The liquid cooling technology will enable AirTrunk customers to deploy high density racks, reducing energy consumption by up to 20 per cent.
In addition, the data centre will feature a solar-ready roof, equipped to add 5MW of solar panels. The facility is designed to AirTrunk's industry-low power usage effectiveness of 1.15, and renewable energy supply options will be available to customers.
AirTrunk Chief Technology Officer, Damien Spillane said: "With its flexible designs and innovations driving energy and water efficiencies in tropic climates, JHB1 will be the most sustainable data centre in Malaysia. In line with our Net Zero by 2030 target, we are working with our customers to source renewable energy to match electricity consumption at the data centre."
The initial phases of JHB1 will provide 50MW of capacity, with construction commencing shortly and due for completion in 2024. The data centre is ready to scale out to a total capacity of more than 150MW, with further expansion based on customer demand.