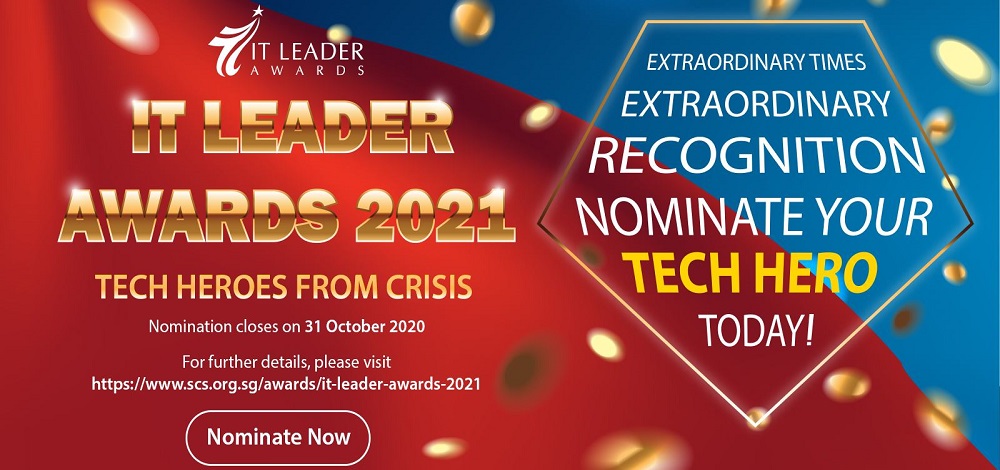 Extraordinary Recognition in Extraordinary Times
Honouring Tech Heroes from Crisis
The IT Leader Awards aim to recognise outstanding achievements of experienced industry leaders and young entrepreneurs who have contributed to the vibrant and competitive Infocomm Technology (ICT) industry in Singapore. Established in 1997, the longest running local tech awards continue to be a key industry platform to acknowledge industry veterans and young innovators who spearhead the industry's transformation, growth and development.
In the face of new market realities posed by the COVID-19 crisis, the IT Leader Awards 2021 by the Singapore Computer Society (SCS) takes on a special theme – Tech Heroes From Crisis – to recognise individuals or teams who have made a significant positive impact on the community through technology or the use of technology during the COVID-19 crisis.
The special themed award came at an important time to imbue inspiration and hope among the tech community and the nation as well as to recognise unsung heroes, be it individuals or teams, who have gone above and beyond their call of duties and instrumentally shaping the society in this critical time.
Nominations are now open, and SCS cordially invites you to identify individuals or teams who are deserving of the IT Leader Awards 2021. Nominations close on 31 October 2020.
3 CATEGORIES FOR IT LEADER AWARDS 2021
| | |
| --- | --- |
| Category | Description |
| Infrastructure | Individuals or teams who implemented or deployed infrastructural or underlying digital service(s) platforms, that were significantly used in the provision of digital service(s) that benefitted the nation or large segments of the community during the COVID-19 crisis. |
| Pathfinder | Individuals or teams who had developed and deployed outstanding and innovative digital service(s) or solution(s) that is adopted by a number of businesses and/or communities to transform their clients' services to meet new market realities during the COVID-19 crisis. |
| Entrepreneurship | Individuals or teams in the small, medium or large companies that demonstrated strong entrepreneurship abilities by successfully and significantly pivoting their digital business or service(s) through adoption of digital service(s) during the COVID-19 crisis to respond to the new market realities and business requirements. |
Nomination Form: https://www.scs.org.sg/awards/it-leader/2021/nomination-form
Nomination Criteria: https://www.scs.org.sg/awards/it-leader/2021/criteria
For more information on the IT Leader Awards 2021, please refer to:
SCS website: https://www.scs.org.sg/
SCS Facebook page: https://www.facebook.com/SingaporeComputerSociety
Official Hashtags:
#ITLeaderAwards2021
#NominateYourTechHeroes
#SingaporeComputerSociety