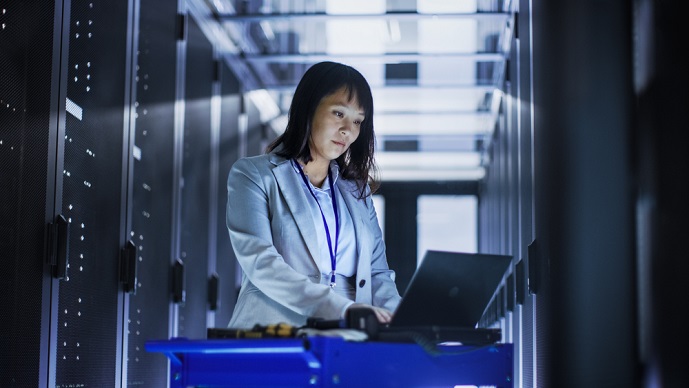 In celebration of International Women's Day, ISACA Singapore Chapter, under its 2023 President, Jenny Tan, organized a half-day SheLeadsTech (SLT) [1] conference on 3 March 2023, where female leaders, professionals and students gathered to exchange views on all things "tech".
Into its fourth edition, the 2023 conference, under the theme of "Digitally Futuristic" touched on topics ranging from data protection law and regulations, culture to "Self-care tips for workings mothers in Tech". The conference was also an opportunity to "Meet the Judges" of the "Top Women in Security ASEAN Region Awards 2023" – an initiative opened to all ASEAN member countries. [2]
In a somewhat slight departure from a typical "tech" conference, the opening panel ("Achieving Sustainability through Technology, Digitalisation and Advisory") explored the increasing focus on sustainability.
Moderated by Jenny Tan (President, ISACA Singapore Chapter), the panelists – Cherine Fok (Partner, ESG KPMG Singapore), Emily Draycott-Jones (Founder & HR Consultant at Clearly HR & HR Director APJ & MEA, IFS), Rachel Yee (Associate Director, RSM Singapore) – exchanged views on "sustainability" and the role of technology in achieving sustainability goals.
Here are some highlights. First, what is sustainability? To Jenny's question, "what is sustainability", Emily stressed, "sustainability is not just about carbon emissions". A natural next question (given that it is a tech related conference), is whether sustainability is about technology.
"Technology is critical in many instances" to aid in the understanding of fundamentals, such as identifying the core issues relating to the social impacts and the sciences behind green-house emissions, said Cherine.
Technology also helps to streamline the collection and reporting of environmental metrics, such as air quality or water usage, Rachel pointed out.
But sustainability is not all about technology. It is also about the people. The panelists highlighted that we humans are key in the organisation's ESG (environment, social, governance) journey.
"ESG programs and tools are as good as the people who build it," Emily noted, and "diversity and inclusivity" of the people is core in delivering best results. Highlighting the importance of cross disciplinary communication and teamwork, Cherie said that achieving sustainability goals is "not possible without different disciplines – such as engineers, scientists, IT professionals – coming together."
Rachel reminded the audience that one element in the "social" aspect of ESG is training. For sure, while the ESG agenda may have been in the news, many may yet to experience or understand the implications in their daily work (or lives).
In fact, Cherie emphasized that while the "tone from the top" set the organisation's ESG goals, everyone has a part to play – such as how we align our values with the goals, and with the decisions we make in a workplace.
Our responsibilities in this ESG journey includes, Rachel pointed out, reflecting on "what we want to leave to the next generation."
Sustainability is also about "purpose". That is, what can we do today, to achieve or in visualising, as Cherie put it, the "utopia" for the future generations?
In other words, the reason for our actions today – the "purpose" – Jenny said, "starts with ourselves". In short, first, we need to first ask ourselves, what positive difference do we want to make?
In many ways, these messages would have resonated with cybersecurity professionals. Cybersecurity is about the "tone from the top" that drives security programs.
It is about multi-disciplinary teamwork, boosting talents and skills, training and raising awareness around cyber threats such as phishing, and so on.
It is about "all hands on deck", about what each one of us can do, to ensure a digitally secure future.
Most of all, these undertakings are rooted in a common goal or "purpose": digitally transforming to build and sustain better environments in which we play, work and live in.
To be sure, we are just catching a glimpse of the nexus of "sustainability", technology, and cybersecurity. No doubt, there will be more conversations on these topics as organisations and individuals progress on this ESG journeys.
Notes:
[1] To find out more about ISACA Singapore Chapter's SheLeadsTech (SLT) programme, visit www.isacasheleadstech.sg. To find out more about the SLT Ambassador Programme, visit https://www.isacasheleadstech.sg/about-us/#ambassador
[2] The 2023 award follows successful awards in 2022, 2021, and was launched with the Top Women in Security Awards held during 2020 in Singapore, Malaysia and Philippines. For more information, visit https://womeninsecurityaseanregion.com/.