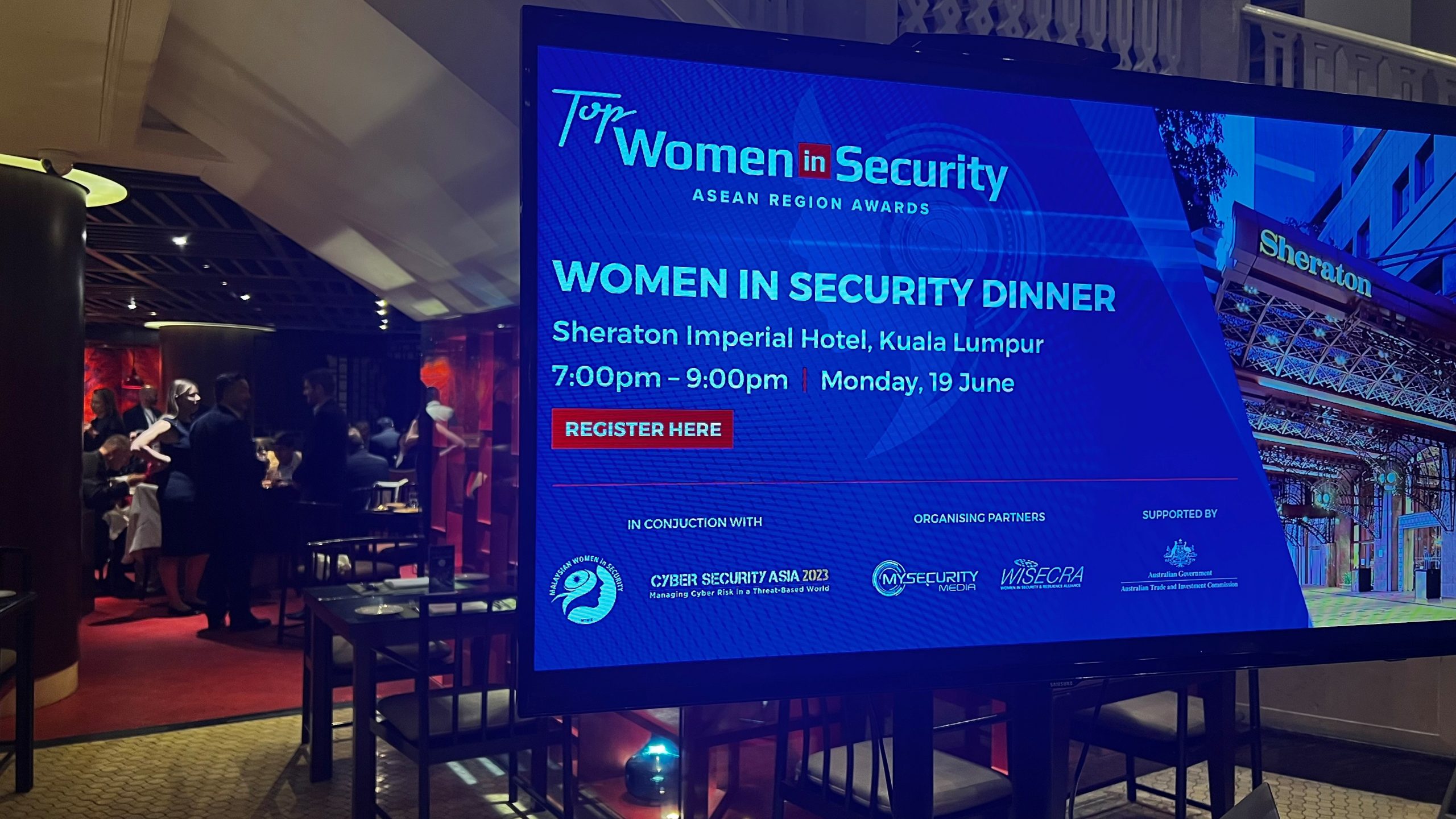 In collaboration with Malaysia Women in Security and as part of the Cyber Security Asia Conference 2023, concluding day one of the conference, we were honoured to welcome Ms. Kate Wiencke, First Secretary, Australian High Commission, as well as Award Judges and special guests to support and congratulate those nominated in the Top Women in Security ASEAN Region Awards.
The Top Women in Security ASEAN Region awards are into the fourth year and 2023 is well underway with thirteen Southeast Asian based security and cybersecurity industry associations supporting the awards, including the One in Tech Foundation, an ISACA Foundation.
We are grateful to the Australian Trade & Investment Commission as our special sponsor for the inaugural 'official' Women in Security Dinner at the beautiful restaurant Essence at the Sheraton Imperial Hotel, Kuala Lumpur.
The dinner event acknowledged the 2023 Judges Panel, including in person Judges, Nan Maguire, Dr Magda Chelly and Prince Lazar, as well as previous winners and recognising the closing of nominations for 2023 as the judging process gets underway.
Amongst special guests representing Australian Federal and State Government agencies, and guests from around the world, Kate Wiencke gave an opening address to emphasise Australia's engagement with Malaysia and the region.
Kate Wiencke is based at the Australian High Commission in Kuala Lumpur. Prior to taking up this role, Ms Wiencke held the position of Assistant Director Malaysia, in the Office of Southeast Asia, DFAT. She has also worked on Defence's international engagement with the Philippines, and Malaysia. Ms Wiencke has held a range of positions at DFAT including working with Australia's Ambassador for Counter-Terrorism and in the Pacific Division.
Ms Wiencke was seconded to the Department of the Prime Minister and Cabinet (PM&C) from 2016-2017 and served in the Centre for Counter-Terrorism Coordination. She has also worked at PM&C on national security policy. Ms Wiencke holds a Master of Arts (Strategic Affairs) from the Australian National University, a Bachelor of Arts (International Studies) from the University of Adelaide and Bachelor of Arts (Honours) from the Flinders University of South Australia.
Our special thanks to Dr Carrine Teoh, Malaysia Women in Security and ASEAN CIO Association and Karen Thomas of Thomvell International for their support and contribution.