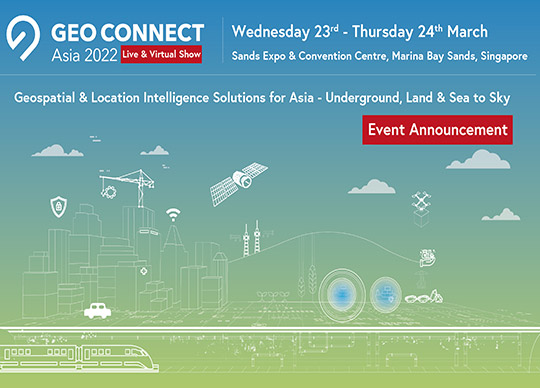 International events organiser Montgomery Asia has announced that flagship geospatial and location intelligence industry trade show and conference for Southeast Asia, Geo Connect Asia, is set to return for its second edition in a largely in-person format.
Following its debut in a hybrid format in 2021, Geo Connect Asia (GCA) 2022 is expected to double in size in terms of participants and floor space and will once again bring together the latest innovations in surveying and monitoring equipment, sensors, robotics, and mapping solutions, among others.
Scheduled for 23rd to 24th March 2022, GCA 2022 and its two complementary industry profiles Digital Construction Asia (DCA) and Unmanned Aerial Vehicle (UAV) Asia, will see the geospatial community converge at Marina Bay Sands Expo & Convention Centre. Drawing on the experience from the 2021 edition, the event will again comprise a virtual component on www.GeoConnectAsia.com so that the wider Asian community can share some of the exchanges.
Themed "Geospatial & Location Intelligence Solutions for Asia – Underground, Land & Sea to Sky", GCA 2022 seeks to address the increasing interplay between ground and satellite technologies, and artificial intelligence (AI) and data analytics, amid growing momentum towards a Geospatial 4.0 world. Visitors can look forward to a comprehensive showcase of the latest technologies and solutions for government and non-for-profit markets, and multiple industry verticals.
Singapore has long been established as a technology-centric business gateway for the ASEAN region and beyond and has had a continued focus on advancing geospatial capabilities to support smart services and solutions. Subject to prevailing safe management measures and border policies, GCA 2022 is set to position Singapore as the preeminent regional meeting place for the industry, hosting over 80 international exhibitors and 2,500 professional visitors, alongside 100 enterprises, associations and agencies featuring all aspects of geospatial technologies, digital construction and UAV solutions.
Building on 2021's success, over 30% of participating companies at GCA 2022 are new, including drone and aerial providers AECA Solutions, Amuse Oneself Inc, Viscoy and YellowScan; image capture experts PhaseOne; and inspection tech pioneers Screening Eagle.
The event will be graced by Guest-of-Honour Edwin Tong SC, Minister for Culture, Community and Youth and Second Minister for Law, who will deliver the opening address. Also in attendance will be Colin Low, Chief Executive of the Singapore Land Authority (SLA), and Dr Nadine Alameh, Chief Executive Officer of the Open Geospatial Consortium (OGC).
Rupert Owen, Co-Founder of Geo Connect Asia, said, "We are delighted to bring back Geo Connect Asia in March 2022 as an in-person focused show and conference. As geospatial solutions become more applicable in most industries, and more accessible via ground and satellite imagery, especially in the Southeast Asian region, the desire to meet and discuss developments and opportunities is evident. With ever-expanding opportunities, we see the industry being transformed into an exciting space in which to operate. The addition of digital construction and UAV solutions as complementary industries in one event will enable solution providers to experience first-hand a full range of exciting industry developments in Singapore."
Geo Connect Asia Conference
The Geo Connect Asia Conference 2022 will facilitate knowledge transfer among industry players to address some of the world's leading challenges. By encouraging interoperability, open sourcing and the sharing of key learnings from the pandemic, there is increased opportunity for improving productivity in predominantly traditional industries and accelerating rapid change in others.
Packed into two full days, the conference will comprise over 10 fireside chats featuring over 50 prominent industry speakers, panellists and moderators.
Preview of the conference topics include:
Digital twins for the built environment & climate-resilient communities
Recycle, renew, refresh – repurposing the urban landscape
Managing the future of city data – structure, sovereignty & sustainability
Coastal resource protection and flood planning, recovery & resilience
Building biodiversity & the greening of communities
Information mapping for sustainable information exchange
Earth observation & satellite innovations – microscopic analysis from the sky
Drones for good & goods
Geo AI & robotics
Women in geospatial technology
Geo-entrepreneurship: creating a new wave of start-ups
What's new in Maptech?
Concurrently, GCA 2022 is curating four expert stage programmes, namely Smart Agriculture, Digital Construction Asia, UAV Asia, and Digital Underground Connect. Several free-to-attend programmes include the Tech Talk and PropTech stage.
Live & Virtual Format
To remain accessible to interested stakeholders in the global geospatial industry amid challenging conditions for the Meetings, Incentives, Conferences and Exhibitions (MICE) industry, Geo Connect Asia 2022 will once again be held in a hybrid format. Virtual attendees may attend a series of webinars, schedule online matchmade meetings or utilise event quick chat functions.
GCA 2022 is supported by numerous Singapore government agencies, including the Economic Development Board (EDB), Government Technology Agency (GovTech), Infocomm Media Development Authority (IMDA), National Parks Board (NParks) and the Singapore Tourism Board (STB) with SLA and GeoWorks, SLA's geospatial industry centre, as its Strategic Partners.
Ng Siau Yong, Director, Geospatial & Data Division and Chief Data Officer at the SLA, said, "Liveable and sustainable cities are some of the goals to be achieved as we recognise and foresee new challenges. This involves not just fostering a vibrant geospatial ecosystem, but also developing a pool of geospatial capabilities, talents, and networks in this space to contribute and share experiences. As a great platform to promote the adoption of geospatial technologies in the ASEAN region, the SLA is confident and pleased to be working closely with Geo Connect Asia towards this common goal. We look forward to seeing GeoMembers at Geo Connect Asia and also welcome more geospatial companies far and wide to join the GeoWorks community."
Dr Nadine Alameh, Chief Executive Officer of Open Geospatial Consortium, said, "I look forward to Geo Connect Asia 2022 as it will once again bring together the world's experts and users to showcase the power of geospatial technologies in tackling the biggest issues of our time – from pandemic response and global supply chain issues to climate change. Core to these challenges is our collective ability as a global community to make geospatial/location information Findable, Accessible, Interoperable and Reusable (FAIR). It's great to see the ASEAN community be at the forefront of this mission of advancing innovation and interoperability as they bring geospatial awareness and knowledge into mainstream decision-making."
Argoon Chuang, Digital Consulting Lead, Asia, at AECOM, said, "As infrastructure continues to shape our world, and rapid advancements in technology offers new opportunities for digital transformation, Geo Connect Asia is an important platform on which industry leaders and experts can leverage each other's knowledge and ideas to solve challenges of today and foresee those of the future."
MySecurity Media is a Proud Media Partner.