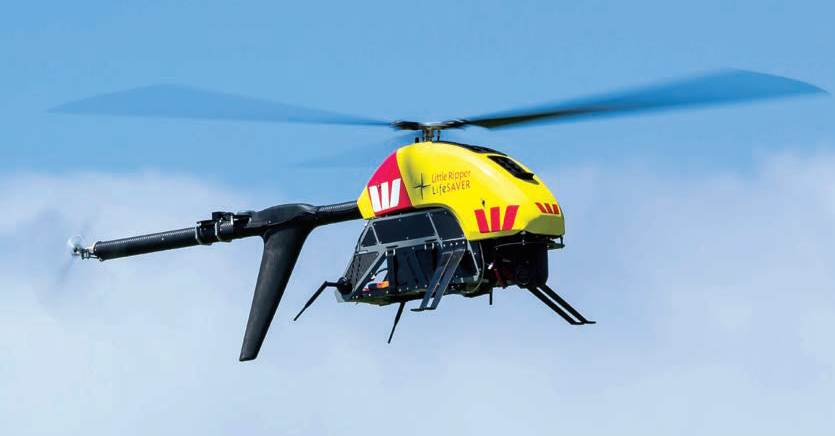 When drones became the unsung hero in the aftermath of Hurricane Katrina, Australia's most prominent lifesaving advocate realised UAVs could be the key to preventing shark attacks and coastal drownings in treacherous waters.
Australia has surfer Mick Fanning to thank for an enhanced shark handling reputation. In July 2015, when Fanning encountered a shark during competition in South Africa, he punched it until he could escape on a jet ski. The surfer had the benefit of the competition's support crew to thank for the swift rescue but other Australians aren't so lucky. As a large island with a long shoreline, Australia has hundreds of remote, unsupervised beaches where encounters with sharks and potential drownings may occur.
Records for 2015 show 33 encounters between humans and sharks: in 25 cases the human sustained an injury, and two of those were fatalities. Shark attacks are headline news and heightened public awareness led to political support for a new kind of technology: the Little Ripper, an ocean-faring patrol and rescue drone, part of the NSW Government's $16 shark strategy. The man behind this technology is Kevin Weldon AM, who is relatively unknown in the technology industry but much better known as Australia's most prominent lifesaving advocate.
A life saving lives
Weldon's life, in a nutshell, has been spent in some form or another saving lives. Aged 15 he joined Queensland's Pacific Surf Club as a surf lifesaving cadet, working his way through the ranks to eventually become president. In 1971, convinced of the value of lifesaving training and advocacy, he founded World Life Saving, a volunteer-led organisation, which later merged with its French counterpart, the Fédération Internationale de Sauvetage Aquatique, to become the International Life Saving Federation. Weldon became ILSF's inaugural president.
Despite spending a lot of his time in and around Australian beaches, Weldon didn't conceive of Little Ripper during a surfing session or a few rounds with a shark but in the aftermath of Hurricane Katrina more than a decade ago.
Following the hurricane, New Orleans flooded and many people were trapped in their homes, forced to wait for help. Some managed to climb onto roofs to signal for helicopters, while others could not. The US Army used two unmanned aerial vehicles (UAVs), more commonly known as drones, to manoeuvre through the flooded streets to find those others who required help.
"There were basically mini helicopters manned by the army, coming from the skunk works of Defense," Weldon explains. "They were able to go up and down flooded streets and find people not on the roof, the people the helicopters missed. They saved 5,000 lives."
Having seen what UAVs could do in a search and rescue situation, Weldon realised he could use the technology to support Australian lifesaving. "As the founder of two worldwide water safety organisations, I thought 'this is the future'," he says…Click HERE to find out more about this article