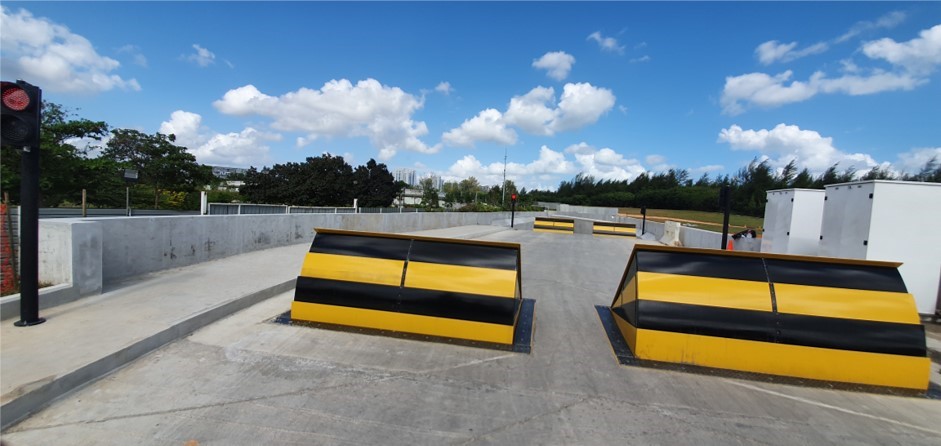 British based security manufacturer, Heald, has provided high-security road blockers to Singapore's Keppel Marina East Desalination Plant to protect against hostile vehicle attacks. The installation was carried out in partnership with one of Heald's approved distributors in Singapore, ESCO Pte. Ltd.
Keppel Marina East Desalination Plant, which began operation on June 29th 2020, produces around 30 million gallons of fresh drinking water a day, meeting the demands of approximately 200,000 households and accounting for 7% of Singapore's daily water demand of 430 million gallons. It is the first large scale plant in Singapore able to treat both freshwater and seawater via an underground treatment facility.
The plant, which is in the middle of the city, is integrated with parkland including a 20,000 sq m roof garden, which is open to the public for community and recreational activities.
To protect its visitors and plant workers from the risk of a potential vehicle attack, Keppel Marina East Desalination Plant required a security product around its perimeter, opting for Heald's Viper road blocker.
The Viper is an intelligent, shallow-mount solution that only requires an excavation depth of 400 mm thanks to its concertina design. The high-strength road blocker is capable of stopping a 7.5-tonne truck travelling at a speed of 80 kph (50 mph) and has been crash tested to PAS 68 and ASTM standards.
After being manufactured at Heald's factory in East Yorkshire, the road blockers were exported to Singapore to be installed by their local partner ESCO PTE LTD.
Heald Managing Director, Debbie Heald MBE said, "We are delighted to have worked on yet another fantastic project with ESCO PTE LTD. We are glad we could provide a product that met the client's requirements and we will look forward to securing more high-profile areas in Singapore and around the world".
Sanjeev Bhat of ESCO Pte Ltd. said "In my 16 years in the hostile vehicle mitigation industry, I am yet to see a blocker as good as the Heald Viper. It offers a simple one pour installation, without rebar cages, a shallow foundation, smooth operation and is tested to both ASTM & PAS68. It is an extremely reliable system which can do 200,000 cycles without failure, for me it doesn't get any better than this. Once again, I am extremely delighted to have worked with Heald and delivered yet another viper kit tailor-made to the client's operational requirements".