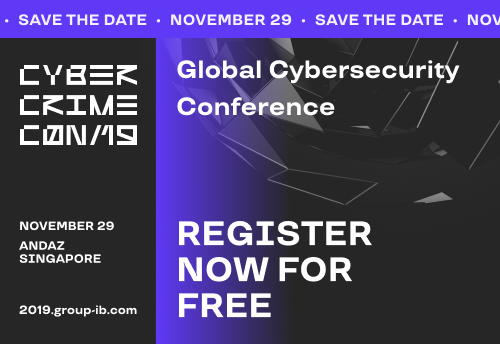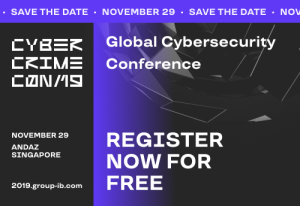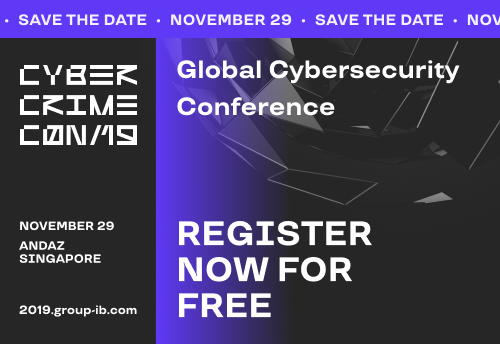 Group-IB is bringing its signature event, CyberCrimeCon, to Singapore. Group-IB's CyberCrimeCon is a global Threat Hunting & Intelligence conference, where world's leading threat hunters and researchers, representatives of public and private companies, INTERPOL, Cyber Security Agency of Singapore, FS-ISAC, and other prominent organizations get together to discuss global and APAC cybercrime trends and forecasts, as well as the evolution of the most notorious hacker groups and the emergence of new ones. One of the main themes of Group-IB's CyberCrimeCon, is the growing threat of an open interstate confrontation in the cyberspace, with various financially-motivated hacking groups having given way on the cybercrime stage to state-sponsored threat actors.
By moving the venue of its CyberCrimeCon to Singapore, Group-IB aims to raise the curtain on the latest developments in the cybercriminal world for the Singapore and APAC public and tell about threats relevant to particular industries. By sharing its knowledge of global cyberthreat landscape with APAC audience, Group-IB seeks to help local companies and organizations  to adopt threat hunting practices in their cyberdefense, which is impossible without a clear understanding of adversaries' tactics, tools and procedures (TTPs).
This year's event will bring together a stellar speaker line-up, which among others include INTERPOL Cybercrime Director Craig Jones; Cyber Security Agency Assistant Chief Executive Gaurav Keerthi; Executive Director in Asia-Pacific at FS-ISAC Brian Hansen; Global Resilience Federation's VP Community Development Cynthia Camacho; Principal Researcher at Unit 42, Palo Alto Networks, Vicky Ray; and others.  The topline reports from Group-IB will be presented by the company's founders, CEO Ilya Sachkov and CTO Dmitry Volkov.
One of the Group-IB conference's key moments will be the presentation of Group-IB's trademark annual Hi-Tech Crime Trends 2019 report. The conference's guests will be the first to learn about cybercrime trends identified from H2 2018 to H1 2019, industries that will become major targets of advanced threat actors, new APTs discovered over the given period and, of course, forecasts on cybercrime developments for the near future. The report will for the first time be divided into sections devoted to the industries, which are the hackers' most frequent targets. As it was mentioned earlier, the report will particularly focus on the activities of state-sponsored threat actors, which have significantly intensified their activities over the observed period.
The event has two streams – technology and strategic. Apart from the review of new threat actors and their TTPs' modification, CyberCrimeCon speakers will address the global changes in the strategic equation in the cybercriminal world and map out the trends in the confrontation of various pro-government hacker groups. As always, Group-IB researchers will unveil details about high-profile cases, reveal some instances of practice from incident response, investigations that have never been made public before.
"We have been investigating and preventing cybercrime for the past 16 years. We accumulated in-depth knowledge on cybercriminal world that we, together with the leading threat hunters, researchers, and those others who are at the front line of the fight against the cybercriminals, are going to share at CyberCrimeCon 2019 in Singapore," comments Group-IB's CEO and Founder, Ilya Sachkov. "The conference provides a platform for discussing the current trends in the cybercriminal world, which clearly show the increased activity of state-sponsored hacker groups and indicate that all the interstate tensions are now being transmitted into cyberspace. Today, the cyberspace is indeed becoming a new theatre of confrontation between various countries, which is one of the key findings of our Hi-Tech Crime Trends 2019 report."
CyberCrimeCon main topics
In their presentations, the conference speakers will highlight the most critical issues for the cybersecurity worldm present real-life cases, and give some practical tips for effective cybersecurity practices:
"Building a resilient and trusted cyber environment in Singapore," Gaurav Keerthi, Assistant Chief Executive, CSA;
"Reducing the global impact of cybercrime," Craig Jones, Cybercrime Director, INTERPOL;
"The first and last line of cyber-defense," Brian Hansen, Executive Director, Asia-Pacific, FS-ISAC;
"The bad guys are scheming. It's time to join a team," Cynthia Camacho, VP Community Development, GRF;
"Rise of commodity malware – stories from the trenches," Vicky Ray, Principal Researcher at Unit 42, Palo Alto Networks;
"Building threat hunting team from scratch", Nguyen Le, SOC Developer/Threat Hunter at NCSC VietNam;
"Cyber threats & responses in the APAC region and globally", Kazunori Yozawa, CTO, NTT;
"Online brand abuse: latest trends & evolution of fraud methods", Ilya Rozhnov, Head of Brand Protection, APAC, Group-IB;
"Libertad y gloria – A Mexican cyber heist story", Frank Boldewin, Principal Security Architect, Fiducia & GAD IT AG;
"Artificial Intelligence in Сybersecurity", Alexander Lazarenko, Head of R&D department, Group-IB.
CyberCrimeCon 2019 will be held in Andaz by Hyatt Hotel, Singapore, on November 29. To learn more about the event's agenda and speaker line-up visit https://www.mysecuritymarketplace.com/product/cybercrimecon-2019/.
CyberCrimeCon 2019 Media Partners include: ASEAN Tec & Sec, Asia Pacific Security Media, Chief IT, Cyber Risk Leaders, My Security Marketplace and My Security Media