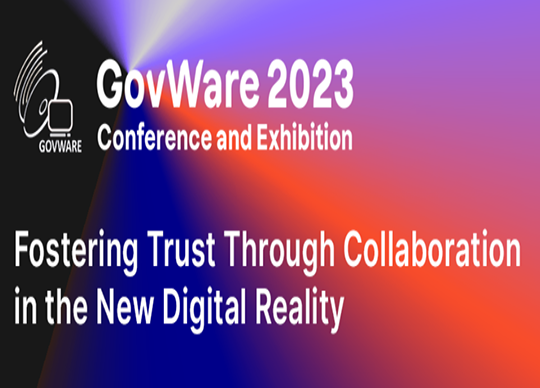 The GovWare Conference and Exhibition 2023, held from 17-19 October 2023 at Sands Expo and Convention Centre, Singapore, will be a gathering of over 10,000 global cybersecurity practitioners, policy makers and trailblazers in the cybersecurity industry to examine the ever-evolving frontiers of cybersecurity.
Under the theme Fostering Trust Through Collaboration in the New Digital Reality, the region's cybersecurity exhibition signifies a transition to the next phase of digitalisation.

In this interconnected cyber landscape, the principles of collaboration and resilience remain paramount, yet their impact now extends further, shaping a digital reality with profound implications.
"There is a paradigm shift in which cybersecurity has transitioned from being a mere siloed concern to an integral component that deals with forward-looking organisational survivability. This applies across the board, whether it's government or industry," said Mr Ian Monteiro, Executive Director of Image Engine, organiser of GovWare 2023. "Recognising this shift, GovWare is also taking on an evolution. While we are still very much connected to our cybersecurity roots, we are moving to a wider narrative of securing the innovation and digitalisation journey for businesses, sectors and governments. This is demonstrated in our programme this year where we have a growing pool of speakers in policy, business strategy and operations – as well as curated vertical-focused forums for FSI and Healthcare."
Attendees can anticipate the presence of notable speakers and leaders at GovWare 2023, comprising a diverse group of high-level individuals representing various sectors, including industry, government, and end-users. These speakers come from both our local community and across international borders.
They include the likes of Nir Zuk, Founder and Chief Technology Officer of Palo Alto Networks, Brad Arkin, Senior Vice President, Chief Security and Trust Officer of Cisco, Poornima DeBolle, Co-Founder and Chief Product Officer of Menlo Security, Lee Fook Sun, Chairman of Ensign InfoSecurity, Juliette Wilcox CMG, Cybersecurity Ambassador of UK Department for Business and Trade, Goh Wei Boon, Chief Executive of Government Technology Agency of Singapore, and Yong Yih Ming, Chief Executive Officer of Mount Elizabeth Hospital.
GovWare 2023 Highlights: Strengthening Critical Information Infrastructures (CII), Healthcare and Financial Services Institutions (FSI)
Organisers say this year's installation of GovWare continues to advocate for CII operators to continually transform their systems to keep up with emerging threats.
The Healthcare sector and the Financial Services Institutions (FSI)s are especially important as threat actors actively seek means to disrupt the overall integrity of healthcare services and the economies of nation states.
Attendees of the conference can look forward to the Health Innovation Showcase on the exhibition floor (Booth A05) and a presentation on 18th October by Dr Alvin Lee, Deputy Director (Regulatory Transformation), Health Regulations Group at the Ministry of Health, on best practices in enhancing the cybersecurity of medical devices.
The keynote panel discussion, titled "Balance and Realities in Forging Digital Trust for Critical Infrastructure" on 17th October will also be driven by senior leaders in the healthcare domain – the panellists include Leonard Ong, Director, Cyber Defense Group – Policy, Risk Management & Capability Development of Synapxe, Paul Lek, Executive Director, Business Information Security Officer (Japan, China and APAC), Singapore Tech Center of MSD, and Yong Yih Ming, Chief Executive Officer of Mount Elizabeth Hospital.
GovWare is also pleased to feature a by-invite-only FSI forum that is dedicated to delving into the intricate challenges faced by financial entities.
This carefully curated session offers a deep dive into the day-to-day complexities of proactive cybersecurity in this sector.
Some notable FSI speakers and panellists in the forum include Raz Kotler, Director of Cyber Security Oversight of Paypal, Shaheen Kohli, APAC CISO of StateStreet Bank, and Steven Myers, CISO of AIA.
In a first for GovWare, the Türkiye delegation will have a dedicated pavilion showcasing their cybersecurity expertise and innovations.
Within this pavilion, exhibitors such as STM Defence International will be on display. STM Defence International plays a vital role in meeting Türkiye's defense and national security needs, offering innovative solutions ranging from civil aviation and agriculture to health and energy.
CXO Plenary, the by-invitation-only event that connects C-Suite executives and top-level decision-makers from both public and private sectors, will return this year.
Supported by the Cyber Security Agency of Singapore and themed "Transformation, Technology, and the Age of Trust: Unravelling the Gordian Knot to a Shared Digital Future" – the plenary will see high-level and multifaceted dialogue among end-users, industry leaders and regulatory authorities in the forging of trust for a new digital reality.