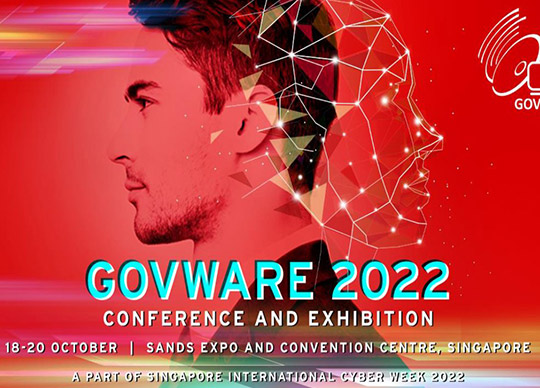 GovWare Conference and Exhibition 2022 will see the gathering of cybersecurity trailblazers, business leaders, and policymakers to address real challenges, discuss best practices, and identify new opportunities in the cybersecurity space.
With the theme of Fostering a Safe and Sustainable Cyberspace Amidst Disruption, the cybersecurity exhibition, alongside co-located events and community networking sessions, aims to drive pertinent dialogues on the latest trends and critical information flow.
Held from 18-20 October 2022 at Sands Expo and Convention Centre, Singapore, GovWare congregates policymakers, end-users, industry innovators and trailblazers – with some speaking to the region for the first time in their new capacities – to examine what the next frontier of cybersecurity ecosystem evolution would look like.
"GovWare 2022 is the annual hallmark event for the cybersecurity industry, where the key stakeholders and voices that truly matter converge in one location. As a trusted nexus for over two decades, GovWare unites the region's most robust cyber community – symbolising the next evolution of cutting-edge cybersecurity solutions to enhance our collective defences into a unified approach, address real-world cyber threats and identify salient opportunities. Every discussion, every insight and every innovation exchanged and showcased during GovWare 2022 strives to push the boundaries of our cybersecurity landscape," said Mr Ian Monteiro, Executive Director of Image Engine.
GovWare 2022 will deliver user-centric programmes covering global and pertinent topics to help navigate the ever-evolving cyber landscape with confidence through collective wisdom and ideas from a panel of international domain expert speakers.
Look forward to hearing from some of GovWare 2022's distinguished speakers and leaders including the likes of Ms Juliette Wilcox CMG, Cyber Security Ambassador for UK Defence and Security Exports, Department for International Trade, Mr Lee
Fook Sun, Chairman of Ensign InfoSecurity, Mr Bryan Palma, CEO of Trellix, Mr Kevin Mandia, CEO of Mandiant, Mr John Suffolk, President for Global Cyber Security & Privacy Officer, Huawei, Mr Brad Arkin, SVP and Chief Security and Trust Officer for Cisco, Mr Goh Eng Choon, President, Cyber, ST Engineering, and Ms Michaela Browning, Vice President, Government Affairs and Public Policy for Google Asia Pacific.
Collaborations to drive thought leadership and strategy in cybersecurity
Mirroring the transformational journey to a development in and of itself, GovWare has gained continued support over recent years from strategic partners and investors across critical government bodies and foremost industry experts. Driven by its power to aggregate the most significant cybersecurity stakeholders to a hallmark event that the industry uniquely identifies and embraces as their own, GovWare and its exhibitors have demonstrated steady and unfaltering growth that has only emerged stronger than ever amid modern disruption.
GovWare is honoured to be a part of Singapore International Cyber Week (SICW) once again in 2022, with GovWare as the trade feature in SICW, and Image Engine as Event Partner for SICW. This continued partnership underscores Govware's efforts to strengthen the community via private-public collaborations with its esteemed partners.
"GovWare has been an important element of the Singapore International Cyber Week (SICW) since 2016. The digital-first world we live in today is increasingly exposed to new and emerging technologies. While we welcome the advantages brought about by technology, we need to take heed of the challenges in the cyber domain, marked by increasingly sophisticated cyber threats. We are heartened that GovWare continues to foster crucial conversations among stakeholders to address these challenges and pursue innovations to bring everyone forward in our digitalisation journey," said Mr Dan Yock Hau, Assistant Chief Executive, Cyber Security Agency of Singapore.
A key highlight at GovWare 2022 will be the CXO Plenary, the by-invitation-only event that bridges C-Suite executives and top-level decision-makers from both public and private sectors. Supported by the Cyber Security Agency of Singapore, this event promises multifaceted discussions on key strategic developments in the cybersecurity space.
CLOUDSEC is another key partnership for this year's GovWare. Themed 'FUTURE IT', CLOUDSEC @GovWare 2022 gathers thoughts from business leaders to discuss the upcoming strategic technology trends in cloud, security, and digital transformation. It's an opportunity for CIOs, IT leaders, and their organisations to take part in the discussions and get a glance at what the future holds in the next breakthrough. In addition, the CLOUDSEC Challenge #XDRedition enables the learning of XDR for threat detection and response. Witness the competition live at GovWare 2022 as the challengers practice real-world XDR skills with a guided hands-on lab and accelerate their investigation and threat hunting abilities to combat attacks efficiently.
"We're honoured to be able to partner with GovWare 2022 to hold CLOUDSEC @GovWare 2022, where business leaders across the ecosystem come together to discuss upcoming strategic technology trends in cloud, security, and digital transformation. This partnership is a representation of CLOUDSEC's vision to not just ride the technological wave, but to pave the way forward for the next generation of the cloud ecosystem," said Mr Nilesh Jain, Vice President of Southeast Asia and India, Trend Micro.
What's new at GovWare 2022
Not to be missed at this year's edition of GovWare is the inaugural GovWare FSI Forum. Derived and designed by CISOs, this by-invite-only session focuses on the transformational journey organisations in critical infrastructure, particularly FSIs, are undertaking, and the multifaceted hurdles that are surfacing. With the theme "Cyber threat and mitigation realities: Evolution and disruption in organisational landscapes and the challenge to Tech C-suites", participants can look forward to fresh perspectives and meaningful dialogues that drive innovation in implementation and transformation.
Additionally, GovWare 2022 welcomes the inaugural ACIOA Cybersecurity Hackathon 2022, an exciting design thinking challenge set to spur innovation and build tomorrow's solutions. A partnered initiative by ASEAN Chief Information Officer Association (ACIOA) and Image Engine, it champions collaborative efforts across ASEAN's cybersecurity community and stakeholders. Through collective insights and partnerships, GovWare presents endless opportunities to discover the latest cybersecurity solutions, establish meaningful connections with peers, learn from industry experts and actualise practical solutions. With a strong understanding of what it takes to cement credibility and capability as a top-tier industry leader – built on valued capabilities and trust to deliver, GovWare's strong track record as the authoritative industry nexus for over 2 decades showcases next-generation cybersecurity innovation from its esteemed exhibitors.