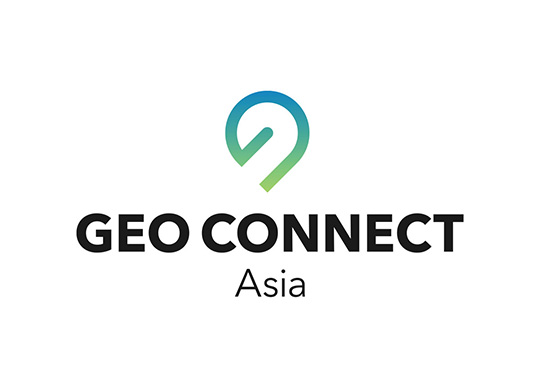 Geo Connect Asia (GCA) 2022 opened today at Marina Bay Sands Expo & Convention Centre in Singapore. The two-day event, organised by Montgomery Asia, welcomed over 2,000 professional visitors and delegates. The show encompasses a wide range of solutions including digital construction, surveying and monitoring equipment, sensors, satellite tracking, drones, robotics and mapping solutions, amongst many others.
Guest of Honour Edwin Tong SC, Minister for Culture, Community and Youth and Second Minister for Law; Rupert Owen, Co-Founder of Geo Connect Asia; and Colin Low, Chief Executive of the Singapore Land Authority (SLA), addressed visitors, delegates and exhibitors in their opening speeches. The opening ceremony was followed by the signing of a Memorandum of Understanding (MoU) between SLA and the Real Estate Developers' Association of Singapore (REDAS) to jointly promote awareness of geospatial technologies and organise joint events as well as capability development programs that can provide solutions to address the challenges faced by the real estate and related industries.
Themed "Geospatial & Location Intelligence Solutions for Asia – Underground, Land & Sea to Sky", GCA 2022 addresses the increasing interplay between ground and satellite technologies, artificial intelligence (AI) and data analytics. Over 40 leading companies from 14 countries, such as Trimble, Planet, Screening Eagle, Leica Geosystems, Synspective and Vizzio Technologies, will showcase their latest technologies and solutions for government and not-for-profit markets and multiple industry verticals.
GCA 2022 is held alongside its two complementary industry events – Digital Construction Asia (DCA) and Unmanned Aerial Vehicle (UAV) Asia – and will comprise a virtual component on www.GeoConnectAsia.com, where all attendees can schedule meetings to meet online and onsite with the exhibitors and watch the live streamed conference.
Rupert Owen, Co-founder of Geo Connect Asia, said, "Montgomery Asia is excited to host the second edition of GCA and is pleased to welcome the increasing number of international exhibitors, combined with a growing international delegate and visitor attendance. It is a real achievement to receive the support of over 60 industry partners, and we would especially like to thank SLA for their continued support as GCA's strategic partner, enabling us to create a high-level conference programme for the geospatial community."
There is rapidly growing momentum towards a Geospatial 4.0 world, and the global community has seen the potential of geospatial solutions becoming more applicable in many fields and sectors. From urban planning and smart infrastructure to forestry management and the environment, geospatial technologies are revolutionising the way we capture, analyse and present data to develop sustainable solutions. As of 2022, the global geospatial market is estimated to be worth US$452 billion, and is forecasted to grow at a compound annual growth rate of 14.61% to reach an estimated US$681 billion by 2025[1].
Colin Low, Chief Executive at SLA, said, "The geospatial community continues to rapidly expand and develop ground-breaking technologies to solve the challenges of today. SLA, through GCA 2022, looks forward to bringing value to the geospatial community by supporting a platform for the sharing of knowledge, common interests, expanding business opportunities and bridging industries for cross-sector collaboration and growth."
The Geo Market Place
The main exhibition showground – the Geo Market Place – brings together a comprehensive spectrum of leading solution providers to meet visitors' sourcing needs and facilitate business processes. At the Singapore Pavilion led by SGTech, 12 companies – Viscoy, YJP Surveyors, Heron Technology, IDI Laser, HSC Pipeline Engineering, Mapxus, Mogul, Masterscan, Credent Asia, My Learn Zone, MF Media Academy and NDT Instruments – are showcasing their latest advanced technologies and products.
Renowned local and international brands make up the rest of Geo Market Place, featuring geospatial technologies (such as Leica Geosystems part of Hexagon, Riegl, Trimble, 3D Target, Planet and more), Digital Construction (such as Screening Eagle, Vizzio, Omnidots, SoftwareONE and more) and Unmanned Aerial Vehicles (such as Wingtra, AECA and more).
Geo Connect Asia Conference
A centrepiece of GCA 2022 is the Geo Connect Asia 2022 Conference themed "Imagination meets reality: placing geospatial solutions at the heart of decision-making". It aims to address key issues of data collection, storage, interoperability and utilisation, and showcase the application of artificial intelligence (AI) and data analytics in spurring our advancement towards a Geospatial 4.0 world.
The conference programme comprises over ten fireside chats featuring over 60 prominent industry speakers, panellists and moderators, including:
John Whitehead, Senior Director of Sales and Distribution, APAC of Trimble Inc
Nina Yang, Vice President of Singapore Institute of Planners
Pavel Bains, Co-founder and Executive Producer of MixMob
Richard Koh, Chief Technology & Security Officer of Microsoft Singapore
Zurina Moktar, Head of Science & Technology Division of The ASEAN Secretariat
The main conference themes cover a comprehensive range of topics, including:
The metaverse – meanings, myths & opportunities
How urban planning in Asia can meet challenges, set new standards and deliver thriving places
Managing the future of urban data to address the key issues of structure and sovereignty
Recycle, renew, refresh: the repurposing of the urban landscape
Biodiversity and the greening of communities
Connecting data and digital twins for sustainable communities
Geospatial innovations for sustainable transportation and customer satisfaction
Earth observations & satellite innovations
Geo AI & robotics: improving performance using tracking, location and automation solutions
Drones for good and goods: building excellence across ASEAN
Innovative drone-based solutions – revolutionising business applications