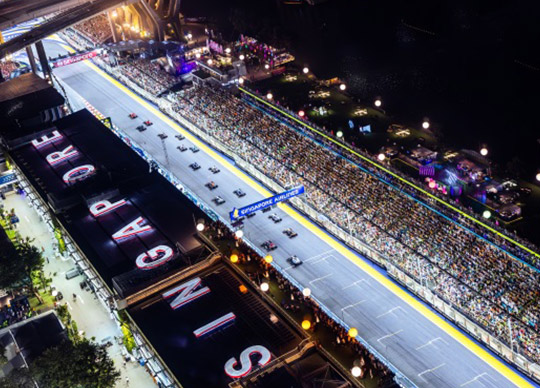 Written by staff writer.
The Singapore Formula One, celebrated for its electrifying night race, takes center stage once again in 2023 as a premier entertainment extravaganza, culminating a week teeming with events and conferences in a spectacular fashion.
Here, we delve into the relationship between the sport and crypto, which saw the industry's biggest international gathering at Token2049, hosted in Singapore during the week of festivities (11th – 17th Sept 2023).
From rogue monitor lizards on the track to Lance Stroll's high impact crash and the dramatic extraction of his Aston Martin F1 car, the Singapore Formula One 2023 was off to an eventual start.
However, the most unexpected moment was Carlos Sainz's win that halted the seemingly unstoppable dominance of the Formula 1 championship leader, Max Verstappen.
The Dutch driver had looked set to extend his winning streak to 11, but instead suffered a self-described  "shocking experience" during qualifying which relegated him to a starting grid position at 11th – his worst for the 2023 season.
For technology buffs however, there was another newsworthy drama – the ostensible absences of crypto firms logos.
Carlos Sainz's victorious Ferrari F1 car did not showcase the Velas logo, despite its unmistakable presence on the nose cone during the 2022 season.
The second-place McLaren featured the Tezos logo, but much less prominently than its nose cone placement in 2022.
Not surprisingly, Lewis Hamilton's third-place Mercedes was conspicuously missing the FTX logo, which was on proud display in 2022.
This trend is a sharp contrast from the flurry of crypto sponsorships in 2022, where each F1 team was aligned with at least one crypto company.
In fact, the fervour for crypto started back in 2019, when the Aston Martin Red Bull Racing F1 team struck F1's first sponsorship deal with a crypto firm ("Futruocoin").
Since then, more deals were signed.
In Mar 2021, when Aston Martin unveiled its first F1 car (after a 61-year absence), the logo of "Crypto.com"  – one of the world's largest crypto exchange – was visible on the British manufacturer's famous British Racing Green livery.
3 months later, in June 2021, "Crypto.com" went on to strike another deal – a USD 100 million sponsorship deal with Formula One.  This deal was eclipsed in February 2022, by a USD150 million deal between Red Bull's F1 Team and Bybit, another top crypto exchange, earning Bybit a prominent logo placement on the front wing of the F1 team's car.
Reflecting on these deals, the F1 teams remarked that cryptocurrency and blockchain is "fast becoming mainstream", and expressed the desire to "exist at the forefront of technological innovation", "to disrupt the status quo", and "to offer fans the opportunity to explore" the "exciting world" of cryptocurrency.
The surge in deals during 2022 garnered so much attention that when the Singapore Formula One 2022 race kicked off in October, the Monetary Authority of Singapore forbid "Crypto.com" advertisements from showing on the course.
But all that was before the implosion of FTX in November 2022.
FTX's bankruptcy left the Mercedes F1 team in "utter disbelief," the Team Principal Toto Wolff said.
"Out of nowhere we can see that a crypto company can basically be on its knees and gone [in]one week,", he said. The sector is unregulated, and "I believe it needs to find its way into regulations," he added, days after FTX bankruptcy announcement.
Since then, how have the crypto industry responded? At Token2049 Singapore, 3 themes emerged from the discussions among the industry leaders. **
** Brad Garlinghouse (Ripple CEO); Hong Fang (OKX President); Mike Belshe (BitGo Co-Founder and CEO); Changpeng Zhao (Binance Founder and CEO); Tyler Winklevoss (Gemini Co-Founder and CEO); Cameron Winklevoss (Gemini Co-Founder and President).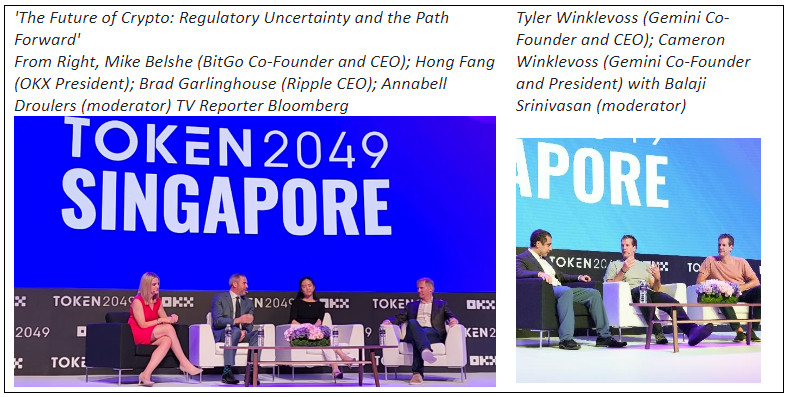 1. Regulations are necessary to safely and responsibly unlock the technology's potential
Despite the Mercedes F1 team suspending its partnership with FTX, the Team Principal Toto Wolff remained convinced of crypto's relevance and believed in blockchain "as a way of transactions in the future".
However, he believed that regulations are necessary "because there's so many customers, investors and partners like us that have been left in utter disbelief at what has happened."
Indeed, Mike Belshe (CEO of BitGo, a top crypto exchange) revealed that many had recognised that regulations were inevitable during the technology nascent years. Regulations are necessary, he said, because "we want safe markets, we want investor protection", "we don't want scams."
Hong Fang (President of OKX, another top crypto exchange) agreed. Recent developments are "pushing people to actually focus on what actually matters for the customers, which is customer protection," she said.
In particular, if this industry were to thrive, Brad Garlinghouse (CEO of Ripple, a top blockchain operator which have been alleged by the U.S. regulator for breaching securities law) stressed that basic regulatory frameworks such as "AML and KYC matter". **
"If you are taking the point of view that we're going to circumvent those things, that's not the industry I see out five and 10 years from now that really is thriving and growing," he cautioned.
** AML (anti-money laundering); KYC (know-your-customer)
2. More regulatory clarity is required in the U.S.
While the FTX saga accelerated regulatory developments worldwide, the U.S. witnessed the most relentless pace of regulatory scrutiny.
In a dramatic turnaround after a year of silence, the U.S. regulator, the SEC, unleashed its regulatory might in 2023.  From trading unregistered cryptocurrency to operating an unregistered exchange, large crypto firms had squarely landed in the crosshairs of the SEC.
Kicking off 2023 with a charge against a major crypto operator (Gemini), for trading unregistered crypto asset securities, it followed up a few months later with charges against Binance and Coinbase (the world's top two crypto exchanges respectively[iv]) for operating unregistered exchanges.
The Winklevoss twins, who lead Gemini, argued that applying today's regulatory frameworks (such as requiring "registration") to the decentralised world where there are no traditional "centralised" aspects such as "board of directors", is akin to fitting a "square peg in a round hole".
Indeed, many point out traditional practices to preserve trust in today's centralised economy – such as filing disclosures – are impractical in the decentralised world, where data are recorded on a blockchain which is visible to all participants.
For an industry that champions "decentralisation", the SEC's attempts to establish authority over the industry exemplify those of centralized authorities from a bygone era.
Adding to the frustrations is that these SEC actions counter political and judicial opinions questioning its jurisdiction, given its traditional financial sector oversight over "securities", a classification which remains unresolved for crypto[v].
Highlighting the situational complexities, Brad Garlinghouse said the lack of consensus is exacerbated by industry "infighting" amongst "various lobbying organisations in Washington, DC" and the "crypto community".
Mike Belshe and Hong Fang offered that the disagreements have also exposed state and federal fault lines in crypto regulations, where "state regulators are excited about digital assets" while an "unanimous and cohesive Federal guidance will take some time".
These disputes further reinforce the perception that there is a lack of clarity, unlike countries such as Singapore, where "regulatory clarity" and "smart policy" are driving "innovation", Brad Garlinghouse said.
3. The appeal of crypto and blockchain ideologies will fuel ongoing innovation
TOKEN2049 Singapore welcomed a staggering 10,000+ participants, solidifying its status as the world's premier conference for Web3—a new era of the internet driven by crypto and blockchain innovations.
The ground-breaking nature of the technologies "fundamentally rewire" the financial infrastructure to provide "better money for people", Brad Garlinghouse and Mike Belshe said respectively.
This view is not new. Many have pointed out that the technologies, by drastically transforming economic and social dynamics through decentralisation, offer other innovative alternatives for the exchange of goods and services beyond today's centralised economy.
In fact, as the Winklevoss twins put it, it is "more than just the technology. It's really a movement, an ideology."
With bitcoin as an example, they said the decision to adopt it is voluntary, as opposed to "coercion" or "legal obligation." Such freedom of choice embodied by crypto is one of "those good things", alongside "free speech, anti-censorship", they added.
No doubt these ideals resonate with many, as undeniably evidenced by the record-breaking attendance at the conference.
"New" and "open" regulatory frameworks in places like Hong Kong and Thailand, highlighted by Changpeng Zhao (Binance Founder and CEO), also point to an expanding ecosystem embracing the technologies.
Interestingly, with new crypto sponsorship deals[vi] this year, F1 teams may have viewed the FTX saga as a temporary setback.
Notably, adding to the Oracle Red Bull F1 team's US$150 million crypto deal from last year was a 2023 deal with Sui, a firm specialising in the blockchain technology, which Team Principal Christian Horner lauded as "unique and forward-thinking."
The second place McLaren "Stealth Mode MCL60 car", retained its striking display of the OKX logo, introducing a fresh slogan 'Accelerating Web3'  on the rear wing, despite a toned-down presentation of the Tezos logo.
"We are sending a strong message that Web3 is here to stay", OKX Chief Marketing Officer Haider Rafique said, and that it's "a new system that benefits everyone."
All in all, a picture emerging from the Singapore Formula One week of festivities is that the race between crypto and blockchain innovations and regulations continues, driven by the enduring enthusaism for the technology, all while ensuring safety and security.