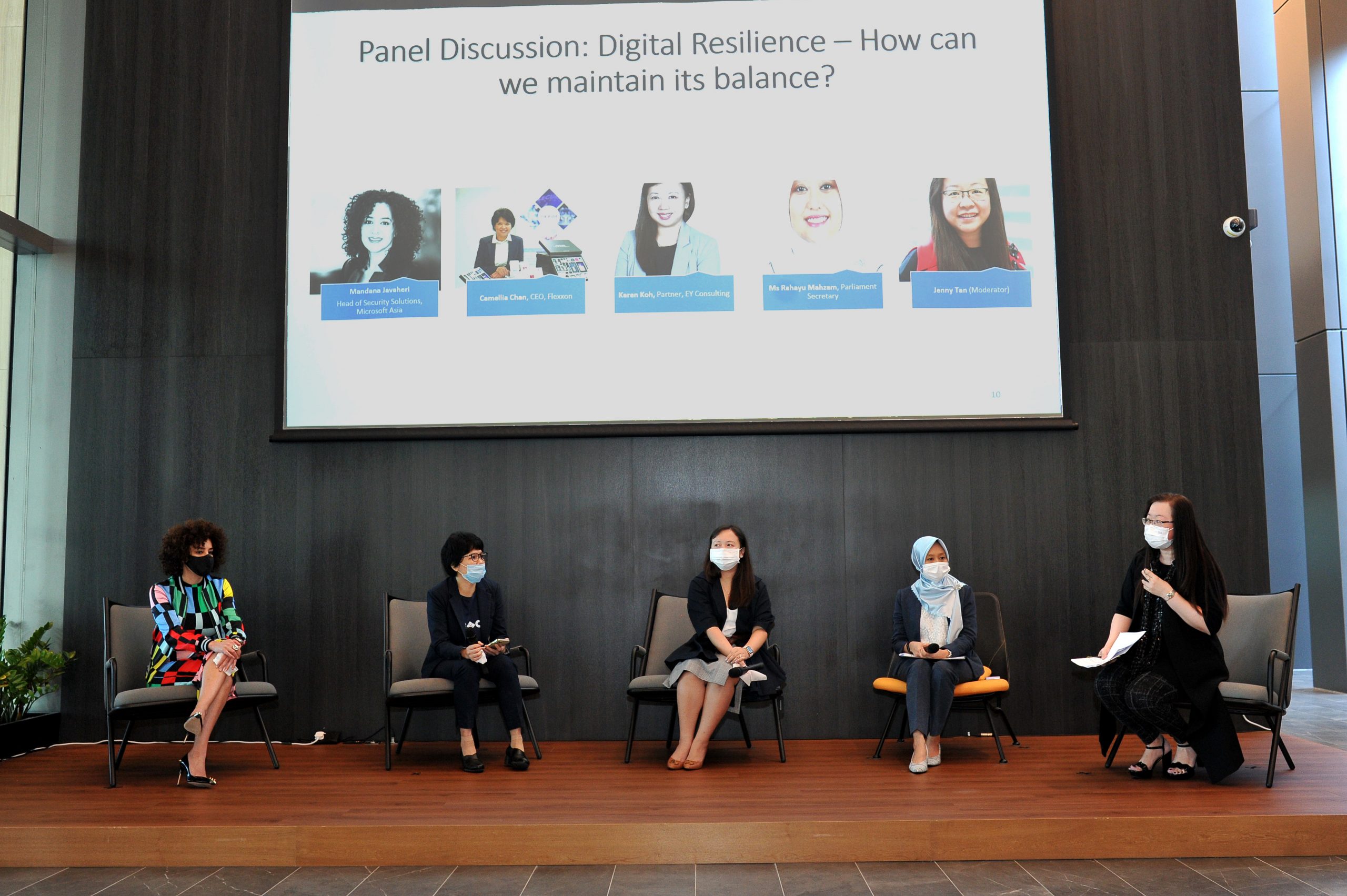 ISACA Singapore Chapter
"SheLeadsTech 3rd Anniversary Celebration"
The recent OCBC phishing incident in Singapore where spoofed SMSes incited victims to click on malicious links prompted a wave of concern. Questions arose over how victims fall for the scam and how organisations could have prevented such incidents.  According to reports, victims lost about 80% of the $13.7 million during the year-end festive period from Dec 23 to Dec 30.
The ensuing weeks saw a flurry of articles that informed readers on the tactics deployed by the attackers (using legitimate looking SMS headers, exploiting the fear of losing banking access – one of the emotional triggers in social engineering campaigns) and the ease of such deployment (such as availability of spoofing-as-a-service).
Without a doubt, raising our awareness help to strengthen our defenses against such future attacks.
In building such awareness to boost digital resiliency, communication is key, said Ms Rahayu Mahzam (Parliamentary Secretary, Ministry of Communications and Information and Ministry of Health), at the panel discussion organised by ISACA Singapore Chapter as part of the "SheLeadsTech 3rd Anniversary Celebration Conference".
Held on 4th March 2022 to celebrate International Women's Day, the panel, "Digital resilience – how can we maintain its balance?" brought women leaders from the private sector (Mandana Javaheri – Microsoft Asia, Head of Security Solutions; Camellia Chan – Flexxon, CEO; Karen Koh – E&Y Consulting, Partner), together with the government sector (Ms Rahayu Mahzam – Parliamentary Secretary, Ministry of Communications and Information and Ministry of Health).

Moderated by Jenny Tan (Vice President, ISACA Singapore), the panelists explored the many aspects of "digital resilience" in the way we live, work and play in cyber space.
Highlighting how Covid-19 pandemic has "accelerated" digital transformations, the panelists discussed how attackers exploit our security lapses while working from home, and that digital resiliency encompass the capabilities to "adapt" to the rapid evolution of technology, as well as to "respond well" to these changes.
"We use technology everyday", and empowering people to feel confident in using technology is key to building digital savviness and resiliency, said Ms Rahayu.
Establishing balanced regulations, public-private sector collaborations, and programs such as "Media Literacy Council", "Digital For Life Movement", are some examples of the government's approach to build digital resiliency, she elaborated.
Referring to ISACA Singapore Chapter's SheLeadsTech "SLT Conversion program" [*] and "Mentorship program", the panelists also highlighted raising awareness as critical to strengthening digital resiliency.
This includes developing an understanding of the risks and exposures in cyber space, preventative measures and responses when incidents arise, according to the panelists.
In addition, besides communication, building "digital trust" with our stakeholders in cyber space is also a way of growing our digital resiliency.
The panelists also pointed to how cyber attacks (such as phishing, ransomware) could undermine "cyber wellness" – our emotional well-being when interacting in cyber space.  In this regard, the panelists advised that, while we remind our communities on the safe use of cyber space, it is also important not to overlook the need for educating our young, as well as our elderly.
As part of empowering everyone with such knowledge, one consideration for organisations is to introduce "safety by design" as part of ethics, Ms Rahayu said.
The panel also stressed how as we continue to adapt to technological advances and become more aware of how they could be exploited for harmful intent, attackers are also growing more sophisticated.  Hence, building our digital resiliency – to be aware, to prepare and respond to digital transformations – has to be a continuous learning experience.
As Jenny Tan concluded at the closing of the panel, this process of gaining new skills and knowledge to be digitally resilient "is a journey".
[*] For interested non-IT professional females, please register for ISACA Singapore Chapter's SLT 11th March 2022 briefing at "https://lnkd.in/grFDxZEU" to find out more.