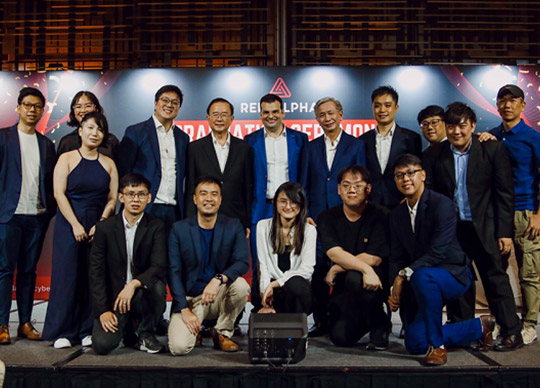 Singapore is currently on its journey to becoming a Smart Nation. However, this journey could potentially be disrupted by a shortage of cybersecurity professionals, which according to CSA, currently stands at more than 3000 personnel.
To overcome this shortage, and ensure that the systems and data powering Singapore's Smart Nation Initiative are secured, Red Alpha Cybersecurity devised the Alpha Specialist Training Programme (ASTP), a talent development programme to develop the next generation of cybersecurity talents in Singapore.
Red Alpha's talent development programme is a full-time training programme that aims to grow Singapore's cybersecurity capacity by recruiting and training aspiring cybersecurity professionals from all disciplines, including those without a background in technology.
Through its programme, these aspiring professionals are equipped with practical cybersecurity skillsets that are coveted in the industry, and placed in relevant cybersecurity roles with regular upskilling.
This helps trainees confidently navigate the turbulent job market, especially with massive layoffs amongst technology and finance companies worldwide.
Red Alpha's programme ensures that its trainees, be it fresh graduates or mid-careerists, can make the transition to become cybersecurity professionals with minimal risks.
They are not required to pay for the training bootcamp, and receive competitive salaries throughout the programme. At the end of the bootcamp, they would attain industry recognised cybersecurity certifications, and be placed in cybersecurity roles in the industry.
As of 2022, 48 trainees across 4 cohorts have graduated from Red Alpha's training bootcamp. To mark this milestone, Red Alpha recently held a graduation, which was graced by the Chief Executive of the Cyber Security Agency of Singapore (CSA), Mr David Koh as the Guest-of-Honour.
At the graduation ceremony, Mr Koh "Special congratulations to all the graduates. I would like to welcome you to the fraternity of cybersecurity professionals. New technologies and the environment will constantly change. With surface attacks increasing, coupled with a lack of manpower, not just in Singapore but across the world, this is an arena where your skills will be very much highly sought after. There will be good jobs and opportunities as demand for cybersecurity professionals grows".
Mr Huang Shaofei, Group Chief Information Security Officer (CISO) at SMRT Corporation, said "I would like to applaud Red Alpha for coming up with this program. Giving people the chance to enter cybersecurity is important. There is now an avenue for them to do a transition whether you are a fresh graduate or mid-career professional and want to go into cybersecurity. We have brought in Red Alpha graduates at SMRT and they are doing well for themselves. The differentiator for them is that they have benefitted from the training that Red Alpha has given them".
At the graduation ceremony, selected graduands from each cohort shared their career transitioning stories. Ms Briana Ang, who transited from a medical research assistant to become a Cyber Threat Intelligence Analyst in the Singapore Armed Forces (SAF), shared how her cohort of trainees initially doubted their ability to succeed in the programme because of their non-technical backgrounds, but chose to take a leap of faith "into the unknown", and surprised themselves by completing the bootcamp and attaining industry recognised certifications within four months. She attributed their success to her cohort's determination to step outside their comfort zone, as well as the dedicated trainers who "imparted their cyber kung fu" to them. Other trainees also shared about how the bootcamp equipped them with real practical knowledge and skills that enabled them to "speak the same lingo" as more experienced practitioners, and was a turning point in their lives and careers. Cash prizes of $10,000 were also awarded to the graduates who had topped their cohorts, also known as the MVP of the cohort.
"We are extremely proud of our graduating trainees, who took the plunge to join the cybersecurity workforce, even though many of them didn't even have technical backgrounds. We are also very grateful to our industry partners who have supported our graduates by employing them in meaningful and challenging cybersecurity roles," said Mr Benjamin Tan, CEO of Red Alpha Singapore. "Red Alpha will continue to develop the next generation of highly skilled cybersecurity defenders to enable Singapore to become a more cyber-resilient nation."