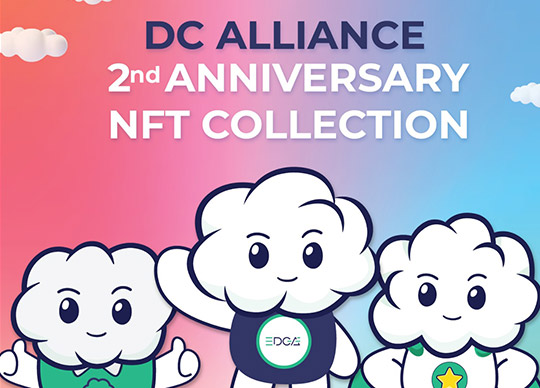 It couldn't be more obvious: why hasn't a data centre company launched an NFT collection? After all, it is data centre infrastructure that is the backbone of the world's digital economy, including NFTs.
As such, DC Alliance (DCA) has launched an NFT Collection for its 2nd anniversary. Inspired by the well-known 'cloud' infrastructure that is the focus of DCA's next phase of growth, each NFT will be an animated cloud with elements of DCA's corporate branding. It will be built on the Solana blockchain and will be the first of a future series of NFTs from DCA.
Guests at DCA's 2nd anniversary event on 8 September 2022 were given the NFTs as a gift, while staff and special supporters received customised NFTs. It is expected that DCA will continue issuing NFTs and the series of NFTs will have utility for future use-cases.
DCA offers flexible co-location, private cloud and network services across multiple industries including government agencies. Its expanded cloud offering will include Private Cloud and Network-as-a-Service (NaaS) in the near future. It also already hosts blockchain-related customers and firmly believes in the growth of the blockchain industry as a near future driver for data centre demand.
Roy Wong, Executive Chairman of DCA, said: "From very early on I already had the idea that we should do our own NFT collection. It makes perfect sense for data centres which support and enable the growth in the blockchain industry. Our NFTs are not just adorable, they are also special limited-edition memorabilia for our 2nd anniversary and will have future utility pegged to the growth of DCA. DCA is always at the forefront of new ideas, and I am glad that we are the pioneer in NFT space in our industry."