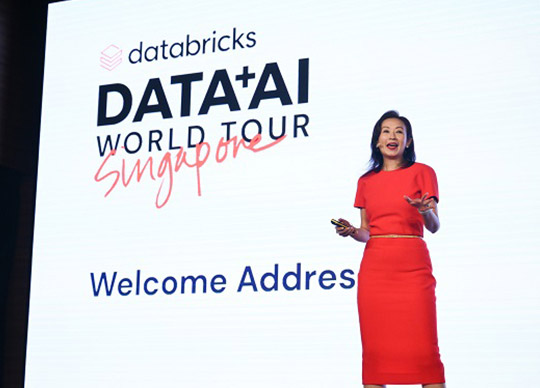 Databricks has revealed at its Singapore Data + AI World Tour event that it more than doubled its local headcount in Singapore within the last two years to over 100 employees and plans to continue hiring over the next 12 months.
The expansion is followed closely by its Series I fundraise of over US$500 million. The continuous growth of the company highlights the increasing demand for generative AI in Singapore.
The company also revealed that it is one of the fastest-growing software companies globally with over U$1.5 billion revenue run rate.
At the Singapore Data + AI World Tour, data and AI experts and visionaries gathered under this year's theme — "Generation AI" — to discuss best practices, preview Databricks' latest innovations, and delve into emerging trends like LLMs and the lakehouse platform. This event is part of a global series that spans more than 30 cities across five continents, serving as a platform for professionals to connect, learn and share insights on data and AI.
"We are thrilled to bring the Data + AI World Tour to over 30 cities across five continents including Singapore, our ASEAN hub. As pioneers of the data lakehouse, we are passionate about making data and AI accessible to everyone, and this event provides a unique opportunity for data and AI leaders to connect, share best practices, and gain insights into our latest product innovations including generative AI tools," said Cecily Ng, Vice President and General Manager for Databricks in ASEAN.
Bringing together local experts, customers and partners, the sold-out event attracted close to 1,000 attendees and focused on trends, challenges and case studies. Some of the speakers included in the line-up were GovTech, SATS, Grab, GetGo, PETRONAS, bolttech, among others.
"At GovTech, we strive to engineer digital government and make lives better through technology. By working with partners such as Databricks, we have been able to provide better access to data, enhance collaboration with business units, and realise significant time savings through comprehensive data management. This helps us achieve our goal to be an organisation that harnesses data for decision-making, making data accessible to everyone and delivering timely and relevant insights where and when they are needed," said Sachin Tonk, Deputy Chief Data Officer at GovTech.
"As a global leader in gateway services and food solutions, we integrate technology and data analytics to build an insight-driven culture across our businesses including ground handling operation and cargo management. Utilising Databricks' Lakehouse, we aim to obtain operational data and business intelligence in a more efficient and cost effective way," said Eileen Tan, Vice President, Digital Customer Experience & Analytics, SATS.
"As the largest car-sharing service in Singapore, Databricks empowered us to harness the power of our massive data streams. With Databricks' Lakehouse Platform, GetGo is able to unify our data, apply geospatial analysis, and leverage natural language processing (NLP) for quicker insights. Now, we can enhance customer satisfaction, optimise vehicle placement, and improve our security, all while propelling our business forward," said Maximilian Jackson, Head of Data Science and Engineering at GetGo Carsharing.
"With the vision of building a leading health AI and platform services company in Asia transforming how health and wellness is delivered to patients and communities, Amplify Health deploys a range of health technology assets, proprietary data analytics and extensive health expertise to insurers and healthcare providers across the region. The Databricks Lakehouse Platform enables us to process large amounts of customer data efficiently in order to calculate members' risk scores and the Delta Sharing capability enables strong data governance," said David Frankenfield, Chief Data and Analytics Officer at Amplify Health.