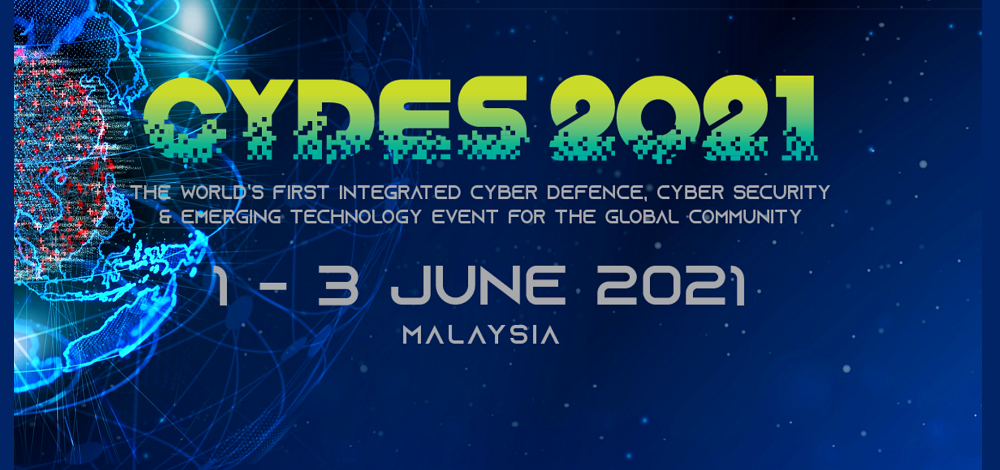 The World's First Integrated Cyber Defence, Cyber Security & Emerging Technology Event for the Global Community; CYDES 2021 will be held from 1 – 3 June 2021 in Kuala Lumpur, gathering Cyber Security experts from around the globe under one platform to address the challenges of today's threat landscape.
Co-hosted, organised and supported by the National Security Council and the National Cyber Security Agency (NACSA), CYDES is a national event by the Government of Malaysia and is a highly focused showcase of cyber defence and cyber security technologies, championing the Malaysia Cyber Security Strategy.
The upcoming CYDES event will be a hybrid concept; a combination of both virtual and physical activities until June 2021. The virtual platform will play a huge role in restoring foreign participants presence whether they are exhibitors or visitors. A series of virtual events have been running throughout the year which include virtual forums and training with focused groups from Ministries, Agencies, Stakeholders and Industry. Each series of the virtual events include multiple topics on Cyber Security and Cyber Defence.
The Malaysia Cyber Security Strategy (MCSS) Official Launch on the 12th October 2020 at the Kuala Lumpur Convention Centre was one of the main events leading up to CYDES 2021. MCSS was launched by YB Dato' Saifuddin Abdullah, Minister of Communications and Multimedia, representing the Prime Minister, YAB Tan Sri Dato' Haji Muhyiddin bin Haji Mohd. Yassin. At the event, CYDES 2021 had a booth with a dedicated team to help companies sign up and prepare for their participation at the exhibition. Besides CYDES 2021, companies who showcased their products and services at the MCSS event included MDEC, BAE Systems Applied Inteligence, Crowdfense, FireEye, Lenovo, System Consultancy Services, and PERNEC.
"Cyber Security is a serious matter and it is a tier one threat and not doing something about it will lead to a critical impact on the country's Critical National Information Infrastructure (CNII) which is essential for the survival, functioning and security of a nation. The incapacity or destruction of any country's CNII would have a devastating impact." said Anita Jacobson, Managing Director of Alpine Integrated Solution Sdn Bhd, the event organiser of CYDES 2021. "To handle this, we need to have a holistic and comprehensive strategy that has to involve all ministries, agencies, academia and researchers. All communities must be involved in order to have effective public and private sectors. The inaugural CYDES 2021 will be in line with the Malaysian Cyber Security Strategy (MCSS) and is an excellent platform to lead the way in the Cyber Defence and Cyber Security sectors," she added.
Part of the efforts in contributing to MCSS initiative, was a panel discussion by a powerpack line up of panellists, which included Ir. Md Shah Nuri Bin Md Zain, Chief Executive of the National Cyber Security Agency (NACSA), Abid Adam, Group Chief Risk & Compliance Officer from Axiata Group Berhad, Conrad Prince CB, Senior Adviser from BAE Systems, Andrea Zapparoli Manzoni, Managing Director of Crowdfense Limited, and Steve Ledzian, APAC Vice President and Chief Technology Officer of FireEye.