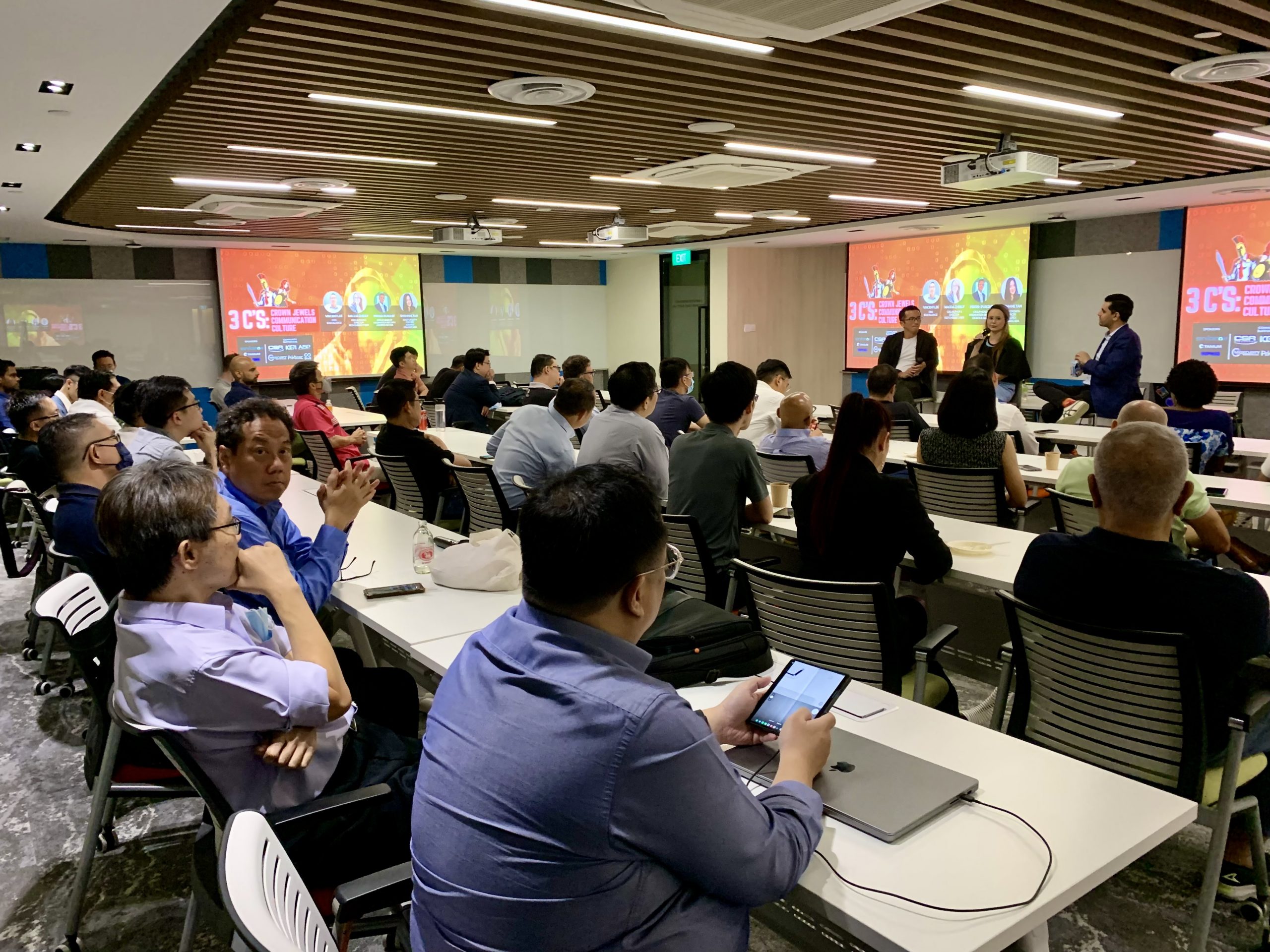 The ASEAN-Singapore Cybersecurity Centre of Excellence hosted this year's second Cyber Risk Meetup in Singapore last week with an esteemed panel of CISOs and senior leaders on what it takes to safeguard their crown jewels, develop effective communication and build great security culture – the 3C's of Cyber.
The stories, analogies and experience exchanged on the topic on protecting key business data, effective stakeholder communication and approach of building a healthy security culture was invaluable. Panelists  Vincent Lee, CISO, Star Alliance, Magda Chelly, CISO, Author, Director Responsible Cyber, Pritish Purohit, Group Head of Information Security, Logistics Sector, were moderated by Cyber Risk Meetup Founder, Shamane Tan, Chief Growth Officer, Sekuro, Privasec Asia.
Shamane said, "I thought it couldn't get better but I was wrong. I was honoured to host one of the best panel discussions where the openness of sharing was so refreshing. The dose of humor throughout the session was a great addition as well. I love how different communities rallied together to support our Cyber Risk Meetup forum. Thank YOU!
The evening also launched Shamane Tan's latest and third book, co-written with Dr Magda Chelly and Hai Tran.
In today's digital age, the launch of "Building a Cyber Resilient Business: A cyber handbook for executives and boards", is a timely release. On the launch, Magda said, "This book demystifies the perception that cybersecurity is a technical problem, drawing parallels between the key responsibilities of the C-suite roles to line up with the mission of the Chief Information Security Officer. It offers practical guidance on how to build a cyber resilient organization."
Magda also credits Shamane for the motivation, she said, "Between work and all my initiatives, there were never enough hours in the day. But one day, I decided to make time for my dream. This is where my beautiful friend Shamane motivated me, and made it a reality. We worked on our book for months, editing and revising. And finally, after what felt like forever, it was finished. We couldn't wait to share it with the world."
This book is a must-read for anyone who wants to understand how to protect their business from the growing threat of cyber attacks, and build cyber resilience. The handbook will not only equip and inform business leaders, executives and boards but also be a practical aid to cybersecurity leaders, with offering specific insights to navigating the cybersecurity landscape and guiding appropriate executive relationships.
The Cyber Risk Meetup was supported by the Cyber Security Agency of Singapore (CSA) with hosting at the ASEAN-Singapore Cybersecurity Centre of Excellence, and sponsored by Tanium, ServiceNow, Sophos and community supporters MySecurity Marketplace, Privasec, AiSP (Association of Information Security Professionals), ICE71, Division Zero (Div0) and CXO Tribe.