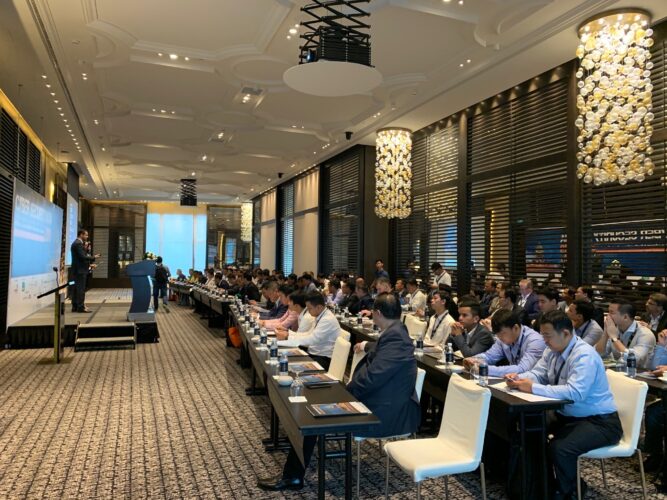 Interview recorded in front of the conference audience at Cyber Security Asia 2019, Phnom Pehn, Cambodia, 5 November 2019 #CSA2019
Similar to the impact of drones, across all market verticals, the rise of the robot will be a new challenge with the obvious 'pros and cons' for consumers, corporations, governments and security providers. This session examines societal change, crime risk and establishing public policy and public space suitable for a safe digital transformation. This session will discuss:
Robots will be part of the IoT and Industrial IoT landscape – what will be the associated cyber risks to consider.
• Robots and Drones present a risk of 'fireant' warfare" – what is the consequence of this risk in civil society.
• What public policy should be put in place for the convergence of AI/ML, Robotics and Human Computer Interface Technologies – and the cyber risk associated with these technologies
Doron Sivan is an information security expert and advisor to banks, municipalities, multi-national enterprises, and various Israeli government branches on analyzing scenarios of cyber-attacks on critical systems. He holds a BSc in Physics and an MBA, is the author of several books used by the Israeli Defense Forces (IDF) to instruct cyber intelligence units, and lectures in the prestigious 8200 IDF Intelligence Unit.
Doron founded Cronus Cyber Technologies in order to provide a unique software based solution for automated Penetration Testing. His company is a global provider of machine-based penetration testing and predictive Attack Path Scenario™ (APS) solution called CyBot where their patented technology imitates human ethical hackers operating practices to discover, predict, analyze, and mitigate the risk of sophisticated global cyber attacks – all in real time. Cronus has also been awarded "Most Innovative MSSP Solution" by CDM and listed as "One of 12 companies transforming the cyber industry" by CBInsights.
Interview with Dr. Mark van Staalduinen, Innovation Manager, TNO, Singapore and a Seconded Cybercrime Expert, INTERPOL.
Recorded at Cyber Security Asia 2019 #CSA2019, Phnom Penh, Cambodia, held 4-5 November 2019. Mark presented on Blockchain Technology: Detecting and Solving Cybercrime.
Mark provided a spotlight on compliance and how regulation continues to intensify as cryptocurrency transforms the way people transfer value and move money. While headlines often focus on the use of cryptocurrencies for criminal activities, like money laundering and ransomware, the reality is that cryptocurrencies, like Bitcoin, can be much friendlier to cops than they are to criminals when trying to trace the proceeds of crime or find stolen funds. In fact, blockchain technology can provide information and tracing capabilities not available with more traditional forms of payment like cash or even the traditional banking system. Utilizing these unique features inherent to blockchain technology, in particular immutable ledger, law enforcement and the blockchain industry have developed software analytic and investigative tools to trace funds and detect criminal activity that would otherwise be difficult to discern.
Mark's main interest lie in the understanding of cybercrime innovation driven by the current pace of internet technologies, like blockchain and IoT. As founder of TNO's Dark Web program, he conducts cyber threat research and delivers training together with INTERPOL Global Complex for Innovation in Singapore Besides his scientific profile, he has a strong focus on law enforcement. He is a seconded cybercrime expert to INTERPOL Global Complex for Innovation in Singapore. He is innovation manager at TNO with focus on Dark Web, Blockchain Security and Cybercrime. He received his MSc in Electrical Engineering from Delft University of Technology (DUT) in 2003. Since 2012 full-time committed to internet-driven innovations in safety and security. Since January 2016, Dr. van Staalduinen holds position at TNO Singapore to strengthen international partnerships in his capacity of deputy director of the Singapore office.
MySecurity Media were Media Partners to #CSA2019 and attended courtesy of Thomvell International.