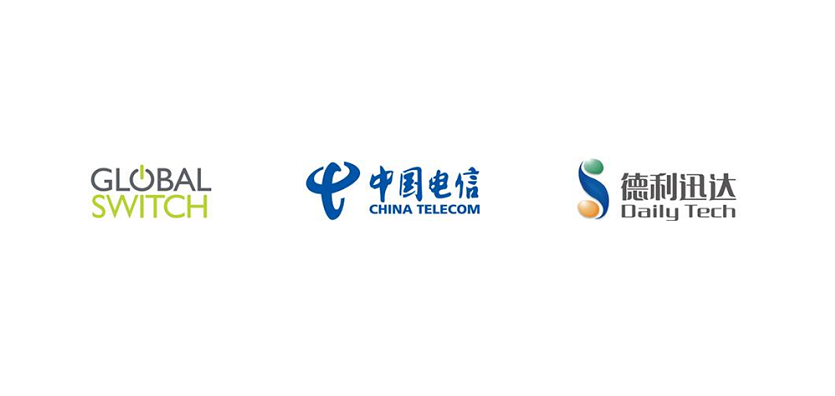 Leveraging the strengths of the three companies across data centre, telecommunications and ICT services, customers will benefit from superior connectivity to the Asia-Pacific market as well as the rest of the world
China Telecom Global Limited (CTG), Daily-Tech and Global Switch have launched Global Switch's Singapore Woodlands data centre. It is the second such facility under the strategic partnership between the three companies and represents another milestone for the trio of industry leaders after the launch of their Hong Kong data centre in late 2017.
Built at a cost of S$280 million, the new 25,000 square metre data centre is strategically located in the Woodlands district in the north of Singapore. It is physically distanced from the existing Global Switch Tai Seng data centre, making the facilities attractive to customers seeking a two site data centre solution. Its services are now fully available, providing customers with a resilient, mission critical environment offering multiple connectivity options for scalable and flexible solutions and a full range of ICT services.
This Singapore Woodlands data centre, which incorporates some of the latest energy efficient technologies, is a leading example of an environmentally sustainable data centre. The building is designed to a Power Usage Efficiency (PUE) of 1.34, the lowest available in this country, making it the most power efficient data centre available to customers in Singapore. This PUE compares extremely favourably to the target average PUE of 1.78 set by the National Environment Agency of Singapore. In addition to its exceptional energy efficiency, the new data centre is targeting a Leadership in Energy and Environmental Design (LEED) Gold Rating and a Platinum BCA Green Mark.
Operating to Tier III+ standards, the Singapore Woodlands data centre services are powered by 30MVA of utility power supply capacity, coming from two separate incoming supplies to ensure multiple layers of redundancy. The facility is also one of the most secure with a network operations centre staffed 24x7x365, complete with round-the-clock security patrols, backed by continuous CCTV surveillance and a comprehensive intruder detection system. The new data centre services have incorporated sophisticated building management systems resulting in a highly resilient environment backed up by Global Switch's renowned Critical Environments Programme.
Uniquely, customers will benefit from a multitude of connectivity options, including the ability to directly connect on a very low latency basis to the Global Switch Singapore Tai Seng data centre. As an integral communications hub to the Asia-Pacific region, Singapore Tai Seng hosts the most diverse and network dense international telecommunications environments in the country, including uniquely a number of submarine cable systems which land directly at the facility. Customers will be able to access this connectivity rich environment, which also includes the Singapore Internet Exchange (SGIX) as well as all the leading internet services companies, from ISPs and major content owners and distributors to web portals and online social media.
Donald Tan, Executive Vice President of China Telecom Global, said: "Our tripartite partnership with Global Switch and Daily-Tech offers a range of strong and reliable data centre and ICT solutions to customers to support their globalisation roadmaps and digitisation transformation initiatives. The Woodlands data centre services will connect perfectly to China Telecom's network resources of submarine and terrestrial cables and other data centres around the world, setting to become an important element of our worldwide IDC coverage. We will invest more resources and expertise in bringing professional IDC operation services to our customers globally and help them solve communications challenges they encountered in exploring the APAC market ."
Li Qiang, Chairman of Daily-Tech, said: "This is a milestone entry into the Southeast Asian countries' market for Daily-Tech through our strategic business partnership. Customers in the region – particularly those looking to expand through China's Belt and Road projects, will now find more convenient connections and access to well-managed services to support their business growth. This partnership offers customers commitment, a track record in servicing and bespoke services, and best practice management."
John Corcoran, CEO of Global Switch, said: "Global Switch Singapore Woodlands marks our twelfth, world class data centre and has increased our footprint to 4,000,000 square feet of technical space (365,000 square metres). It represents another important milestone for Global Switch and we are delighted to have launched this new data centre with our strategic partners China Telecom Global and Daily-Tech – reinforcing our leadership in providing the best-in-class solutions for customers' seamless and successful business operations across the region."
Following strong demand from cloud providers, financial institutions and multi-national companies requiring highly resilient and secure space for housing mission critical IT equipment, Global Switch is adding a further 120,000 sq ft (11,000 sq m) to its existing campus with its second data centre in Frankfurt, which will also be the third data centre under the partnership of the three companies.
ABOUT CHINA TELECOM GLOBAL
China Telecom Global Limited ("CTG") is a wholly-owned subsidiary of China Telecom Corporation Limited ("China Telecom"), ranked 141st in Fortune Global 500 of 2018. Established in 2012, headquartered in Hong Kong, CTG connects the Asia Pacific region and the world by leveraging on its abundant resources in mainland China. China Telecom has branches or subsidiaries in 42 countries and regions, 183 overseas PoPs, and more than 47T capacities in international connectivity bandwidth and intercontinental capacity. By tapping into its network resources of 40 submarine cables (China Telecom was involved in the construction of more than 10 of those cables) and leveraging direct connection to more than 10 neighbouring countries and regions via terrestrial cables, CTG has forged its global layout of service network and network capacity. Targeting international carriers, multinational corporation clients and overseas Chinese, CTG provides customised and cost-effective integrated communications solutions and diversified telecom services to cater to their global business needs. Its services include internet direct access, internet transit, data services, broadband, unified communications, internet data centre, cloud computing, ICT services, fixed and mobile voice and value added services, professional services and industry solutions, telecom operation consultancy and service outsourcing.
For more information, please visit www.chinatelecomglobal.com
ABOUT GLOBAL SWITCH
Global Switch is a leading owner, operator and developer of large-scale, carrier and cloud neutral, multi-customer data centres in Europe and Asia-Pacific. Founded in 1998, Global Switch has a proven business model, demonstrable track record and is the highest credit rated data centre company in the world with investment grade credit ratings from Fitch, Moody's and Standard & Poor's. Global Switch is a vital and strategic partner for customers that require secure and resilient data centre services with scalable capacity and a high level customer service. The Company's focus is on highly resilient, central, low latency, network dense locations in prime city centre locations and internet hubs close to its customers on the edge of financial and business districts. Global Switch's data centres operate exclusively in the Tier I markets of Europe and Asia-Pacific to Tier III or higher and currently total around 365,000 sq m (4,000,000 sq ft) of floor space and are occupied by a broad range of customers, global and national, large and small including government organisations, financial institutions, enterprises, global systems integrators, telecommunication carriers, cloud and managed service providers and other hosting businesses.
For more information visit: www.globalswitch.com
ABOUT DAILY-TECH
Daily-Tech Beijing co., Ltd ("Daily-Tech") is a leading integrated service provider of internet infrastructure solutions, offering a range of services including consultancy, planning, design, operations, maintenance services, project investment, outsourced design and construction services, and business collaborative operations to carriers and internet companies. The company is positioned as "Motive Power Expert for the Internet", focusing on the deepening innovation of business model and the research and development of industrial products, and providing customized services for customers with large-scale operation, green energy saving and environmental protection. By the end of February 2019, Daily-Tech operating nine data centers, building seven data centers and planning two construction. Based on the Chinese market, with strategic partners to expand overseas markets, will strive to become one of hyper scale IDC non-operator IDC company within five years.
For more information, please visit www.daily-tech.cn