China accounted for more than half of the top 50 Asia-Pacific (APAC) companies by market capitalization. The list includes 26 companies from China, followed by 11 from Japan, five from India, three from Australia, two from South Korea and one each from Hong Kong, Singapore, and Taiwan, according to GlobalData.
The aggregate market cap of the 26 Chinese companies stood at US$4,901bn at the end of Q4 2020, up by 13.8% over the US$4,306.2bn in Q3 2020. Of these, 18 reported market cap of over 10%. However, three companies from China reported decline in market cap. The notable among them being the Alibaba Group, whose value fell by 20.8% in Q4 2020.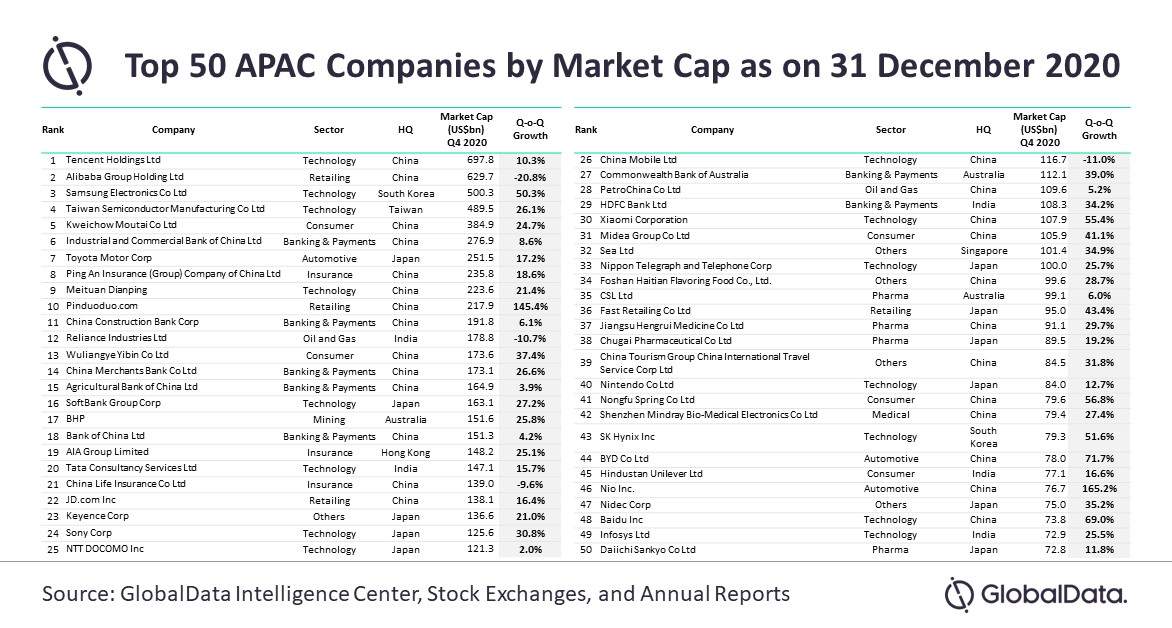 Alisha Bajpai Singh, Company Profiles Analyst at GlobalData, comments: "China's economic recovery has been quicker than that of other countries, supported by its stringent and swift measures in controlling the spread of the COVID-19 pandemic. This led to a rally in the prices of Chinese stocks. However, the investigation over the monopolistic practices adopted by the Chinese government reversed the trend for some Chinese companies, including the likes of Alibaba Group."
With 15 companies, technology sector dominated the top list. China and Japan topped the list with five companies each. Tencent Holdings reported a growth of 10.3% in market cap, up from US$632.5bn in Q3 2020 to US$697.8bn at the end of Q4 2020. Xiaomi Corporation and Baidu Inc saw their market cap surging 55.4% and 69%, respectively, during the fourth quarter.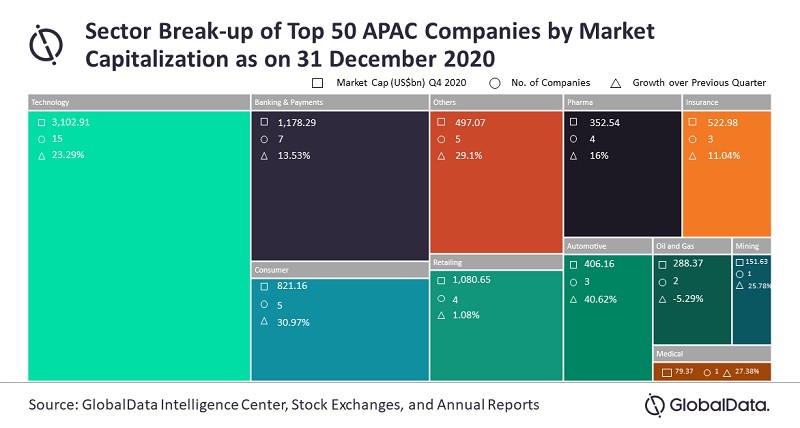 Ms. Singh adds: "Despite some countries banning Chinese apps such as TikTok and WeChat, and scrutinizing Huawei 5G technology, the country's technology sector registered growth owing to the increasing domestic demand. In addition, growing demand for online gaming during the stay-at-home period and the popularity of the games of Tencent Holdings bolstered its stocks."
Most of the companies in the financial service sector in the list were also from China, with seven companies out of the 10 being Industrial and Commercial Bank of China, Ping An Insurance, China Construction Bank, China Merchants Bank, Agricultural Bank of China, Bank of China and China Life Insurance.
The other major sectors featured in the top 50 APAC companies include retail, automotive and consumer. E-commerce platform Pinduoduo.com and automobile manufacturer Nio Inc. reported a growth of more than 100%.
The last trading day of 2020 registered a surge in Chinese stocks, aided by the China-EU investment deal that allows European firms access to market in China. Besides, capital market policy support in Beijing contributed to the annual gains in the major indices.
Among the remaining 24 non-Chinese companies, major companies include Samsung Electronics, Fast Retailing Co Ltd, and SK Hynix Inc, with a quarterly growth of 50.3%, 43.4%, and 51.6%, respectively, primarily facilitated by the increasing demand for graphics DRAM, smartphones, and stay-at-home items.
Ms. Singh concludes: "Despite several roadblocks, several stocks, primarily the Chinese ones performed well due to the country's quick recovery and Beijing's policy support. Most of the economies were crippled by the pandemic and had to fall back on Chinese imports. This has kept China ahead of other countries in the region with strong industrial production."