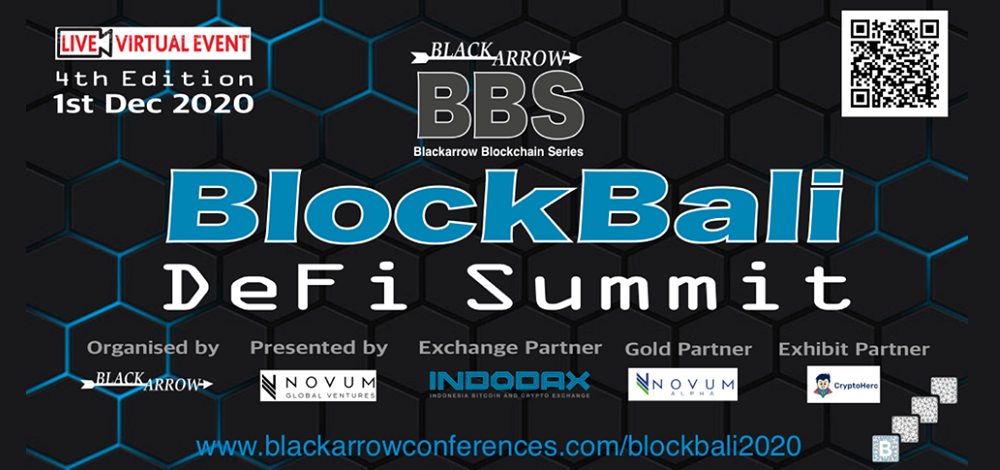 Conference Date: 1st December 2020    |    Timing: 9.30am – 6pm India Time (GMT +5.5)
Location: Online / Virtual    |    Tickets: FREE – REGISTER NOW
Blockbali, Asia's leading blockchain conference is back again for its 4th edition in 2020 on the 1st of December with 'DeFi' as the central theme. This mega event is organised by Blackarrow Conferences & presented by Novum Global Ventures in association with INDODAX, Novum Alpha, Cryptohero & SuperCryptoNews.
DeFi, or decentralized finance, is taking the cryptocurrency world by storm. The appeal of DeFi is clear: access to a borderless, open alternative to every financial service imaginable viz. savings accounts, insurance, loans, trading and more. DeFi projects are tackling long-standing problems and addressing inefficiencies in our current system: improving financial inclusion, increasing liquidity and reducing costs. Patrick Tan, CEO of Novum Alpha Singapore stated "DeFi has the potential to dramatically democratise access to financial services in a rapidly growing region, with a young population and aspiring middle class. By banking the millions of unbanked DeFi could be the next major generator of economic growth for Southeast Asia".
In addition to that, data from May, June, July and August showed DeFi crypto assets have surged in price, on average, 42.9%, 56%, 60.5% and 168.4% respectively, massive monthly gains for any asset class. "DeFi will be increasingly loved by people or even applied in the industrial financial system or financial policy of a country. Asia is a potential market for DeFi development because many countries in Asia need a new financial system to lift the economy and financial literacy," said Oscar Darmawan, CEO of Indodax.
BlockBali DeFi Summit is a 1 day blockchain conference which brings together decentralized exchanges, DeFi projects, digital assets & Blockchain projects who are looking to network and gain knowledge in the DeFi industry. Delegates shall benefit from breakthrough presentations from the top DeFi projects, round table discussions and also explore the current opportunities and challenges in the DeFi space.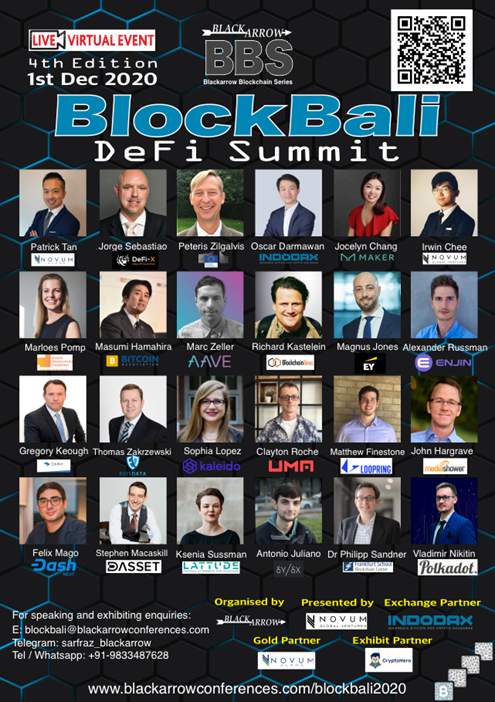 This 4th edition of Blockbali features 30 global experts including Patrick Tan – Novum Alpha, Oscar Darmawan – Indodax, Jorge Sebastiao – DeFiX, Peteris Zilgalvis – European Commission, Jocelyn Chao – MakerDAO, Vladimir Nikitin – Polkadot, Clayton Roche – UMA, Marloes Pomp – Dutch Blockchain Coalition, Masumi Hamahira – Bitcoin Association, Marc Zeller – AAVE, Irwin Chee – Novum Global Ventures, Matthew Finestone – Loopring, Magnus Jones – EY, Alexander Russman – Enjin and many more. See speaker profiles.
Blockbali 2020 will be promoted globally by our media partners and on social media channels. Join now to be part of Asia's most engaging blockchain event on 1st December. Interactive virtual conference – Network with potential business partners, without the travel.
Important links: