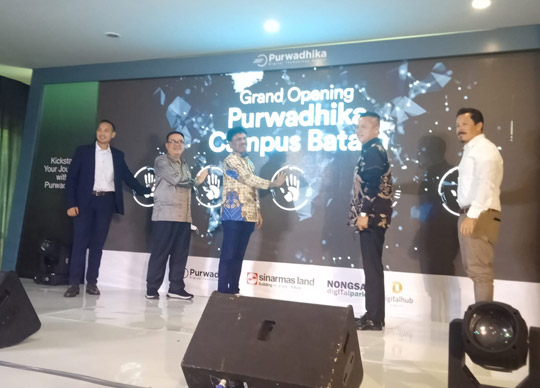 Sinar Mas Land through the Nongsa Digital Park is strengthening its position as a digital economy area that will serve as the bridge for various digital and technology companies in Indonesia and Singapore. This is manifested by the opening of the third branch of Purwadhika Digital Technology School in Nonga Digital Park, Batam as a learning center that will trigger the rise of a digital talent pool in the area.
The inauguration of the Purwadhika Digital Technology School campus was held at Nongsa Digital Park, Batam on Friday (14/10) by Johnny G. Plate (Minister of Communication and Informatics of the Republic of Indonesia), accompanied by Purwa Hartono (CEO & Founder of Purwadhika Digital Technology School), and witnessed by Irawan Harahap (Chief Digital Tech Ecosystem & Development Sinar Mas Land), Mike Wiluan (President Director of Citramas Group), Stephanie Foo (Representative of Singapore Economic Development), and Enoh Suharto Pranoto (Deputy II of the Batam Business Agency).
Minister of Communication and Information Technology – Johnny G. Plate said, "Going into the 4.0 industry, the Indonesian government through Ministry of Communication and IT is focusing on four important things to achieve including primary legislation on Personal Data Protection (PDP), digital farming and refarming, ICT infrastructure that is evenly distributed throughout the country, and adequate digital talents. Purwadhika Digital Technology School in Batam proves a fine commitment to encourage digital transformation in Indonesia. I am proud to inaugurate Purwadhika Digital Technology School in Nongsa Digital Park. This inauguration is momentum for collaboration in national, regional, and international sectors in realizing the Connected Indonesia, More Digital To Go Forward."
Group CEO Sinar Mas Land – Michael Widjaja said, "We are really appreciating this step taken by Purwadhika Digital Technology School to open its newest campus in Nongsa Digital Park. This area was built in Batam to be on par with its sister development at Digital Hub BSD City. The two projects are aimed to become the largest digital economic centers in Indonesia. We hope that the existence of this campus can develop digital talents in accordance with President Joko Widodo's direction to accelerate national digital transformation and meet the needs of digital talent for Singaporean businesses that dominate the Southeast Asia's digital economy."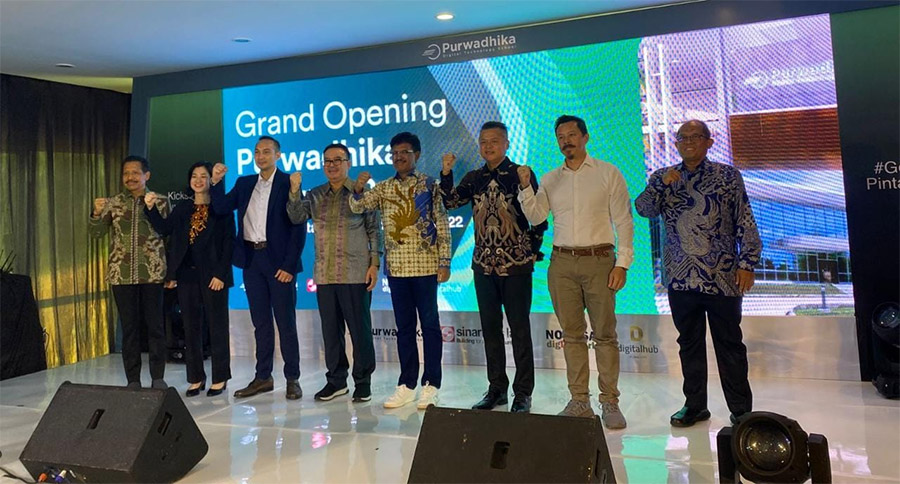 President Director of Citramas Group – Mike Wiluan said, "Since 2019, we have succeeded in placing hundreds of young talents abroad and making it a new business model, where from Batam we can support business activities of many nations. Nongsa Digital Park targets to bring 10,000 digital talents in the next 5 years. As a Special Economic Zone, Nongsa Digital Park has been equipped with digital animation film facilities and now we welcome the presence of Purwadhika as a development center for human resources through vocational education, in collaboration with various educational institutions and technology companies on an international scale."
CEO & Founder of Purwadhika Digital Technology School – Purwa Hartono said, "Purwadhika Digital Technology School was founded 35 years ago with the vision to make Indonesia one of the leading information technology industrial countries in the world and advancing our Information Technology (IT) industry to the international standard. Through the inauguration of our newest campus at NDP Batam, we also introduced a job connector program where the students can get personal career support. This program provides job connections to achieve digital careers in more than 1,000 trusted companies in Indonesia, Singapore, Hong Kong, and more."
Purwadhika Digital Technology School is a leading educational institution in Indonesia that was founded in 1987 and focuses on developing talent in digital technology such as startups, coding, and the Internet of Things (IoT) with a total of 2,500 graduates each year. Currently, Purwadhika Digital Technology School has succeeded in channeling quality digital talents to companies and digital startups in home and abroad.
Its most recent campus is located in Nongsa Digital Park, a visionary project built by the collaboration of Citramas Group and Sinar Mas Land through a joint venture company, PT Citra Sinar Mas Global. Nongsa Digital Park sits in a special economic area that focuses on the digital-based creative economy in Batam.
Nongsa Digital Park has hosted 1.000 digital workers from 100 multinational companies such as Glints, R/GA, and WebImp. This area is also equipped with facilities and infrastructure that support talent development according to expertise relevant to the current needs of the creative and digital technology industries. It will help Indonesia and Singapore to grow and complement each other in the digital economy sector.
Nongsa Digital Park is adjacent to the Nuvasa Bay, member of Sinar Mas Land. This development is built on a land area of​​228 hectares consisting of landed houses, apartments, a commercial centre, and Palm Springs Golf and Beach Resort. Both Nongsa Digital Park and Nuvasa Bay are strategically located, only 40 minutes from Singapore via ferry and 15 minutes drive from Batam's Hang Nadim International Airport.