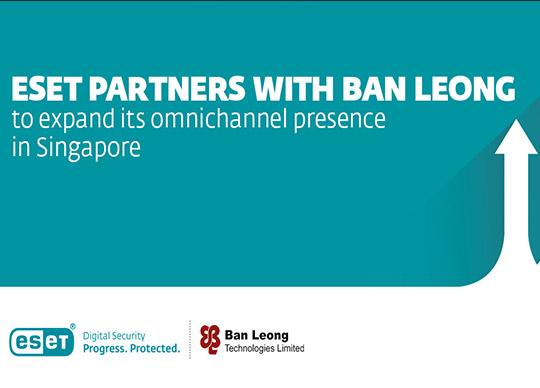 ESET today announced a strategic partnership with Ban Leong Technologies to strengthen its omnichannel presence in Singapore.
As part of the strategic partnership, Ban Leong will distribute ESET's consumer solutions, such as ESET Internet Security and ESET Smart Security Premium, to retailers across the country.
Ban Leong will also work together with system integrators (SIs) and resellers to provide ESET's cloud-based and on-premises security solutions, built on the ESET PROTECT platform, to SMEs, enterprises and government entities.
"We are excited to partner with Ban Leong, an established local distributor with over 30 years of experience, to enhance the accessibility of ESET's products in Singapore. With Singapore observing a 73% increase in reported data breaches and ransomware incidents in 2021 compared to the year before, there is growing importance in digital security for businesses and consumers. The partnership with Ban Leong will enable us to bolster our presence in Singapore, and reaffirm our commitment to protect the progress that technology enables for all," said Pamela Ong, Sales Director for APAC at ESET.
"The partnership with ESET will allow Ban Leong to provide best-in-class digital security products to protect the IT hardware that we have been distributing. With this addition, Ban Leong now offers a holistic suite of products across software and hardware. This will also enable us to grow our portfolio of IT solutions by expanding into a whole new segment. By leveraging ESET's expertise and industry-leading solutions, we hope to protect more consumers and businesses in Singapore from increasingly sophisticated digital threats," said Ronald Teng, Managing Director of Ban Leong.