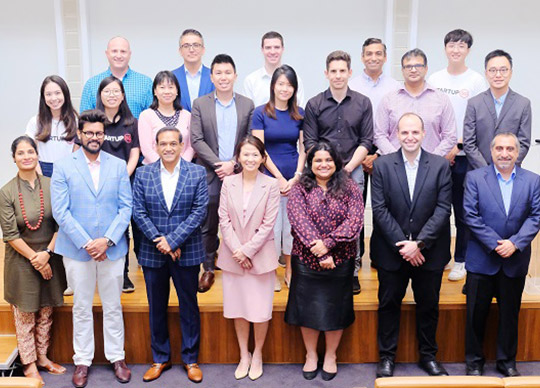 Avery Dennison Corporation will be funding Singapore-based startups for the AD Stretch accelerator program with support from Enterprise Singapore (EnterpriseSG), the government agency championing enterprise development. The partnership with EnterpriseSG will provide support to help Singapore-based startups scale successfully and run global pilots together with a Fortune 500 packaging and labelling leader.
The partnership with EnterpriseSG was announced at the recent inaugural AD Stretch Demo Day in Singapore, an event showcasing the cutting-edge solutions in the labels and packaging space developed by the nine startups selected for the first cohort of the program, which focused on pilots in Asia Pacific and Latin America. The event was attended by senior representatives from Avery Dennison, EnterpriseSG and Highline Beta, as well as over a hundred members of the local business community and startup ecosystem.
Anil Sharma, Senior Vice President and General Manager, Label and Graphic Materials, Asia Pacific said, "Innovation has always been at the heart of Avery Dennison, and we believe that investing in regional innovation can create global impact. We are also committed to driving collaboration across the ecosystem, and look forward to the support from Enterprise Singapore as we collectively solve some of the most pressing business challenges, while in parallel accelerating the growth of promising innovators and companies."
Ms Emily Liew, Assistant CEO (Innovation & Enterprise Services) at EnterpriseSG, said, "We are happy to partner with Avery Dennison to create opportunities for early-stage start-ups to jointly develop solutions that can help them to build track record for scaling up, while enabling Avery Dennison to access wide-ranging innovative solutions in Singapore. We want to inspire more of such collaborations between large corporates and Singapore-based start-ups, which are vital to the development of relevant, cutting-edge innovations that have the potential for commercialization and impact."
Launched in November 2022, the second cohort of AD Stretch is currently accepting applications from across the world with a focus on designing and executing pilots primarily in North America and EMENA (Europe, the Middle East and North Africa). Avery Dennison has worked with globally recognized innovation services firm focusing on corporate-startup collaborations, Highline Beta, to design, launch and run AD Stretch. Together, they developed key challenge areas for AD Stretch Cohort 2 within three main themes – making consumer packaged goods smarter, packaging 2.0, and sustainability.