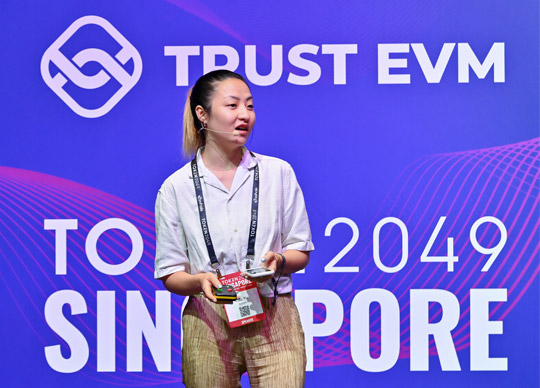 Asia Crypto Week recently saw the largest gathering of blockchain, crypto and Web 3 developers and enthusiasts in Marina Bay Sands, Singapore.
The week was headlined by the flagship event, "TOKEN 2049 Singapore". Lou Yu, who heads up the incubator and investment arm of KuCoin, revealed more about the buzz behind Web 3, and the report on "Deep Dive into Women in Web 3". Here are her comments.
Tell us what is Web3, and KuCoin's role in the Web3 world, and your personal journey into this world?
There are a lot of Concepts around and blockchain and Web 3 but they are not the same thing.
Blockchain is a technology, crypto is about all the financial games or token. Web 3 is really about what are the products that users can actually use – it's about adopting blockchain for applications – for example – metaverse, or a web page or domain name.
I joined this journey into Web 3 by quitting my university degree. As it happened, I started to trade crypto and I wanted to know more about this technology. I started to learn a lot of things on YouTube, and started to focus more and more on the Asian markets and found out about KuCoin.
As one of the top five exchanges then, I wanted to see what opportunities are available. I sent in my CV and that was back in 2019. I started as a business developer and six months later, I worked on the test net. During that year, we explored a lot of the technology architecture, we did a lot of work in the ecosystem, to engage with the developer community, the node operators.
From this experience, I felt that projects and developers are not lacking funding, but rather good supporting network – especially when they are building a tiny chain. When they seek investments, they are actually looking for a value-add investor who can support them, grow them and give them a more sustainable model.
That is why we did a rebranding, and turned KuCoin Labs into a research-oriented investment, an incubator, especially this year.
So today, KuCoin Labs invests and incubates in Web 3 builder projects, helping them achieve sustainable growth and success in the era of decentralization.
Tell us about your study of KuCoin's "Journey Into Web3 Global Study". I believe you polled more than 3,000 internet users, and that the group that is most aware of Web3 is in the 18-40 year old group?
Yes, it is not surprising. We must say that to be crypto native, you must first of all be internet native, which is how it is like for the younger generation, probably those born in the '80s or '90s, or even in 2000s, who are keen about "allowing" these technologies to have heavier impacts in their daily lives.
We are seeing a lot of very young developers, who started coding at 15, and started their first fundraising at 18.
So I would say that crypto is a very young industry but also immature, which is also I guess one of the reasons why it's very it seems unstable and undefined for most traditional observers.
So let's look at the section in the report on "A Deep Dive into Women in Web3". My first question is what is the driver for the study – as looking around this room here we are in, we are all women.
The crypto space is very young and active and very open-minded. So we would presume that women are gaining more speaking power and owning more things. But my experience is that most of the founders and developers (even though there are more and more women) are still men, and they are also leading most projects.
For example, if we have a male and female developer with the same skills and education, experience and background, it is still sometimes easier for the male developer to gain more attention and more voice.
So, at this TOKEN 2024 event, the male developers and founders could be going to clubs and bars together or visiting each other's hotels, but for females to join them, it could be awkward. I think it is because, women are brought up to think about our own security and reputation. This is not just in the crypto industry, however.
This is the "bro culture" terminology you refer to in the report?
Yes, there are a lot of activities that women can participate in, of course, but it could be a little bit awkward depending on how I want to be perceived.
Let me take an example of cybersecurity – you know there is also a lot of attention about, women in cyber security – and sometimes what we meant by that is that we are lacking woman with technical skills in cybersecurity. But we are not lacking in women in for example, marketing or say "PR".
Somehow it's the same, because scientifically speaking, women are more talented in terms of expression in terms of, you know, soft skills.
So, I guess in crypto and in cybersecurity, we see a lot of women doing say, media or marketing, or being at the front line, being the face of a lot of organizations.
But in the back end, in the technical areas, there are less women, and people are pleasantly surprised when they see women being technically skilled.
We touch on very briefly about the generational differences in adoption and perception, and also gender differences. What are your views of the adoption of Web3 across the different economies around the world?
Actually, it comes back to the concepts that we mentioned in the first question – blockchain, crypto, and Web3.
So, in Southeast Asia, in Turkey, and South America, crypto adoption is the most prominent, meaning speculation – that is buying and selling tokens.
Whereas, for example, in the United States in Europe or Korea like East Asia, Korea, Japan, people are keener about blockchain and Web3 adoption. For example, they are using MetaMask, participating in developing, community building, doing a lot of "DeFi" or "yield farming".
What do you think we need to do to raise awareness and adoption of Web3?
A lot of people stick with the idea that crypto is not only a technology but it an ideological movement enabled by technology, which allows people to have more and more equality, freedom and transparency. That is, they can participate in a global economy and finance with less and less permission, and lower threshold.
But this fundamental ideology is a threshold because it prevents people from joining the market. To ask people to understand the ideology first before joining the market is asking a lot.
So I think the next step really is to make this mass adoption possible and open the "crypto circle" to everyone, even if they do not have the same level of understanding.
And for women, when we are doing interview like this, or marketing, or any of the soft skills we are good at, we need to prepare ourselves to learn.
By participating and learning, we will be lowering the threshold together.