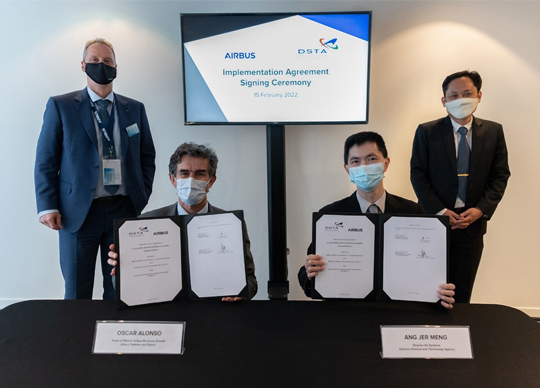 Airbus and Singapore's Defence Science and Technology Agency (DSTA) signed an agreement at the Singapore Airshow, to advance the co-development of digital solutions for military aircraft platforms.
Extending their first collaborative agreement signed in 2018, both parties will intensify technology exchange and collaboration for the development of digital products and services that will optimise the maintenance and availability of the Republic of Singapore Air Force's Airbus fleet of aircraft. Co-operation will be fostered in the design and certification of parts produced by additive manufacturing, as well as on data analytics for predictive maintenance.
"This agreement is built on an illustrious partnership driven by innovation and digitalisation. We are happy to have a trusted co-driver in this digitalisation journey and look forward to enhancing the operational capability of the end-user's aircraft fleet," said Michael Schoellhorn, CEO of Airbus Defence and Space.
Both parties will also co-develop and implement new data pipe capabilities to facilitate transfer of digitalised datasets to improve fleet efficiency.
In particular, the partnership will tap on Airbus' enterprise SmartForce suite of maintenance data analytics to streamline fleet maintenance and operation. Both parties will also explore the shared use of data from existing in-service aircraft information systems.
This co-development will support the Republic of Singapore Air Force's fleet of A330 Multi-Role Tanker Transport and H225M Medium Lift Helicopters.
DSTA Chief Executive Mr Mervyn Tan (standing, right) and Airbus Defence and Space Chief Executive Officer Mr Michael Schoellhorn (standing, left) witnessed the agreement signing by DSTA Director Air Systems Mr Ang Jer Meng (seated, right) and Airbus Defence and Space Head of Military Airbus Business Growth Mr Oscar Alonso (seated, left) on 15 February 2022 at the Singapore Airshow.