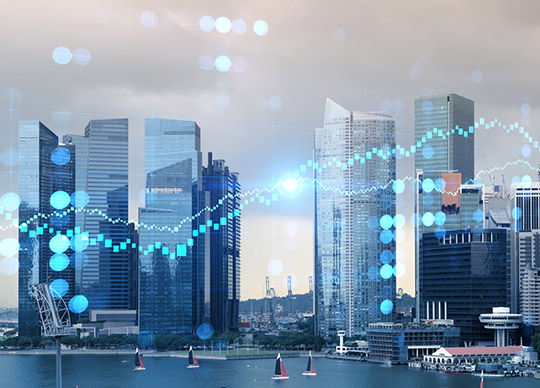 AI Singapore (AISG) has released its AI Readiness Index (AIRI), an industry-focused framework which enables organisations to self-assess the status of their artificial intelligence (AI) adoption readiness. Subsequently, they can leverage appropriate programmes to embark on a journey to improve their AI readiness.
AISG has enabled companies to build production-ready AI solutions over the past four years, with 37 in development and 29 solutions in deployment. Having engaged over 500 companies, AISG has distilled the critical success factors into developing the AIRI framework.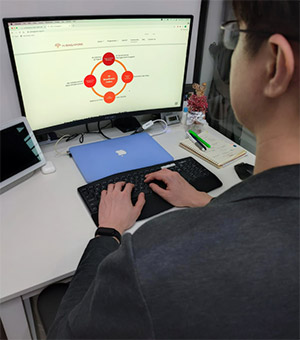 AIRI, a first-of-its-kind initiative in Singapore, will help organisations to assess their ability to build or buy AI products and take a recommended approach to their AI strategy, thus catapulting Singapore into a stronger AI-competent nation.
Professor Ho Teck Hua, Executive Chairman, AISG, said, "AI is going to be pervasive in all aspects of life in the near future. AISG has worked hard to develop this index by translating the learning points and outcomes from our engagements with hundreds of companies. The index is a critical and practical tool that will enable Singaporean businesses to benchmark their AI preparedness. It will also give companies a baseline they can use to further their adoption and use of AI."
Dr Chng Zhenzhi, Director, National AI Office, Smart Nation and Digital Government Office, said: "AIRI is a useful tool for organisations to assess where they stand in their AI journey. AISG has been supporting Singapore's National AI Strategy by growing a pipeline of local AI talent, bringing together researchers from Institutes of Higher Learning/Research Institutions, AISG's AI engineers and companies to jointly develop innovative AI solutions, and helping companies adopt AI. AIRI will enable AISG to better tailor its suite of programmes to each organisation's needs, and be more effective in helping organisations use and benefit from AI."
First Step to AI Readiness Framework
With the introduction of this framework, interested organisations can take the AIRI Assessment via the website https://aisingapore.org/airi/. The assessment can be completed within fifteen minutes and is recommended to be taken by a senior representative with sufficient knowledge of his/her organisation to be able to answer questions on:
– Organisational Readiness
– Business Value Readiness
– Data Readiness and
– Infrastructure Readiness
Within these four pillars, nine key dimensions have been identified to help organisations plan for suitable approaches for successful AI adoption and scaling (See Appendix A: AI Readiness Index Framework for more details).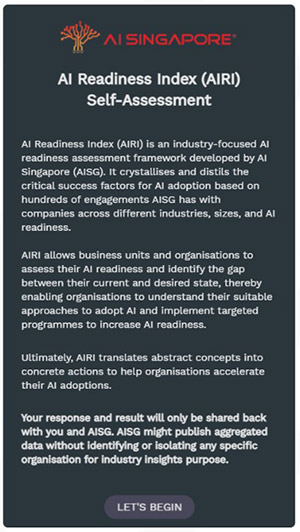 Following the completion, there will be a system-generated report which shows the current AI readiness of the organisation, thereby allowing them to identify the gap between their current and desired states. Broadly, the report will categorise organisations into one of the following four categories: AI Unaware, AI Aware, AI Ready, and AI Competent.
AISG envisages that for organisations that are AI Unaware, the focus will be on increasing their AI literacy. For entities that are AI Aware, the goal would be to prepare them to adopt AI solutions. For organisations that are AI Ready, the aim is to help them to accelerate their AI adoption. Finally, AI Competent organisations will be encouraged to deepen their organisational AI capabilities.
These approaches will enable an organisation to ascertain the next steps, principally how it can move forward with a targeted approach to improve its organisational AI readiness. Organisations are also welcome to continue the discussion with AISG on mapping their next steps forward towards AI adoption.
AI Singapore will provide support towards improving organisations' AI readiness through these programmes:
– AI for Everyone (AI4E)®
– AI for Industry (AI4I)® and AI Certification
– AI Clinic and AI Discovery
– AI Advisory Projects
– 100 Experiments
– AI Apprenticeship Programme (AIAP)® or
– AI Data Apprenticeship Programme (AIDP)