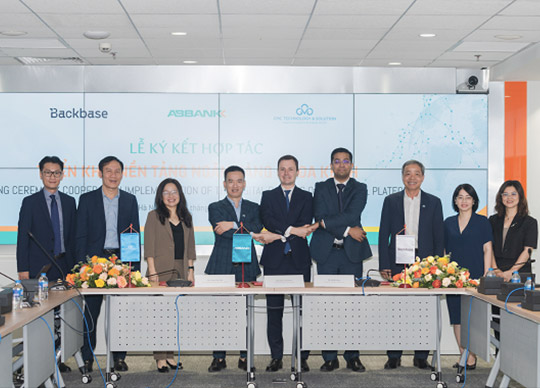 Backbase has partnered An Binh Bank (ABBANK) to transform the banking experiences for millions of Vietnamese customers.
Supported by their local partner CMC Technology and Solution, Backbase says it will deliver the full suite of the Engagement Banking Platform, which encompasses Digital Onboarding, Digital Banking, Digital Assist and Digital Engage.
The platform will enable omni-channel banking, increase ease in customer acquisition, retention, cross-sell, hyper-personalization, and improve customer servicing through a 360 degree unified user view for ABBANK retail banking and business banking lines of business.
Le Thi Bich Phuong, CEO, ABBANK said, "Omnichannel banking is not only a trend, but also a necessary service for banks to keep up with the increasingly diverse needs of users, which are rapidly changing along with the progress of technology. In cooperation with experienced partners such as Backbase and CMC in this project, ABBANK expects to optimize the customer's experience across different customer segments for Corporate and Retail clients, as well as transform the customer's experience in digital sales across different customer's touchpoints"
"With the plan to launch Omnichannel Banking, ABBANK's customers will experience financial services in a seamless, synchronous and transparent manner across all touchpoints. Meanwhile, ABBANK will also be able to strengthen its capability in customer's data management, operation efficiency resulted in improvement in competitive advantage for ABBANK in the market," Ms. Phuong elaborated.
"ABBANK has taken the fundamental step to architect omnichannel banking around the needs of their customers by leveraging on the Backbase Engagement Platform to unify data and journeys across different lines of business, channels and banking products," Riddhi Dutta, Regional Vice President, Asia, Backbase said. "In this region, Vietnam is set to take the lead in digital banking usage for the next 3 years; it is imperative for banks to harness scalable and agile architecture and be empowered to dynamically execute against shifting customer needs while continuing to deliver the highest standard in digital customer experience."
ABBANK has been working closely with long-time business partner CMC TS, a leading technology solution and service provider to ensure the project's objectives were achieved within the time and budget allowed.
"We are delighted to partner with ABBANK to accelerate their digital transformation with the Backbase Engagement Banking Platform. CMC TS believes that this platform will help ABBANK to improve every aspect of the customer experience," Nguyen Trung Chinh, CMC Chairman shared.